World traveler Clown Tom Bolton
Adventure stories & photos
Tom's trip to Turkey
Istanbul the cultural center of the Byzantin empire
Taksim Square, Istaklal street, Galata
I went to Istanbul, Turkey in April of 2015 for a week. It was kind of a unique situation in that I decided just 2 days before leaving. I had always planned to go to Turkey, especially Istanbul but had never gotten around to it. Then a performer friend of mine mentioned that he was going there for a gig and asked if I wanted to come along. I found that I had to get a visa but it was possible online and done in about 10 minutes. I managed to book the same flights as my friend Pablo but the price wasn't quite as cheap as he had gotten with more advanced notice.
I tried to book a room in a private house in Istanbul but the woman didn't respond to the booking request within 24 hours and I then had less than 24 hours till I left, so I took the best concrete offer I found, which turned out to be a hostel rather than a real hotel but they had private rooms. Unfortunately, I had to pay the same price for myself as I would have if I had another person along. The quality of the room Pablo had was much better for slightly more money but was located way out of town near the convention center where he was working.
Taksim square
My place was situated 600 meters down a steep slope from Taksim square, an area belonging to Beyoglu, the region north of the Golden Horn where the main attractions are but was easily reachable from the Findikli tram stop 200 meters further down the hill. Taksim is a large open area where many political demonstrations had been recently held. Towards the southern end of Taksim Square is a war monument, which seemed symbolic of civil strife. Recently there had been many political demonstrations at this central Istanbul location.
Turkey National Day
While I was in Istanbul, Turkey celebrated its National Day. I didn't see any celebrations or notice anything closed but many buildings had huge flags or like on Taksim, small but numerous ones flying.
Mustafa Kemal Atatürk
Near my hostel was a school where they not only flew the flag but an image of Mustafa Kemal Atatürk who is revered by the populous for having founded the modern republic. The day after the national day, I was in Üsküdar where I saw the stands of various political parties. They were all proud to display lots of flags but also banners of Atatürk although some of them were religious conservatives. Atatürk's basic premise was to modernize and secularize the country. But he is such an icon that even his ideological opponents want to associate with him as a national symbol while undermining most of what he stood for.
 Street tram to Taksim Square
Taksim is also the end station for an old historical tram line that runs down the Istiklal shopping street. Here like all over town,
one sees many street carts with simits, a round soft pretzel like pastry for sale. The surrounding area is full of restaurants, hotels and bars clustered around the main pedestrian street of Istiklal where many fancy shops are found.
Greek Orthodox church just off of Istiklal
There are some flower stands at the corner of the square where Istiklal Street begins. I wanted to look in the big Greek Orthodox church just off of Istiklal, seen here in the background, but wasn't willing to pay the entrance fee since I didn't know it to have any specific significance. It seemed an open question if churches that didn't get converted to mosques were still in use or as often, a museum.
Istiklal Street, commercial center
There was at least one other large church along Istiklal street but fronted by a secure gate. The real place of worship now seemed to be commerce with the many shops for the well to do. This is definitely the place for the chic high end stores.
Vendors wearing traditional costumes
A shop on Istaklal selling ice cream, water and beer. I don't know where it started but ice cream sellers in Istanbul tend to wear such colorful vest and caps, costumes from the past. Why them and not vendors of other products other than some fish sandwich sellers? I don't know. This place also sold water and Efes the local beer. Never tried the beer as it seemed to only be sold in cans, which I hate the taste of – and was relatively expensive.
Sex shops in Istanbul
Not only were there many bars off of Istaklal Street but also an erotic shop. I saw a number of others as well in the city, which surprised me in an Islamic country. They did not show anything suggestive from the outside and I wondered what they actually sold, if it was hardcore stuff or if there were limits. Never did get around to going in such a place to see.
Galata
Continuing south on Istaklal, the street ends into a maze of smaller steeper streets near where the nostalgic tram line ends in the neighborhood of Galata. One reaches the medieval stone Galata tower originally known as the tower of Christ, which at the time was the highest tower in Constantinople. I passed it a number of times but either the line to go in was too long or it was after the opening hours. It should give a great panoramic view to the south and the main tourist sites of the old city center. South from Galata tower there are many shops for small souvenirs, small restaurants and the typical Istanbul small grocery store.
Galata fish market
Eventually one comes to the coast near the north end of the Galata bridge that connects to the city center. Just west of here is the Galata fish market. Next to the market are a dozen or so small restaurant-cafes specializing in fish and seafood. Most are kind of laid back bohemian places rather than fancy dining. A bit cheaper than some of the more touristy places one can also find stands grilling fish sandwiches like across the bridge for 30% cheaper. This is an ideal are to relax for an evening meal.
Boat supply & repair shops
Beyond the fish market is an area of boat and fishing supply shops and repair shops and salvage. If you are looking for a massive
chain or an anchor, this is the place to find it.
Galata Bridge
The Galata Bridge is a main artery to the city center for cars, trams and pedestrians. It also has a lower level with many restaurants. The bridge is also a very popular place to fish, which made me wonder how often someone on the lower level gets hooked. I also wondered if these establishments get wiped out by the occasional storm surge. The lower level does not continue all the way across the bridge as the middle section is higher to let ferries through. The ferries fly through with less than a meter clearance to the top and each side, which looked like it would be risky in times of rough weather and impassable if water levels rise much.
Eminönü, Spice bazaar, Yeni Cami Mosque
Eminönü
From the other side of the Galata bridge one has a view to the south to the area called Eminönü. There is a tram stop to the east of the bridge and a ferry terminal a bit to the west. Along the water on both sides is a large open area separated from the area further south by a busy multiple lane road.
Along the water front to the west are a number of decorated boats that are used exclusively to grill fish which are made into sandwiches with onion and lettuce in a long roll. The view from the bridge is spectacular with the Rüstem Pasa Cami mosque in the background. The night time views are well worth returning for.
Fish boats at Eminönü
Fish fry on boat. Simple grill job when you only have one product but the boats rocked wildly from the waves of every passing boat. One orders and pays for the sandwiches at the boat. There are seats and small stools where one can sit to eat and sellers come around with tea or desserts. There is no big pressure to buy anything in addition and the servers seem to enjoy photo bombing. Also available was juice with fruit cocktail.
Eminönü plaza
One could also walk across the open area away from the water and there was a series of stone steps where one could eat or just watch the people go by. I actually ended up at this spot a number of times. Once there was a duo of musicians playing but I don't think they got a lot of money as there first row was all street kids who beg on this area. The kids were mostly shoeless although it was cool weather. A play for sympathy I assume as one girl of about 9 also pulled out a nice cell phone to photograph the musicians. The beggar kids were of course themselves the motif for some tourist photographers who were then hit up for donations if spotted.
Eminönü ferry & tram terminals
Next to the fish sandwich boats was the Eminönü ferry terminal. This was a vital hub for transportation as across from the ferries was also the Eminönü tram station, shown here with the Yeni Mosque in the background. I found the public transportation to be excellent and cheap in Istanbul. There are metro and tram lines, buses and a special metro bus that has its own lane to keep it from getting tied up in traffic.
Then there are the ferries. One can buy tokens for 3 Turkish Lira (TL) which gets you on a line and you can go as far as you want – or theoretically ride back and forth without paying more. One needs an additional token to transfer to another line or form of transport. I got the Istanbul card which cost 10 TR, 4 of which was credit. One just passes the RFID card over the reader at the entrance and 2.15 TR is taken off. But if one transfers within a certain time, the next ride is 1.45 and the third 1.15 TR. All major stations had machines where one could buy more credit. Just hold the card on the surface, put a bill in and the credit is added. And for groups, one card can be used for all – just pass it back over to your companion after passing the turnstile. Compared to Stuttgart it is very cheap.
Figuring out the buses was not as easy as the trams so one had to ask around. The trams and metro were well marked with a display showing the upcoming stop so one could hardly go wrong. I took a few ferries which had the disadvantage that some only ran once an hour compared to about every 10 or 15 minutes for the trams. For international travelers it is important to know that the Atatürk Airport is SW of the city center but connected by metro. Flights to Sabiha Gökcen Airport are not as convenient since the metro does not connect that far to the east. There are supposed to be special shuttle buses that can get one into town, more expensive than using the normal public transportation but much cheaper than a taxi.
Yeni Mosque
There was a passage under the highway from Eminönü where there was another open area. To the east was the Yeni Camii or New Mosque. The area by the Yeni Mosque was always a bustle of activity. I don't know what the people in the red stalls were selling but some kind of pieces of paper although I don't think it was lottery tickets like the guy in the wheelchair. His set up seemed pretty clever. With plastic siding his chair became a weather protected stall in itself. The perspective of the Mosque from outside hardly indicated the beauty of the courtyard once through the door. This was a refuge from the hectic of the surrounding neighborhood.
Yeni Mosque interior
Like many of the large Mosques in Istanbul, it was too big to get in a photo without an extra wide-angle lens and a bit on the dark side.  An external flash might have helped but the one built into my camera didn't bring much at such distances and was often not allowed in many of Istanbul's older sites.
Near Yeni Mosque
Across from the Yeni Mosque was a museum I did not get to visit. Originally built as a post office in 1892, it was sold to a bank which gotten taken over by Isbank founded by Mustafa Atatürk and in the 1950's turned into a museum. Just down the road was the commodity exchange – also in a historical looking building.
Spice Bazaar
Headed back west past the Yeni Mosque one comes to the Spice Bazaar aka Egyptian Bazaar. The spice bazaar is not to be confused with the Grand Bazaar. Much smaller and covered by a simple tin roof rather than majestic archways it was a place for spices and sweets.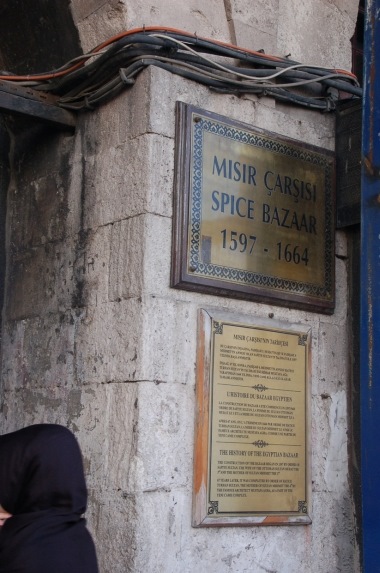 Cats of Istanbul
Right by the bazaar entrance was a place for drinking water, which this cat preferred to drinking water from the ground. Just across was an open market for animal food and supplies. One sees cats all over Istanbul. Many seem to be feral but one often sees piles of dry food or left over bread put out on the street for them. Many looked basically healthy but one wonders if they have thought of sterilization programs, or if they are rather encouraged to keep down the rodent population.
Topkapi palace, blue mosque, Hagia Sophia
Istanbul train station
Going east from Eminönü one comes to the Istanbul train station. It looks old and has the look of being out of an old movie about the orient express but it did not appear to be as large or busy as I would have expected but then I read that it has been basically replaced by a newer station across the Bosporus on the Asian side rather than European side of the city. The old station's rooms now contain at least a restaurant and a hall where exhibitions of whirling dervishes' dances are held.
Gulhane Park
Heading up the hill toward the Topkapi Palace is the vast Gulhane Park. Extensive flower beds dominate what was once the lower part of the palace grounds. The park can be used without paying an entrance and while rather empty during the week and possibly due to cool weather when I took this photo, on the weekend it was full of locals strolling around in addition to the tourists.  It was popular for locals to have their picture taken in the middle of flower beds, so I was surprised that the plants were not all trampled and none of the security guard seemed to care. From the park, one can see the walls and some of the buildings belonging to the inner part of the Sultans' palace.
Archeology Museum
There is an upper and lower entrance to get to the Topkapi Palace. The lower one goes through Gulhane Park and up a road past the Archeology Museums which are housed in another section of the palace complex. I went on a separate day from seeing the palace and spent over 4 hours there.
There are tens of thousands of artifacts covering the whole region of Turkey its neighbors. It was really overwhelming to try to catch half of the different empires and societies that existed over thousands of years of civilization. Greeks, Romans, Persians, Ottomans; it seems every major world power on that side of the globe set foot in Turkey. Most displays had explanations in Turkish and English including some political statements criticizing the western plundering of Turkish artifacts although they also had plenty of stuff looted from Egypt, Babylon etc.
There were audio-phones available that provided commentary in different languages to the more relevant displays. This was also available at the Sultan's Palace but I passed on spending the extra money.
The Sultans' Topkapi Palace
This is the upper entrance to go to the Topkapi Palace in the background. Having accessed either the upper main entrance or the lower one via Gulhane park, one has an additional park area and the ticket booths to gain entrance into the inner part of the palace.
There are special museum passes for 3 or 5 days that include the palace and some of the other main attractions. One can buy them at machines here or at the ticket booths. The pass only lets one see each attraction one and doesn't save much if any money but the big advantage is that once one has the pass, they can skip the lines at the ticket booths wherever it is valid. I had 7 days to see the city and choose not to bother with the pass.
The profile of the people going into the palace was interesting. The majority of them seemed to be Turkish or middle easterners. The western and Chinese visitors were mostly middle aged to elderly. What I didn't see many of on my trip were young backpacker types, which I assume was due to it being April and not summer vacation time from schools or work.
Inner entrance to Sultan's palace
This is entrance to go to the inner part of Topkapi palace. The tickets booths are to the right. The price was 30 TL, just over 10 Euro at the time. Within this part, the private quarters of the Sultan his family and concubines known as the harem cost an additional 15 TL. The whole palace complex had at one time housed an estimated population of 5000 including officials and workers.
Palace courtyards
The palace buildings were built around a series of courtyards. I saw a number of people who I assumed to be some kind of Imam and this one had an assistant. I wonder what modern Islamic scholars make of a Sultan? Like European royalty that were often closely associated and supporters of the church and patrons of religious art and the building of places of worship, the Sultans built lots of Mosques and commissioned elaborate Korans and other Islamic artifacts. But what about the abuses of power, enslaving people including women for sex, the obsessive luxury, the killing of hereditary rivals etc.? Were there no conflicts or is it a matter of double standards for the elite with wealth and power like in most societies?
Palace architecture
This was a corner building with a good view to the north. It made me question the use of space. I assume the high arched roofs helped keep a place cool in warm weather but for all of the effort it takes to erect, it doesn't offer many square meters of usable space. Second or third floors or even lofts were the exception. Like the construction of many of the churches and mosques, I assume it was pure audacity to build something so big just to show you can and to ignore how much land was needed. The concept of bigger is better and flaunting wealth is definitely an age old phenomena. I assume there were exceptions of secret passages but the rooms on the lower level in this photo were not directly connected to the space above. I think such places were often for storage or work space for underlings; like one couldn't expect royalty to dwell in a cellar.
Artistic tile work & artifacts
I don't remember if this one was a mosque or just another private royal room but it exceptionally beautiful tile work. The buildings were an attraction in themselves but many are also used for exhibitions of armor, jewelry, Islamic art, and even cookery.
Palace Harem
As befitting a Sultan, the harem had the most elaborate tile work and other fine details and comforts. The harem was a place inside of a palace where the Sultans wives and a limited number of servants had access. One pays extra to see the harem section in addition to the rest of the palace but it was well worth it cost to see the nicest rooms and courtyards.
Hagia Sophia
Situated next to the Topaki Palace is the Hagia Sophia aka as Ayasofya or great Church. Originally built as a church from 532 – 537 A.D. in Constantinople during the reign of the Byzantine emperor Justinian I. It survived the looting of the fourth crusades in 1204 and in 1453 had minarets added as it was converted to a Mosque. Mustafa Atatürk made it into a museum in 1935. It's considered a gem of historical architecture having used innovative designs and techniques allowing the builders to create one of the largest and highest structures of ancient times.
A number of earlier churches had stood at this spot but fell to strife, fire and earthquakes. Its unique use of domes and archways were often improvised due to technical difficulties during its quick construction and became a model for much of the later style of architecture used for large Mosques. From outside it looks massive but not especially attractive. Part of this was due to extensive re-enforcements needed to keep it from collapsing. This first photo is a view taken from a ferry on the Golden Horn with the railroad station visible in the foreground.
Hagia Sophia interior design
The interior of the Hagia Sophia is massive but a bit on the dim side for making out details. In the main part and archways, the architecture with the use of various dome and half domed structures, is an artwork in itself. The changes made when it became a mosque seemed minimal. As a museum they have tried to keep it in good shape and have a few displays and additional artifacts displayed in the foyers. There was a scaffolding set up for renovation work but it only blocked off a small section. The last photos of this groups shows the archway behind the alter area.
Mosiacs & VIP area on upper floors
The upper floor of the Ayasofya was exclusively for top VIPS rather than the masses already from the beginning. The most exclusive part had huge mosaics a few of which are basically intact and some others partially. One has to appreciate that the Muslims would use it as a mosque yet tolerate religious images. At least they didn't just destroy the images but most  that remain had been covered over at some point.
Mausoleums of the Sultans
From the upper floor window of the Hagia Sophia ones sees the Sultans' mausoleums below and the Blue Mosque in the background. This is a close up of one of the 3, or was it 4, mausoleums of the Sultans. They were added to the complex but one can see them for free, the entrance being on the backside. The remains of the Sultans and their most immediate family were interned here.
Near the Hagia Sophia
There is a square dominated by a big flower bed and a series of gardens that separate the Hagia Sophia complex from the Blue Mosque. Near the corner of the square I took the photo of this corn cart, which like the semit pastry carts, are seen all over. The corn is boiled and salted or one can get it additionally grilled for 1.5 TL a welcomed cheap snake since most of the restaurants around the Palace, Hagia Sophia and Blue mosque are there to part tourists from their money.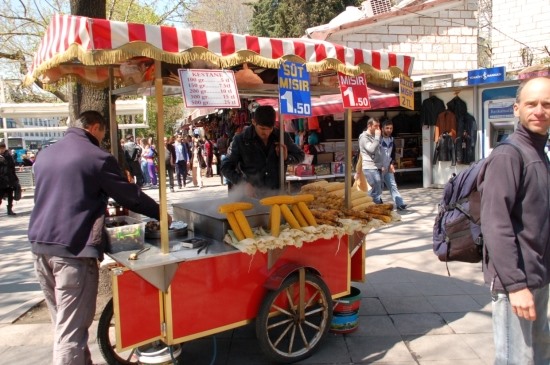 Roman Milion
Across from the square separating the Hagia Sophia and Blue Mosque is the Roman Milion. This obelisk was set as a measuring point during the reign of the Romans  from which all points would be measure since Constantinople was considered the center of the known universe at that time. While it is significant that it was later taken by the Ottomans, the sad truth is that corruption and internal fighting was the real cause.
Before the reformation there had already been a major fracture with the Roman Catholic Church to the west and the Eastern Orthodox churches to the east. During the fourth crusade, it was the Romans who actually destroyed and plundered much of Constantinople. It was weakened and, although mistrustful of the help offered from Rome, agreed to bow to their authority to starve off the Ottomans but the help sent was too little, too late. Thus rivalry in the Christian world was as much to blame for the Ottomans ability to spread their influence.
Blue Mosque aka Sultan-Ahmet Cami
The Sultan-Ahamet cami, usually referred to as the Blue Mosque by foreigners is a masterpiece of workmanship although it is not the biggest or most intricately done mosque. Part of its attraction is its location built over the ruins of former palaces it was in a way an answer to the Hagia Sophia nearby as if to say, yeah, we can do that just as well. The courtyard of the Blue mosque is as expansive as the building itself.
Interior of the Sultan-Ahamet cami
The nickname blue mosque comes from some of its interior tile work which uses a lot of blue tones. On the other hand this is not actually unusual but unlike what one would expect from the name, neither the exterior nor exterior are blue.
The supportive columns are something rather unique in their massiveness, something that has been criticized by some as being exaggerated in their purpose to be stable, diminishing the attractiveness. One has to wonder about such criticism, seeing how Turkey is earthquake prone and a collapsed building does not look very attractive, so why not error on the safe side?
It is claimed that a real error was in the building of the 6 minarets which is the same number at the holy Kaaba in Mecca. Supposedly, the architect who was not an Ottoman mistook the word gold for the word six. Yet to have erected golden minarets seems implausible and possibly more pretentious than the number. Also, half a dozen minarets don't get built over night and one would think the progression of such a prominent project would not go long unnoticed so that such a mistake could be finished. The follow up which I had not heard about while in Istanbul was that the consequence was that the ruler that had commissioned the Blue Mosque pair for another minaret to be added at the Kaaba.
Near the Blue Mosque
Hippodrome obelisks on Sultan Ahmet Square
These are the Hippodrome obelisks which stand on a rectangular plaza on the far side of the Blue Mosque from the Hagia Sophia. The one in the foreground is the oldest standing architectural artifact in Istanbul. Brought to Istanbul by a Byzantium ruler Theodius the Great in 390 A.D. it had been erected in 1490 B.C. at the Temple of Karnack in Luxor, Egypt. The obelisk is made of marble and looks like it was made recently.
That such a huge heavy thing was created in ancient times is more astounding when one realizes what one sees is only the upper third, having been divided for transport. The hippodrome had been an oblong stadium for horse and chariot racing and social events that rivaled the capacity of modern football or soccer stadiums. The Ottomans found little use for such pastimes and the stadium was demolished over time but the name is still commonly used for the plaza where it once stood although it is officially now the Sultan Ahmet Square.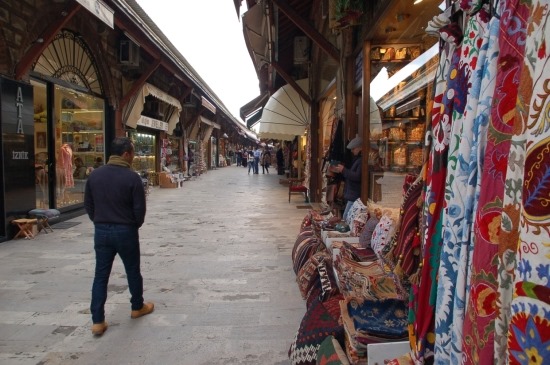 Souvenir Bazaar behind Blue Mosque
Of course the bazaars are not the only place to find souvenirs in Istanbul. Just behind the Sultan Ahmet Mosque is a walking street with shops selling fancy rugs, tapestries, pillow cases etc. Saw some beautiful stuff but I was not in the market to buy much of anything on this trip.
Crumbling buildings
From the Blue mosque it is a 5 minute walk to another small mosque known as the little Ayasofya. On the way I passed this wooden house which turned out to be a common site in Istanbul. Many houses are built of wood and have been left to run down. Some are literally falling apart but are still occupied. Others are empty and often partially burned. I hear that there are expensive suburbs yet right in the inner city one sees many buildings crumbling away next door to fancy ones or historical sites. One would think such property too valuable to let go but if it doesn't capitalize on the tourist industry then there seems to be little incentive to invest in upkeep.
The Little Hagia Sophia
The little Hagia Sophia aka little Ayasofya aka Kücuk Ayasofya is a pleasant Mosque which would be a major tourist site in many cities but I saw few visitors when I went. It was also formerly a church and could be viewed as a warm up for the construction of the bigger Hagia Sophia, which was built shortly after by the same architects supported by ruler Justinian. Although there are similarities, there are also enough differences in design that one cannot say it is just a smaller version by any means. There was a funny sign outside of the Kücük Ayasofya saying all that is allowed that of course should read NOT allowed.
Northwest from the Little Hagia Sophia
Walking northwest from the Little Ayasofya, I stopped for an early lunch with my friend Pablo. There was nothing really special about the restaurant; it was more notable for being rather typical yet not as expensive as the average tourist place. One sees grilled meat most everywhere but they also had a decent variety of mixed Mediterranean vegetables that I ate with rice for most of my meals. A common site around the town are quaint little tea stands. Not sure if they sold coffee as well, which was rather expensive.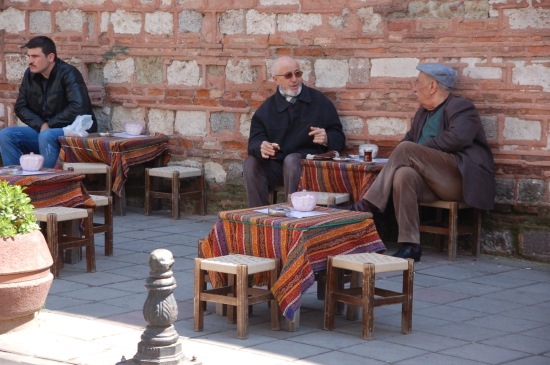 Grand Bazaar
This is one of the many Grand Bazaar entrances. Although a major tourist attraction lots of locals also seem to go here for all sorts of products. Although there are lots of souvenirs for tourists the touts all seemed to be offering blue jeans. This shop by another Grand Bazaar entrance sold very nice textiles like tapestries and pillow cases. The store was small but built in marble in the style of a small mosque or museum.
Grand Bazaar souvenirs
There were plenty of souvenirs in the Grand Bazaar reflecting its history with ceramics, swords and firearms.  Grand Bazaar ceramics were not just for mosaics but dishes, vases, flower pots, lamps etc.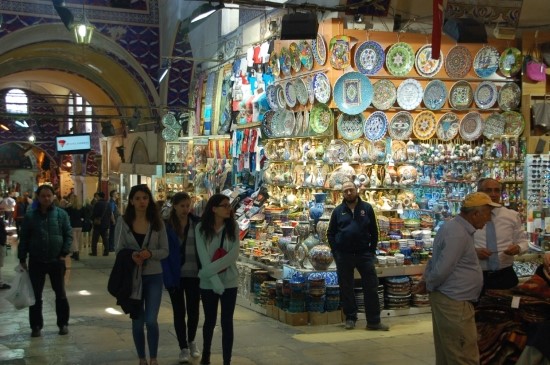 Grand Bazaar architecture
The Grand Bazaar is a huge complex expanded, sometimes partially destroyed and rebuilt over centuries. It is characterized by endless archways. Much of it is almost hidden to sight. One often goes down narrow hallways that open to beautiful, multi-level courtyards.
Near the Grand Bazaar
Istanbul University main campus
Near the Grand Bazaar is one of the main Istanbul University campuses or better said; the campus of one of the dozens of Istanbul Universities. This building was a majestic entrance way but was controlled and only students and other people connected with the University were allowed inside. Not sure if this was just a normal precaution or if Islamic militants ideology made such institutions of learning feel threatened.
Süleymaniye Mosque Plaza
Near the University was the Süleymaniye Mosque, which is supposed to be rather significant but it was mostly obscured by renovation work and it seemed to be time for an official prayer or something inside when we went by so we were not able to go in. But the large plaza next to it seemed to be a popular place for people selling food for the pigeons. One used to see this in more places around the world but eventually it has been disallowed due to hygiene. Nothing like having hundreds of pigeons shitting on the same spot every day.
Rustem Pasa Mosque
North from the University area one comes to the Rustem Pasa Mosque. The first 2 photos show the north sides including a view from a nearby cafe. The design is a real icon of Istanbul since it is easily seen standing out on the hill over the Golden Horn. The third image is from the south side.
Rustem Pasa Cami interior & views
The Rustem Pasa Cami interior was not as ornate as some of the others in Istanbul. It is however majestic in its design and size and includes a cemetary. The view from the mosque however was one of the better ones in Istanbul looking over the Golden Horn. Just below are the domes of the Haman or baths also connected to the mosque were buildings for a religious school and kitchen. I never found the time or money to visit a Haman while in Istanbul. The ones I saw were not cheap and seemed to be cashing in on the western preoccupation with anything one can attach the label "wellness" to. Yet they are prevalent and many of them advertise that they have been in business for hundreds of years, so locally not just a new fad.
Squalor west of Rustem Pasa Mosque
Not far from the Rustem Pasa mosque was another large brick mosque and also signs of urban decay; buildings literally falling down and signs of squalor. These girls nearby seemed never the less to be very curious and friendly about the tourists wandering the backstreets of this run down part of the neighborhood.
Fatih Anit Park & Valens Aqueduct
Fatih Anit Park with the Valens Aqueduct in background. The aqueduct was built by the Roman emperor Valens, finished in 368 A.D. and what remains here is almost a kilometer long but belonged to a system of over 250 kilometers of canals and aqueducts carrying water from the regions west of the city. The system was built progressively during the Roman times and the water stored in numerous reservoirs and cisterns in the city.
Lacking sources of fresh ground water, Istanbul water supply seemed to be a significant factor in its ability to expand and a target for enemies in times of war. Although fenced off, we saw 3 guys walking over the top of the aqueduct which looked kind of cool but I'm not into climbing buildings or base jumping or other extremely risky adventures.
Fatih Anit Park was a fairly big space in a busy part of town. There are sections of grass where some families even made picnics but most of it was a plaza but with plenty of benches for people to meet and chat like these old guys.
Imam at mosque
This seemed to be an Imam on the steps of a mosque near the park. Not sure which mosque because is another one on virtually every block.
Fatih Sultan Mehmet Mosque
This is the Fatih Sultan Mehmet Turbesi Mosque, one of the bigger ones further west of Fatih Anit Park. Images include the entrance, old vendor selling semits pastries inside the walls, the washing station and the mosque mausoleum.
Turkish sweet shop
We stopped in this sweet shop shortly after leaving the Fatih Sultan Mehmet Turbesi mosque. Many of the items looked good but I was not in the mood for eating lots of sugar during my trip and find Turkish delight to be too sweet for my taste anyway.
Seyh Ebulvefa Mosque
Seyh Ebulvefa Mosque was more of a mid-sized place that I found appealing. The style of architecture seemed to be prevalent
in Istanbul although many of the biggest mosques seemed to be built out of solid stone, rather than bricks, on the exterior anyway.
Anti-Armenian demonstration
In front of yet another mosque there was an anti-Armenian protest. There had been political statements by some world leaders in recent days clarifying the reality of the Armenian genocide attempt by the Turks. Although documented beyond any degree of doubt, many Turks take insult to even have the subject brought up. Never mind that Hitler referred to it as evidence that the world would not be concerned with his intended extermination of the Jews. Here they were repeating the same propaganda once used to justify the slaughter of the Armenians by claiming the Turks were the actual victims. Such displays of hateful intolerance make me happy that Germans at least own up to what the Nazis did and openly denying it is a crime.
Communist Party activism
Although there had been political turmoil over the past year, I did see signs promoting communist groups and like in many countries, the first of May is celebrated, as advertised on this poster, as a day for labor and quasi if not outright support for communism. I assume such fringe parties are strictly controlled and basically tolerated by the present regime as a token opposition to create the appearance of democracy.
Sultan costumed man
This was a strange sight; a man in Sultan's costume. He was in front of what seemed to be some kind of office with a group of people. I didn't know what kind of event it was. Turkish boys get a celebration for when they are circumcised, a bit comparable to a bar mitzvah for Jewish boys. The celebrant is dressed in a similar type costume but why an adult man would do so is a bit of a mystery.
Street people
Like in any mega city, there are lots of not so well off people including a lot of refugees in Istanbul. Yet, I saw few adults outright begging but I wasn't sure if it is more a legal or cultural restriction. More common is the selling of something and if you are really on a low scale then people would sell tissues for the nose.
Old city walls
The city walls of Constantinople are the largest fortification of ancient times next to the Great Wall of China. First built by the Romans, they surrounded the entire city but the north to south fortification defending the western side was the most extensive. Constantine had conquered the city and built additional walls expanding the city limits to the west but eventually the city grew beyond and by the fifth century A.D. there was a new system known as the Theodosian Walls erected with double walls and a moat with towers about 80 meters apart.
Much of this fortification is still standing but is in bad repair. Earthquakes and war took their toll but most of the damages are from modern times as such fortifications won't hold off air or artillery attacks and as there was no longer a need for such a defense, people started to steal the stones for building material. To the outside of the walls there is a promenade and green space. Climbing on and between the walls, one finds lots of broken bottles and signs of it being used as a public toilet. Yet there is still a palace standing that was built along a section of the western wall about a kilometer from the northern end.
Inner side of wall usages
On the inner side of the city walls there is generally just a narrow street separating it from other buildings. There are even places where there are some shops or garages or storage places build into inner side of the wall. There was even a space that was fenced off and a woman had built a residence for cats she had saved from the street. She said she had 15 cats living here yet others at home. Nice that they had some shelter and food but I wondered why they should be locked in if she didn't want to have them live at home.
Chora Church Museum
I had gone to walk along the northern half of the western wall but had missed the Chora church which is just a couple hundred meters away. I went back another day and near the entrance to the former church that is now a museum, there were many places to buy ceramic tiles. The Chora Church is not overly big compared to other religious buildings in Istanbul but its claim to fame is its extensive and intricate mosaics and frescoes. Unfortunately the main part of the church was closed off for renovation work but the fore and side chambers were impressive enough.
I don't have an extreme wide angle lens for my camera to capture the domes and archways very well but felt content that my photos came out as well as they did as neither tripods or flashes are allowed. The church had originally been built as part of a Byzantine monastery that was outside of the city walls at that time. The Ottomans converted it to a mosque, saving it from destruction and in 1948 it was turned into a museum.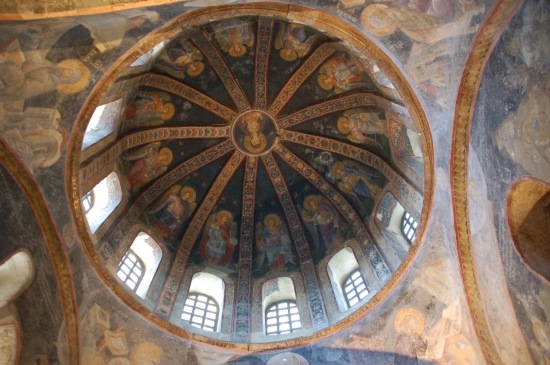 Ferry Ayvansaray – Eminönü – Üsüdar
Having walked the city wall to the north I ended up at the Ayvansaray ferry station which seemed to be home to a number of feral cats. This was my first opportunity to try a local ferry. It was not faster than a bus and the line I needed only ran once an hour at that time but it gave me a different perspective. One of the places that stood out on my ferry ride was the Phanar Greek College.
Another place one would not likely notice except from the water is the Istanbul Navel Museum. I did not have the chance to visit it but it was interesting to see a battleship and a submarine among other novelties anchored right in the city. Nearby was a large industrial area which looked to have been a harbor and storage area but seemed to be mostly abandoned.
Ferry from Eminönü to Usküdar
On my first ferry ride I got off at Eminönü. Another day I took the same ferry from Eminönü across the Bosporus to Üsküdar on the Asian side of the city. Although these ferries are used as mass transportation, rather than just for tourism – although there are also touristic boat tours – some had binoculars that one could use to get a closer look at the city sights.
The docks in Usküdar are a large area as there are many different ferries going to various local locations. Right across from the harbor area is the Mihirimah mosque.
Usküdar McDonalds
Walking inland from the mosque was a McDonalds, not something unusual except that they had a delivery service, something I haven't  seen elsewhere.
Mimar Sinana Camsisi
Farther along I came to a historical Haman or bath called Mimar Sinana Camsisi that had been converted into a small shopping mall. There was a large plaza next to the Mimar Sinana Camsisi where there were multiple shoe shiners that seem to have a tradition of a special style stand. One noticed that the people in Üsküdar seemed more middle class and conservative and less cosmopolitan than in central Istanbul.
Üsküdar street market
Eventually I let the main street I was following and found myself in a street market. There were endless stands with food, clothes and household products like pots, pans, brooms etc. set up in addition to the shops. I felt almost claustrophobic as it was crowded with 95% women shoppers and I found it went on and on, although I was trying to find my way back. After I got out of this maze, I decided against going farther although there should have been a couple of more significant old mosques to see.
Street clowns
On my way back to the ferry back I saw this pair of clowns in a cafe. I was curious if they were doing some kind of street performance as I had only seen musicians at various places. Unfortunately, I didn't really have time to strike up a conversation even if we might have been able to communicate. I had also found a group of Istanbul performers including jugglers on Facebook but never got a response to my question about if they had a regular meeting place.
So, those were just a few tales from my many travels over the last thirty and something years. I hope you've enjoyed another side of a traveling clown! If you want, write me an email or better yet, book my show or set a link to this website or just state me as the beneficiary of your will!
To book or see more information about Tom's clown show and entertainment, visit one or both of his clown websites: