World traveler Clown Tom Bolton
Adventure stories & photos
Tom's travels in Southern Europe
Adventures in France, Italy, Spain & Gibraltar
When I arrived in Europe in 1983 I started in Amsterdam and then went up to Sweden where I knew a couple of girls I had met in New Orleans. It was already September and cold so I headed down to Italy and as far as Athens, Greece. I would have stayed in Greece but I met 2 female Brazilian doctors who were going to Portugal and I decided to go with them. After a couple days in Lisbon they had to fly back home and I went to Spain where I spent the next 5 months including 2 months in the Canary Islands.
Dordogne, France
While in Valencia in November, I met a French girl Dominique and we traveled a while together. I stopped to see her in Dordogne, France in the spring and we started an on-going relationship that lasted 5 years. I was often in France to see her in the spring and autumn before and after my summer performing tours through Europe. Dominique came from a small town called Excideuil that was the epitome of beautiful Dordogne countryside. Although Excideuil was not big, it had a extensive castle that had been damaged in wars with the English but repaired and extended a number of times over the centuries. Richard the Lionheart was said to have failed on 3 occasions to occupy the castle. Funny I didn't get better photos since Dominique's parents lived across from the castle.
Countryside living in Dordogne
This was the little farmhouse, a couple of kilometers from Excedeuil, where we lived a number of years. The barn and fields were used by farmers for their sheep. In the background above the house one can see a cluster of about 7 farm houses. A local farmer had purchased one of them some years back for the land and big barn. Word got out that he needed money and the empty house was up for sale. This was back when one could still find the occasional property and fix it up to have a dream location; a number of the other houses there being weekend homes for rich people in Perigueux. I considered buying it thinking we could live there and if our relationship didn't work out, I could even rent it out in the summer through a program to promote tourism in the area.
The agency would take care of the renting and as the target was summer tourists instead of long term renters; the income was about the same for the summer as a normal house would have gotten for a whole year. The owner was illiterate and drove his tractor to town as one didn't need a driver's license to do so. Eventually, it got sold to a relative as they were untrusting of "outsiders" although Dominique's family was local as well.  I was never sure how much time I might have spent at this house since I liked to go traveling in third world countries when I had the chance but I always ask myself "what if" as it was a fantastic location overlooking rolling farmland and I would really like to have that place now.
Learning to love cats
I was never much of a cat lover before I lived in France. But my girlfriend had a lot of very nice cats which really loved me and I liked to watch them hunting in the fields. Once I forgot to feed them and I came home to find one eating a rabbit and the other a lizard in our kitchen. Two of them had kittens a couple of weeks apart and we had around a dozen little ones running around. Now in Germany we have 3 cats and have had a few others in addition to about 15 kittens we gave away.
Dordogne, castles, truffles, foie gras
Dordogne was like a fairy tale come true, the cliché of old France, beautiful old castles, towns and many little farmhouses in the countryside. Of 88 departments in France it has the most castles and is an area known for its delicacies like truffles and foie gras. These next photos are from Salat, a medieval town that is so well preserved that many films set in older times are made here.
One of the world's greatest treasures of stone-age art work is the drawings on the walls of Lascaux cave, estimated to be 40,000 years old. Lascaux was getting damaged from mold due to human presence so they closed it to the public but built an exact replica nearby for the tourists to visit. The people here were very proud of their heritage to the point where Dominique said she could never imagine living any place else.
Beynac, Dordogne, France
When she had time free from her job a nurse, Dominique showed me around many places in the region. Especially along the Dordogne River there seemed to be another castle surrounded by another quaint village every few kilometers; one of the more impressive ones is Beynac, shown in some of these photos which had legends of an oppressive Baron that tortured and imprisoned victims in the castle. This area was long a boundary between France and the English and the next castle over was regularly under English rule in this time. Beynac fell more than once to the English only to be taken back again.
Château de Hautefort, Dordogne
Another impressive castle just 16 kilometers southeast of Excideuil was the Château de Hautefort. It is built on a hill with a panorama view of the surrounding countryside including the valleys of the Lourde and Beuze rivers. First built as a medieval fortress it was reconstructed into a castle in the 17th century. Surrounded by extensive gardens it was complete with a moat and drawbridge. I visited with my girlfriend Dominique along with some of her friends including one of their daughters.
Lack of work in Dordogne
I saw so many fantastic places in Dordogne and was made very welcome although I was slow to pick up French. The older people all wanted to let me know how thankful there were for the Americans liberating them in WWII but on the other hand had nothing but scorn for American popular culture which they felt was crass. And to say that I preferred California wine to Bordeaux was considered an insult.
The real problem was that there were no big town to perform in and I needed to make a living. Dominique and most of her friends were nurses but unless you were a farmer, there were not many job opportunities. Most of the guys I knew were unemployed and going a bit crazy stuck at home watching the kids. So I would go off in the summer to Germany, Switzerland and Scandinavia. I wasn't ready to settle down and have kids yet which was Dominique's big wish so we eventually went our separate ways.
Italy, Venice
In autumn 1984 I was in Stuttgart, Germany and it was cold and rainy. Another American juggler Steve Goetz had shown up in town and we said, "this sucks, why don't we go to Italy". So we went off to Milan, Florence and Venice. Eventually I would see Rome and work occasionally in Verona and the small cites by Lago de Garda. Venice was a fantastic place, which I was to visit again a number of times in the future although the police were always quick to stop any street shows.
Steve and I ran into 2 brothers who were childhood friends of his who I would later visit in New Zealand. Unfortunately I have no photos from that first trip. Coincidently, I took these following photos on my last trip to Venice with my Austrian friend Uli, who I had originally met in Kathmandu. On the same day, whom did I run into in Kathmandu but my old buddy Steve.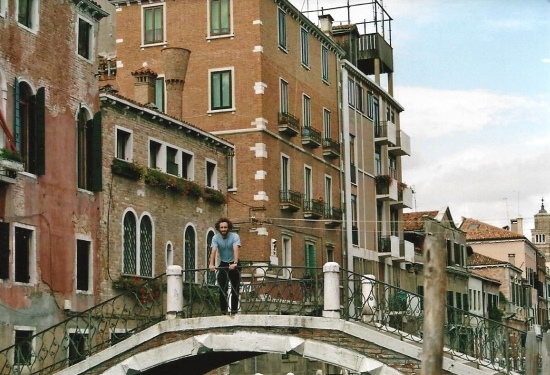 Venice – St. Mark's Square
Although the defining characteristic of Venice is the canals there are also streets of course. Strolling around not worrying about where one ends up other than finding an occasional nice café is part of the charm. When one stumbled on a backstreet it was often a display of the locals' laundry. And the center of Venice is the well-known St. Mark's Square. It is a meeting place, lined with cafes and just a beautiful spot to hang out when it is not under water. One just wonders how long Venice will be viable to live in as sea levels rise.
Venice, Italy – redux
I made another visit to Venice, Italy in July 2018. I met up with my older brother, his wife and youngest son who were on a tour that took them to Greece, Croatia, Montenegro and Venice. Thanks to my brother's generosity, I had a room at the Hotel Dalla Mora ideally located near the bus station and got to visit some palaces and eat lots of great meals. Otherwise, I couldn't have afforded to spend 5 days, 4 nights in such an expensive tourist location. It reminded me how beautiful Venice is; definitely worth visiting but pricey.
Our first destination was to stroll through the city to Plaza San Marco and back .But as the cliché goes, it's the journey and not the destination that counts. As befitting any good Italian city, there are numerous basilicas like the Santa Maria della Salute. Much of the city consists of narrow streets and canals but also some larger plazas or open areas called "campos" in the local dialect like the Campo Santa Margherita.
In a city full of canals, boats are of course an important form of transportation. There are public boat buses which ply the Grand Canal and around to the surrounding islands and mainland. The smaller canals are sometime congested with boat taxis, gondolas and delivery boats including the post and UPS.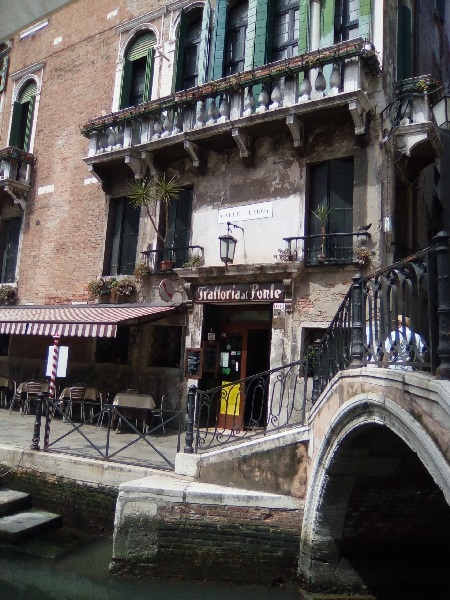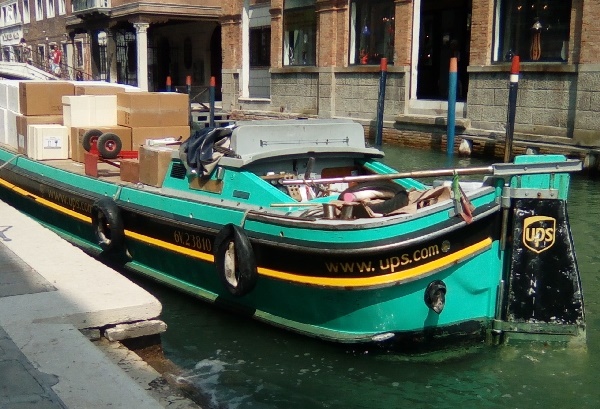 Venice, Italy –
Plaza San Marco
Here is another photo of me on the famous San Marco plaza. Half of the plaza was blocked off for a concert. But like we saw at a couple of fancy cafe-restaurants nearby there was a band playing classical music. I eventially did see a couple of street bands but no other street performances which I'm sure are still strictly fobidden.
Gondola tour through canals of Venice
Near San Marco Plaza we took a gondola ride through the city. It was a nice perspective. I had never spent the money for such a thing but I was invited and I understood that when people have a one in a life time trip to Venice they would consider such a splurg.
Venice Palaces, Doge and Ca'  Rezzenico
The 2 most famous sites on San Marco Plaza are the Basilica and the Doge Palace next to it. After our gondola ride we visited the magnificent palace. Some rooms had artifacts but mostly it was open spaces adorned with reliefs and paintings on both the walls and directly on the ceilings. There was also an armory and prison cells. Another day we visited the place known as Ca' Rezzonico. Venice had been a city built on trade and its's rulers were merchant families rather than royalty. Their residences were however as opulent as any royal palace anywhere in the world. I took a photo of the city skyline from an upper window of Rezzenico but otherwise photos were not allowed in the interior.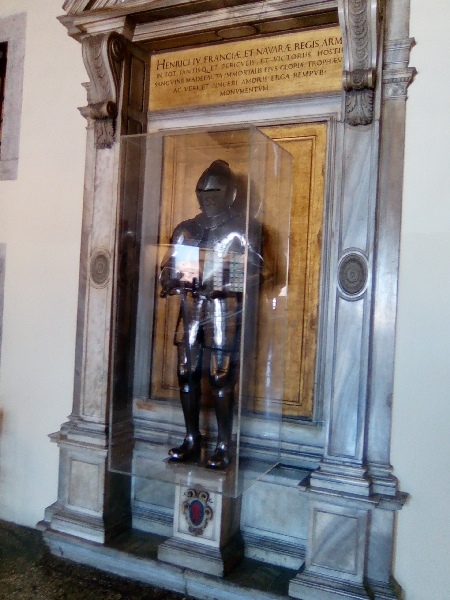 Venice, Murano Island – glass blowing
Venice is comprised of multiple islands. In addition to the main one, another is Murano Island connected by the public boats. Murano is home to many glass factories where they blow and hand craft glass. Sculptures, vases, small figures, bobbles for jewelry – just about anything one has ever seen made out of glass is produced here. We visited one place that offers free demonstrations. It was interesting and one of the few things with free admission. Of course they have the advantage of then leading one into their shop or into the exclusive studio where the more expensive and custom creations are done. Some of the effects are impressive but much of the objects were very kitschy. One could spend more than a day trying to visit all of the glass shops on Murano and every other souvenir shop in Venice has Murano glass objects.
Venice death notices
A peculiarity of Venice that I have never seen elsewhere is papers with obituaries hung up on public walls. I saw at least a dozen of them through the town. I assume they are people who died in the vicinity but not sure why they are used in this manner. At first glance, I thought one must be for another missing cat or something.
Spain, Seville, Andalucía
I traveled extensively through Spain my first year in Europe. Among other cities I visited Barcelona, Madrid, Salamanca, Toledo, San Sebastian but  spending most of my time in Andalucía in the cities of Granada, Cordoba, Malaga, Torremolinos and especially Seville. My first winter in Europe I ended up going on to the Canary Islands for a few months. I also made a number of later visits to the south of Spain as well. Unfortunately, I no longer have photos from that part of my early travels except for these ones from Seville.
Sites of Seville, the cathedral
There is a large old city in Seville that is a rat's maze of narrow winding streets flanked by white walls. For security and privacy the architecture was designed to hide the dwellings from public view as much as possible. On one edge of the old city is the Gothic cathedral known locally as Catedral de Santa María de la Sed. It's is supposed to be the 3 largest church in the world. My impression at the time though was that it lacked intricate detail on the exterior. Interestingly, the building was initially a mosque built during the moor occupation. It was converted to a church and expanded and renovated over the centuries. The Cathedral bell tower is known as Giraldi and was originally a minaret.
Alcazar Palace
Close to the cathedral is the royal Alcazar palace. Like the Cathedral it was later declared a UNESCO World Heritage Site. It is built on the site of a former Muslim residential fortress that was razed during the re-conquest. The interior has intricate designs and extensive gardens. Although built by the victorious Christians, the architectural design shows strong Muslim influences. Some of the upper floors are still occupied by the royal family. While the King is just a figurehead rather than ruler, the monarch still has a lot of indirect influence on the society. And while the government was ruled by the socialist party in the early '80s the oppression of the Franco era was still fresh in people's minds. There was a very active nightlife and party scene in Seville that sometimes seemed almost excessive. But when pointed out I was reminded that it wasn't so long that the people could express themselves without fear of repression.
Maria Lousie Park, El Cid statue
Southwest from the Cathedral and Alcazar is a series of parks and gardens with the University and various plazas and palaces like San Telmo and fountains like Fuente de los Leones within. The main park is called Maria Lousie Park and there is an iconic statue of El Cid along one of the main streets. Characteristic of this area are walls with ceramic murals and fountains.
Plaza de España
Adjacent to the park system is the large Plaza de España complex. Interestingly, the name refers to the majestic half circular series of building as much as the actual plaza in front of it. Not built until the 1920's in connection with the World Fair, it has a mixture of Art Deco, Renaissance Revival, Baroque Revival and Neo-Mudéjar styles. While one might assume it was some kind of royal property, these were always primarily government buildings.  One outer wall of the complex has a series of ceramic decorated alcoves dedicated to each of the Spanish provinces.
Museum of fine arts, Museo de Bellas Artes de Sevilla
To the Northwest of the historical center is the Museo de Bellas Artes de Sevilla, which contains a wide range of Spanish art. The former convent building dates back to 1594 but was first used as a museum in 1839 when many monasteries and convents were shut. Included in the collections are works by local artists who flourished during a gilded period in the 17th century.
Hanging out in Seville
I ended up in Seville numerous times including before and after my winter in the Canary Islands. I was trying to live cheap and do an occasional show to make some money. Thus I rarely spent time paying to go into the sites with admission charges or taking many photos. There were big open areas near some of the tourist sites but the people didn't really hang around to possibly watch a street show – at least in the late autumn and early spring. Thus I ended up performing more in the main shopping district, which was hectic and often controlled by police.
Anyway, my Spanish was not so good having almost flunked out of it during the 2 years I had it in high school. I did befriend this slightly crazy local called Joaquin who spoke passable English after having worked world-wide as a sailor. He is pictured here on one of the typical small plazas in the old city. He took it upon himself to show me the local nightlife, pubs and cafes. Like many locals he was a strong supporter of the concept of autonomy for Andalusia. People in southern Spain are big hearted he said, but country's elite, mostly in Barcelona, were simply greedy and arrogant. He claimed the local custom in a bar was to alternate buying rounds of drinks. Only Catalans would simply buy their own drinks.
While we stuck to beer, the problem was that although he was small he would want to drink a dozen beers in an evening while I was content to have 2, especially being on a tight budget.  After one of these nights out he couldn't find his watch and later told me he had suspected me of stealing it. He assumed my skills of juggling and some magic meant I could pick pockets and steal watches. He only told me this later after finding he had left his watch on his balcony when he was too drunk to remember.
Flamenco & fiestas in Spain
Like in the photo with Joaquin, there are many such plazas throughout the city that one stumbles upon while trying to find ones way down the narrowing, winding streets. Whenever there is a holiday and there seemed to be one on almost a weekly basis, the young people would go to such plazas and sing and dance flamenco. It was interesting to see their pride in keeping old traditions although mega discotheques and now rave clubs were prominent as well. In 1984, Spain was relatively cheap and the people were still celebrating their freedom after the long reign of Franco. I don't smoke but hash was supposedly legal at this time and what's sure is that there was always a party going on.
I had flown from Seville to spend Christmas and carnival time in the Canary Islands but returned for Easter and the elaborate Semana Santa or holy week rituals where large statues or crucifixes were carried from the many churches and paraded through the streets. Most participants wore hooded robes reminiscent of the Klu Klux Klan. Many carried large burning candles and spectators would fall to the ground to catch the wax drippings on cards with depictions of holy figures and prayers on them.
It was quite the religious spectacle but the hedonist carrying on during carnival had been just as extreme. A week after the holy week finished was the start of the weeklong Feria (fair) de Seville. Possibly the biggest festival in the world, there were said to be over a million people on the fairgrounds some evening. There were even 2 circuses set up here. I tried to do some short shows especially juggling with torches at the fair but it was too much of a madhouse. One time some of the artists from one of the circuses saw me and invited me to party with them as if I was a star.
Mallorca
I returned to Spain in the following years a couple of times but just for short visits. There is a group of islands off of the northeastern coast of Spain called the Balearic Islands that include Mallorca, Ibiza, Menorca and Formentera.  In more recent years, I went to the island of Ibiza after the tourist season was over to see my friend Hugo and his family. I also went to Mallorca for a week with my wife. It was also the very end of autumn and many of the places were shut for the winter but we got a very cheap big hotel with "all included" which meant not just food but drinks but alcohol as well! I can imagine it being obnoxious in the high season with so many out of control tourists but it was rather quiet and enjoyable when we went. Unfortunately I didn't have a camera along on these trips.
Ibiza
In 2017 I made my third trip to Ibiza. I spent a lot of time with Hugo who is a good clown but has spent most of the last years making and selling hand puppets. There are a number of "hippy markets" where he sells along with the many vendors of cloths, jewelry and trinkets. Much of it still has a hippy flair to it which grew out of the late 1960's and early 1970's when the island became a favorite hangout for young people wanting an alternative life-style.
Other than enjoying the beaches, the main attraction these days are the many large discotheques. Some of the world's biggest clubs are in Ibiza and a DJ who makes his name there is in demand worldwide. I would have checked such places in my younger years but such a scene is no longer my thing. Another thing I didn't get around to until my last trip was to actually visit the main city of Ibiza Town. The old part is very quaint. From the harbor it is built up on a high hill topped with fortifications, churches, municipal buildings, a convent and lot of small houses.
Ibiza – Playa Can Salada, Santa Eularia
Here are a couple of photos not taken in Ibiza Town. Playa Can Salada is a beach in a harbor surrounded by steep cliffs. It is a bit east of San Antonio the third biggest city in Ibiza located on the northeastern coast. It was a bit of a drive from where I was staying but one of the more interesting settings. The other photo is from Santa Eularia, second biggest city on the Island, on the south central coast, north of Ibiza Town. This is where my friend Hugo lives. There is a small but vital river that empties into the sea just below this viewpoint. This is the culmination of the watershed from the south central part of the island. The irrigation provided by this river was historically the source of much of the islands agriculture. They have built a nice walkway here that attracts a lot of birds.
Cruise ship – Barcelona
Then in November 2015 I went on a cruise ship for a week along the Spanish coast. I never thought to travel on a cruise ship but as a performer I was always curious to check out the conditions. A friend of mine is mostly doing ships and was able to invite me for no extra cost. So I took a flight to Barcelona. We spent a night, got a taxi to the ship in the morning and after having checked in walked a bit around the center of the city, where this first picture was taken.
Wreck of a ship
No, this was not our cruise ship. It was another shipped parked right in front of us in one of the ports though. I don't know anything about its story but it was an unusual and interesting site.
Sailing to Mallorca
From Barcelona we set off to Palma de Mallorca. We only saw some of the main areas around the cathedral but I had seen the city more extensively years before with my wife. There is a lot of majestic architecture that reflects the wealth of those who either live or have connections here. Since more than a hundred years Mallorca was popular for Germans and wealthy elites from other European countries due to its moderate semi-tropical climate. Now days, the German presence is very apparent with lots of German bars and restaurants. Fortunately, the locals have pressured the tourism board to crack down on the excessive drinking and loud music that many low class German tourists are known for here. Only the English are worse behaved but the Germans outnumber them.
Alicante
Next stop was Alicante, a pretty town I had not seen but we only found time to see a bit of the center as well as shown by these photos. The town had a lot of history but was obviously not as wealthy and majestic as Palma de Mallorca.
Motril, Alhambra in Granada
We stopped in Motril which is a small town with a big port from which many ship-goers arranged a visit to the Alhambra in Granada. I didn't elect to spend the time and stress of such a rushed trip as I had seen the Alhambra and extensively explored Granada many years before. For anyone who hasn't seen it, it's one of the top tourist sites in Spain. Originally a small Roman fortress it fell into ruins but was rebuilt in the 13th century and made into a sprawling fortress and palace by the Arab conquerors of Spain. It eventually fell into disrepair again after being recaptured by the Spanish Christian kings. Yet it is still contains some of the best examples of Islamic architecture in Europe.
Motril itself was not overly interesting but there was a beach next to the harbor and the day was not only warm enough to lie in the sun but the water was surprisingly enjoyable as well. I felt the need for more exercise so walked from the beach to the ship. I had plenty of time yet my legs were collapsing by the time I arrived. What I was to find is a common problem is that many harbor facilities are very extensive and with buildings in the way, one loses sight of the ships and the orientation to find the most direct route back.
Gibraltar
The next photos are from the next port Gibraltar. It's a small point sticking out from the Spanish peninsula belonging to Britain. It has a long history of European rivalry and attention as being a strategic point at the mouth of the Mediterranean. It is a strange mix of English people who want to escape the cold and life style of their own country and Spaniards who cross over to work. I had the feeling that there is a tradition of piracy and smuggling yet if a lot of wealthy people are stashing their loot here it doesn't show in the city which for the most part looked rather run down. The first view is part of the main square from where the main pedestrian street starts. The second view with the canon, from the upper side of the city above an old Moorish fortification. A big hit at the souvenir shops were stuffed animal monkeys, something one sees a lot of on the peninsula. Like one would expect, much of the old architecture is a mixture of traditional English and local styles. The most peculiar thing was to look down and see the airport runway – crossed by a street!
Cartagena, Spain
Cartagena was the last stop back in Spain as we headed to the final port of Civitavecchia, Italy. There were some majestic old buildings and a lot of ruins, many of which were from the Romans. There were a number of people in the streets dressed in Roman costumes that posed for pictures with the tourists. It wasn't clear to me if they did this for donations or if they might have been sponsored by the city or tourist board.
So, those were just a few tales from my many travels over the last thirty and something years. I hope you've enjoyed another side of a traveling clown! If you want, write me an email or better yet, book my show or set a link to this website or just state me as the beneficiary of your will!
To book or see more information about Tom's clown show and entertainment, visit one or both of his clown websites:
Clown Stuttgart www.clowntombolton.com
Clown juggler Stuttgart, Gremany www.clown-event.de