World traveler Clown Tom Bolton
Adventure stories & photos
Tom's adventures in Oceania: New Zealand, Australia & Hawaii
New Zealand, Auckland, Wellington
I was only in New Zealand for about 3 weeks in April 1992. I started in Auckland, having arrived from a 6-week journey in Papua New Guinea followed by 9 weeks in Australia and I stayed with Billy and Tim Ebele. I had met Billy in Venice, Italy in 1984 while accompanied by a friend Steve who had been childhood friends with them back in Lawrence, Kansas. Seems I spent most of my time in Auckland barhopping but the brothers, being professional musicians that often played in bars, knew all of the good places.
Leaving Auckland I had tried to hitchhike without success for a day and a half before I even got out of town. A few people had stopped to give friendly advice and even to invite me home when it was getting dark but nobody offered a ride. I eventually made it down to Wellington, which was cold and windy, so I bought some more cloths and a good compact sleeping bag.
South Island on the magic bus
Then I found there was a price war going on between the bus companies and I got a month long pass to travel both Islands for around a hundred US dollars which sure beat waiting the whole day for a ride. The set up with the Magic Bus was that it toured around to interesting places and stopped for the night at hostels. You could keep touring with the bus or get off and catch the next one in some days provided they had space for you.
After Wellington we stopped briefly in Picton and then Nelson where I got off to do a 3-day trek through Abel Tasman National Park on the north tip of the South Island.  It was beautiful walking, not too roughed although the area gets a lot of strong winds and they warn that the weather can turn bad quickly. I had few previsions and no cooking equipment so I survived mostly on bread and crackers and a few apples. Unfortunately, I hae no photos from the trek as I left my camera beind to save weight.
Surviving on bland Chinese food
Think I went for a big meal once back in Nelson but I distinctly remember that I mostly lived on Chinese food in NZ because it was the easiest vegetarian possibility. Strange thing was that the Chinese food was consistently nearly tasteless and one had to ask extra (and pay extra!) just to get some soy or chili sauce. Here was a nice view, which might have been from my trek but could also be outside of Queenstown. There was so much great scenery but after all of these years I can't always distinguish places with certainty without distinct landmarks.
Queenstown, South Island, New Zealand
Going south, the main destination was Queenstown, which was a Mecca for visiting the southern highlands and fjords and for adventure sports shown farther below. On the way down the west coast, we stopped at the Pancake Rocks by Punakaiki. These were interesting rock formations that look like large stacks of pancakes jutting out into the sea. I thought I took some photos but don't find them. The panorama is a ferry on the water by Queenstown. As seen as well in the following photos, there was water and ranges of both low and snow capped mountians.
Franz Josef glacier
Farther south we went to the Franz Josef glacier in Westland National Park seen below. It was supposed to be the only glacier in the world at that latitude that reached to within a few hundred meters of sea level. Most of NZ's glaciers run to the east of the Southern Alps and have been rapidly shrinking due to global warming. The same factors have increased the snowfalls that feed this glacier, which has actually been advancing since then. The approach to the glacier was interesting because one could clearly see the abundance of blue ice. To add perspective, I managed to get people in all of these photos. The puzzle is to find them as they are almost too small to be seen in a couple of shots which shows how huge the glacier is.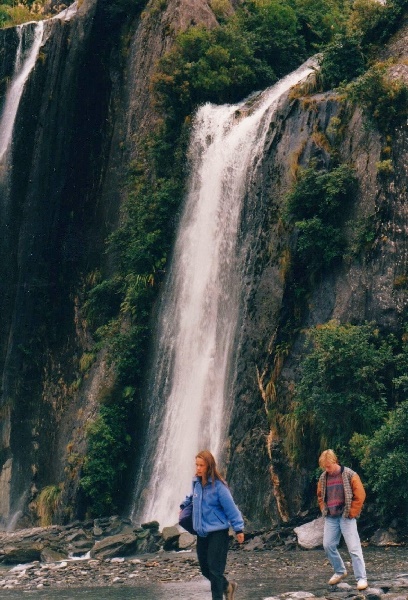 Helicopter rides available
A great way to see the glacier and surrounding mountains was to take a helicopter ride but it was beyond my budget. I can imagine that much of the landscapes especially the fjords would be great to see by air.
Paragliding
I stayed in Queenstown some days and like most thought to do some daring feats. I went to go paragliding but before it was my turn to take off, the winds had gotten too strong and we turned back. One more missed chance at possibly killing myself, so I can't say if I had good luck or bad that day but at least they refunded my money. The technique didn't look too complicated yet one Japanese tourist was zig-zagging all over the place while screaming the whole time. I think she simply hadn't understood the instructions and panicked when trying to fake it.
Bungee jumping
I didn't do the bungee jumping either but here I visited the place where the sport supposedly originally started. I guess I thought it was too tame of a thing to spend a lot of money on although it is definitely higher and more scenic than most places I've seen it offered.
Typical New Zealand landscape
This was a typical landscape in much of New Zealand.  I think these shots were on the way to Queens Town but I don't remember the exact location. Possibly they were in one of the parks I visited. Seemed that some parts were still open to grazing sheep but as sheep far outnumber people in NZ I guess I wasn't surprised.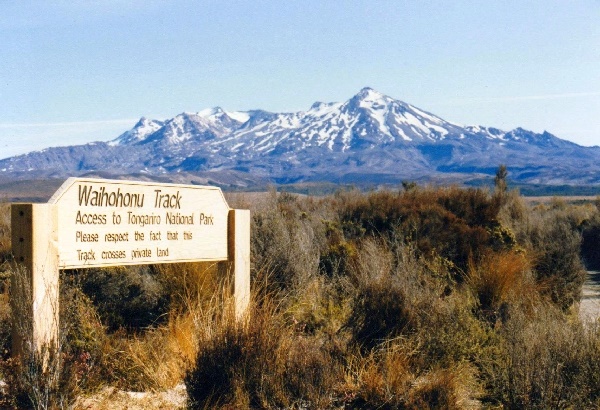 National Parks but not enough time
From Queenstown I went east through Dunedin, up to Christchurch and back up to the North Island. This is one of the few photos I have from the North Island. I didn't get to trek here but our bus tour would stop at such places to give one a chance to run around a bit. There are a number of live volcanoes here in the Tongoriro National Park but I didn't have time to see more.
Back to Auckland
I got back to Auckland with a few days to spare. I would have stayed off longer but one never knew when the next place on a bus would be available. Billy and Tim took me up again but were booked for a private party some distance away. In the end they dragged me along. It was questionable that I would show up and freeload at this nicely catered party but I also did a free show for the people. The hosts were Germans and both the grandma and kids appreciated that I could speak some German. They had built an amazing villa, which showcased the usage of a huge old-growth hardwood tree, which they had airlifted out of a forest. Such trees are not allowed to be cut down but if they are already on the forest floor then they can be obtained – but for an obviously large price. This was the end of my trip to NZ.
Australia
Traveling with an occasional show
I actually spent 2 months in Australia between my travels in Papua New Guinea and New Zealand arriving in Brisbane. Unfortunately, almost none of the few photos I have from there seemed worth including. It's a big country that has a lot of natural wonders but I didn't really see them. In Oz, I spent half of my time trying to perform in places like Sydney, Brisbane, Byron Bay, Melbourne and Surfers Paradise and half of it playing tourist in these towns. I wanted the experience of having tried shows in Oz but in retrospect think I would have made better use of my time traveling around more.
Brisbane
Brisbane was an okay town but a bit slow. There was a big mall in the center where I quickly found out that nearly all towns in Australia require a permit to do street performing, something the Ozzie immigration officials at customs warned me was definitely disallowed for me as a foreigner. They really interrogated me as to why I had been in PNG, did anyone offer me drugs there, and how much money did I have… I had to pay a fee and even do an audition show for my Brisbane license yet they didn't ask for a work permit.
Surfers Paradise
After some days I went on to Surfers Paradise where there were extensive nice beaches but the undertows were dangerous and the sun burning hot. In the evenings there was much more happening but also lots of other buskers to compete with. I found that Australian audiences preferred loud and often aggressive shows that centered on embarrassing members of the audience. Doing a subtle, silent clown show, which was short due to a lack of props, did not go over well.
Surfers Paradise was probably more extreme than most towns since it was packed with people on vacation. But the atmosphere between the performers was friendly, the permit was free and the organization that supervised the permits was supportive, even having supplied a storage room for performers to leave their props. The strangest person I met there was a one-armed unicycling juggler. He seemed a bit simple minded and claimed to be a true Christian. Someone had given him some tapes by a fire-breathing fundamentalist who scared him into thinking he was going to go to hell and he was nearly pissing his pants just worrying about it.
Byron Bay
From Surfers Paradise I went up to Byron Bay which was a very laid back place. Many Ozzies seemed to be rather conservative, brash, sexist machos that had no culture other than drinking beer and acting stupid. On the other hand or maybe as a reaction to this mentality, there were many hippyish, dreadlocked young people that were liberal, positive and peaceful. Byron Bay seemed to be a hotspot for the left-leaning crowd and one saw lots of ads for yoga and spiritual healing and such things in the numerous cafes. I stayed in the private house of a woman who organized a kid's circus. Seemed that most street performers that passed through ended up at her place. I did a couple of okay shows there and spent the money to buy lots of organic food and cook for her and her other guests.
Sydney on the way to Adelaide
Next stop was Sydney. I spent some time at the beach in Manly and looked around the town including the places that looked performable but I wasn't in the mood to bother trying. The Fringe Festival in Adelaide had started and after a couple of days I was on my way there. It is the second largest theater festival in the world yet the shows I saw seemed to be attended mostly by performers from other shows rather than the local public.
One tended to get a performer's discount and I was lucky enough to get to see Stomp, which had been a big hit at the Edinburgh festival and has been going strong ever since. There were lots of street performers around including a few I had met in Surfers Paradise.
Legendary performers, street artists
The following photo shows Dom to the left, whom I think was English but had based himself in Australia and performed as half of the duo Zip and Zap, one of the best Ozzie acts I saw. They combined theater with juggling. Later Dom went solo as a musician.To the right is Peter Post, an excellent Dutch performer known as Mr. Jones, who as I understood, often spent his winters performing in Australia. Somehow it seemed ludicrous that so many good theater shows and world-class street performers could be in one town and the public didn't really seem to appreciate it at all. There were a number of good street artists in Adelaide as well. Tony did classic scenes and a female artist (don't remember her name off hand) did fantasy like this presentation of a female clown Pip.
Relaxing at river & hanging with the performers
I had broken up with my girlfriend before this trip and was pretty sad about it. I met lots of nice people, which helped a bit, but I released a lot of frustration especially by dancing. There were big raves each night at the fringe that were pretty crazy and there I met S.Y. who showed me a nice river with waterfalls and pools to swim in as a break from the city.
Otherwise, I mostly hung out with the performers who all seemed to struggle in Adelaide. I even remember a French group who walked around in little g-string covered by body paint. Such performance art was not well known then but one would have thought the city would be open to new ideas during such a festival. The police shut them down however and charged them for indecent exposure.
Melbourne
Next I went to Melbourne which had rather cool weather and was known to be even more conservative than Adelaide. The pedestrian street in the center had a tram running down it and every performer seemed to have a loud boom box and spit fire out of his ass. I found it a terrible place for shows and the area with cheap hostels was full of junkies.
I lasted a couple of days and went back to Sydney before catching my flight to New Zealand. I had opened a bank account to get rid of my coins in OZ. The banks made you sort them into little zip-lock bags and I arrived in NZ with a bunch of these still in my backpack. Upon finding them, the customs guys asked me if I had been busking in OZ. I said no and then they asked me if I used the bags for drugs. Well, no, maybe I did do a little busking after all… Luckily then didn't care about busking and let me in without further hassles.
Hawaii
Honolulu and on to the Big Island
I also spent Easter day 1992 on a stop-over in Honolulu, which I used to go to Waikiki beach. I was coming from New Zealand on my way back to Europe via Chicago where I would visit relatives for a week. But I had traveled to Hawaii for some weeks in 1988 on my way from Europe via California to Thailand.
Belly Acres Community
I arrived in Honolulu and grabbed a flight over to Kona on the Big Island of Hawaii. I quickly found out that because of the lava flows the roads around the southern part of the island no longer ran through and I had to get another flight over to the east side of the island at Hilo to get to the southeast where my friend Steve Goetz was a member of a land commune.
The members of this community know, as Bellyachers, are all performers and jugglers and sponsor the annual Hawaiian Vaudeville Festival. This festival is not large but attracts a lot of professional performers. Shown below, they fixed up a truck to be a mobile stage for a big variety show, labeled The Sailing Circus, full of juggling, music and acrobatics which they presented in a parade in the nearest "big" town of Pahoa.
Sailing Circus stage show
Workshops and open juggling were offered at the nearby Kalani resort. They also present the Sailing Circus stage show there. It reminded me a bit of the old Our Gang comedy show still showed in my childhood. Bunch of poor kids would somehow put on a mega Broadway style show with no budget. Here a bunch of freaks hanging out in the Hawaiian jungle got together and put an amazing show together but most of them are actually renowned performers in their field.
National Nature Preserve
Belly Acres is on the border of a national nature preserve which is pure jungle and within walking distance of a beautiful black sand beach. Out on the road, in the night, one can see the glow of the lava flow coming from Kilauea, which is the world's most active volcano and has been spewing lava continuously since 1983. There are hot springs to visit in the area which contain small shrimps which would bite you. It didn't hurt but we referred to them as underwater mosquitos.
The Center of the Earth
There is also an extensive cave known as The Center of The Earth. It was very steamy and had a natural thermal pool but it was scary as one didn't want to lose the way in the narrow passages and there wasn't really enough oxygen. By the pool, there were some cracks where fresh air came in and you would pop out of the water every minute or so to take a deep breath.
Volcano National Park
But of course the main attraction is the volcano and surrounding Volcano National Park. I twice went to the lava flow where it was running into the ocean. Clumps of lava the size of a car would sometimes shoot off into the water, propelled by their heat contrasting with the coolness of the water. With good hiking boots one could run across the lava, which had crusted over just minutes before. Or one could just steadily walk backwards on the beach in front of the advancing flow.
We often took along juggling torches or poi's to play with which we would ignite from the lava. WILD! There were also roads and tracks of houses that had been built not long before the lava started flowing again. We got to see some houses swallowed by lava and they gave a perspective to measure the flow by.
Tropical paradise
Of course there are lots of nice places to see in this tropical paradise. The following photos were taken on day-trip I did with Dave Finnigan and his wife and young daughter. But one should not expect that all of Hawaii looks like these photos since so much of it has been developed or cultivate. Dave was a big contributor to the spread of juggling. He manufactured juggling equipment, published a couple of books about juggling and entertaining and promoted opportunities for jugglers who perform and do workshops in schools. The Finnigans were nice enough to invite me to come along in their rental car to see the Akaka and Rainbow waterfalls and jungle.
Around 13 years later I met a 19-year-old American girl at the Zürich Theater Spektakle festival in Switzerland. She was not only a very good technical juggler but had a stage presence beyond her years. When she told me her name was Dorothy, I immediate knew that this was Dave Finnigan's daughter. I think she was amused when I mentioned we had met before but she had been knee high to a grasshopper at the time.
Black sand nudist beach
The area near Belly Acres had both jungle and housing tracks. But within a 20 minute walk was this uncommercialized black sand beach. An eyesore to some but freedom to many of the local free living people is that at the time anyway it was allowed as a nudist beach. Yeah, been there done that but for modesty's sake I've pixelled in a swimsuit.
Troubles in paradise
Despite its beauty, not all is paradise on the islands. It is a very expensive place to live or visit. It is an important tourist destination but there is also a lot of poverty. The tract of houses next to the Belly Acre commune had no electricity or other utilities because there was always the risk that the lava flow could turn that way again and wipe it all out. People caught the frequent rainwater and used solar panels.
One house would belong to some rich person from Japan or Switzerland who used it as a getaway and next door would be some back to nature freaks trying to live self-sufficiently from a small plot of land. The few opportunities for performers seemed to be limited to "traditional" Hawaiian singing and dancing although a lot of that had been become a Vegas like parody of the real thing.
Community center & local performances
Some of the jugglers from Belly Acres tried to establish themselves in the area but relocated because of insufficient work. Since then, they have built a community center that houses a local market and offers workshops in juggling, yoga and acrobatics but most members still only visit and can't earn a real living there. During the festival there were late night shows on a stage at Belly Acres, which was called Club Volcano. This was a chance for people to try out wacky ideas in front of other performers rather than a normal public.
I don't know if there were many problems in this particular area but another friend of mine had gone to live in Hawaii many years before and had endless tales of conflicts with the local Hawaiians who didn't like outsiders. From what I have heard, there has been a revival in learning the language and old customs which paradoxically might help bring the different communities closer. Some Hawaiians might have been ashamed of their traditions as seeming backwards in the modern world. Others felt threatened that their traditions would be wiped out. Strengthening the survival of the local traditions in which people could rediscover some pride might halt the assimilation yet relieve the tensions of differences in culture.
So, those were just a few tales from my many travels over the last thirty and something years. I hope you've enjoyed another side of a traveling clown! If you want, write me an email or better yet, book my show or set a link to this website or just state me as the beneficiary of your will!
To book or see more information about Tom's clown show and entertainment, visit one or both of his clown websites:
Clown Stuttgart www.clowntombolton.com
Clown juggler Stuttgart, Gremany www.clown-event.de