World traveler Clown Tom Bolton
Adventure stories & photos
Tom's travel to Nicaragua – Central America
Arrival and straight to Granada
I went to Nicaragua for 4 weeks starting in the middle of February 2013. I had last been to Central America in 2005 when I went to Costa Rica. On that trip, I met the group from the Esculea de Comedia y Mimo or School of Comedy and Mime from Granada, Nicaragua. In the meantime they had made a number of trips to Europe where I managed to meet up with them again. I kept saying that I would come to visit them but it somehow got put off year after year.
I flew from San Francisco after having spent a month in California to arrive in Managua airport. Thankfully, I got picked up at the airport by Diego the director of the school and Rafa his star pupil who has now taken over some of the teaching and organizational duties. Managua is a big city but has few sites for the tourist so I mostly avoided it. Granada on the other hand is one of the most scenic cities in the country.
The heart of Granada is the Cathedral (left), the adjoining central park (right) and a wide walking street (Plaza Colon) that runs between them (middle). To the south one can see the Mombacho volcano and to the east is the huge Lake Nicaragua. The second view of the cathedral is from the Central Park, below left behind the cathedral.
Colonial architecture in Granada
While most of Managua's colonial buildings have been destroyed by earthquakes, many of central Granada's are still standing. The panorama is of the main plaza showing municiple buildings. In addition to the cathedral in the background, there are a handful of other notable churches like the towers seen here of Iglesia de Merced. The second image is from in front of Convent San Francisco, one sees both Mombacho and the cathedral.
Granada Central Park
The street alongside the Central Park, opposite side of the cathedral, always has a row of horse drawn carriages catering to tourists and locals celebrating special occasions. There are souvenir stands in the Central Park where one will find t-shirts and handicrafts from around the country. One of the most grotesque and misguided things to be offered are stuffed frogs. I assume they at least used to be plentiful in the nearby lake. They are made into wallets, boxes, cigarette lighter holders or as in the photos, contorted into suggestive poses like some bizarre erotic art. A bit more charming were the Che Guevara key chains.
Dogs in Nicaragua
There are a lot of dogs in Nicaragua on the streets, often sleeping literally in the middle of the roads. Luckily, they seem very tranquil if not outright friendly. I only remember one incident of a slightly aggressive one, which is such a contrast to much of Asia where one learns to carry a stick and a pocket of rocks for defense against the ever constant threat of canine attack. Then again, most of the dogs looked to be regularly feed and taken care of unlike many in poor countries.
Typical houses; colorful & lots of plants
Even in the city centers, most Nicaraguan houses are only one story, probably due to the risk of earthquakes. And although Granada is known to be politically conservative, even there people love to paint their houses in wild colors. This is a section of the main shopping street and then a continuation of the same street with Mombacho in the background, which helps with orientation. Houses in Granada, typically have many plants. Finally we see another icon of Granada, the Iglesia Guadalupe, which  is halfway down the main road Calle Calzada between the cathedral and the lake.
Calle Calzada, Granada
The first couple of blocks of Calle Calzada, east of the cathedral, are gringo central. Supposedly blocked to traffic, there are many foreign owned bars and restaurants. Prices are high but this is the place to see and be seen in the evenings. There is another impressive church the Iglesia de Guadalupe farther towards the lake. The expansion of hotels and restaurants is located in direction of the lake, the question is if tourism will increase enough to support it.
Graceful architecture, chocolate and Eskimo ice cream
One of the most attractive buildings in Granada is along the pedestrian section of Calle Calzada. It houses the Dario Hotel, a restaurant and a cafeteria called Chocolate. I never ate there but understood that it specializes in chocolate: chocolate cake, chocolate drink etc. As I knew from a couple of other countries, house numbers are rarely used in Nicaragua even if they exist. Thus the address for this house would be Calzada Street, 1 1/2 blocks from Colon Plaza towards the lake. The esthetic of these historical buildings comes from a combination of graceful architecture and lots of plants; like here in the Chocolate House courtyard. Also pictured is one of the Eskimo ice cream shops. It is a chain and there are at least 2 in central Granada. I know of addresses in Granada that are known on the proximity to the nearest Eskimo shop but then one has to ask WHICH Eskimo shop!
Escuela (y Cafe) de Comedia y Mimo
Farther down Calle Calzada towards the lake is a cafe that was then run (now closed) by the School of Comedy and Mime Group known as the Mimo Comedia Cafe. In the evening they set half a dozen tables out front and offer simple meals as well as drinks. The front part of the place has a nice bar.
Performances in Mimo Café courtyard
The courtyard of the Cafe de Comedia y Mimo was occasionally used as a performance space. Here some of the guys from the school and a couple of visiting jugglers from Esteli warmed up for an evening performance that I participated in. I had no costumes and just some juggling props, so I improvised and played the obnoxious tourist in the audience taking photos that jumps in to show what he can do. The idea of the cafe was to create a flow of income for the school, which otherwise is dependent on sponsors. It is also more central in the town to attract a public for shows.
But they were struggling to make the rent while I was there. They are more expensive than most local places but somehow not popular enough with the tourists yet. There aren't so many tourists out each evening and much of the Calle Calzada towards the lake front is under construction and destined to be a center of attraction for tourists. But in the meantime, most of the tourists tended to congregate a couple blocks up towards the Cathedral.
School of Comedy and Mime
The school itself is in the outskirts (barrios) of Granada. The core group of the school built most of it themselves using a special technique. A steel framework is welded together but then instead of using bricks or pouring concrete for the walls, a grid of thin steel rods is made. Then plastic bottle are wired together in rows and covered with a layer of chicken wire. Then concrete is slapped over the structure. In some sections, space is left to put in glass bottles to let light through.
They say it is quicker, cheaper and insulates better than standard methods. Since there is no deposit on such bottles, people tend to throw them on the ground and many end up in the lake. By collecting or buying up thousands of bottles for construction material, they have contributed to cleaning up the local environment.
School interior
This is the main room of the building, used for training and many activities. In the adjoin room they manage to keep nearly half a dozen computers running. Juggling and performance videos are popular but keeping up with emails and Facebook are just as important as in America or Germany.
Core group live in school
Diego and the remaining members of the core group live at the school. After attending regular school, up to 30 or more smaller kids come by to be feed and to train – all without cost. Thus a lot of cooking goes on and a couple of women often come in to assist Gisha who formerly trained and performed with the group before having a child a few years ago. Somehow they made things tasty although the basis of nearly every meal there and throughout Nicaragua is beans and rice, which surprisingly never seemed to give me gas like I would have suspected. RIP – Diego died in early 2018 but for the time being the school continues.
Also to be seen in this photo is Miriam who was a German volunteer teaching acrobatics and trapeze. Until now, most of the school's sponsors have been German and Swiss as well as the volunteer or two who often contribute special training and/or English, German or other academic tutoring.
Garden & performance space behind school
Behind the school they have a bit of land with many fruit trees. The last few years they have also hosted a performers' festival that I unfortunately just missed. Tents were pitched here and they managed to accommodate around 150 participants. In addition to all the crazy people around, 7 cats and 4 dogs call this place home.
Open-air theater performing space
At the back of the land is a performance/training space with a hardwood floor and high conical roof made from timber and thatch. Next to it are a bank of toilets and a good view of Mombacho volcano. There are also large water tanks under the floor here and in the main building. Although water is cheap compared to the cost of electricity there, they could thus collect rain water in the rainy season. It was the dry season while I was in Nicaragua from mid-Feb. to mid-March and I only once experienced a short, light sprinkle the whole time.
There is a constant breeze from the lake here making it a literally cooler place to train than inside the main building. When I first arrived in Nicaragua, I spent most of my time for 9 days at the school. As they were taking a bit of a break after holding the recent festival, the smaller kids were not there then but I got to meet and train with them at the end of my trip.
Mombacho Volcano
From most anywhere in Granada, one can spot Mombacho volcano looming off in the distance about 10 kilometers away. I had hoped to find others to go with to visit it especially as I had heard recent firsthand accounts of tourists getting robbed between the main road and the entrance. Eventually, I gave up and decided to go on my own, taking a taxi from the school to the entrance rather than just taking a bus towards Masaya and walking from there.
The entrance only cost around 3 dollars. There is also a truck that takes people up the road to the station towards the top for another 8 dollars round trip but it runs infrequently and I was too late. The road is quite good but gets a bit steep towards the end of a more than hour hike. Shortly before arriving, the truck did pass me in the end and parked at the top.
Beautiful but danger of robbery by Mombacho
There are a series of very scenic trails from the top where one is really in the thick of the cloud forest. I only had time for a short circular walk around one of the multiple cones with a nice overview of Granada and the lake. Other trails can take up to 4 hours, time better spent than just climbing to the top if one can afford (and is in time!) to take the transport to the top.
I was around half way down on my descent when I came upon 2 Danish sisters who had just been robbed by an older guy with a machete. There was a fancy finca nearby whose employees called the police and eventually gave the sisters and myself a ride back to Granada. Despite their helpfulness, one had to wonder if the culprit wasn't one of the finca workers supplementing their meager wages.
Hearing from others, I came to the conclusion that armed robberies on Mombacho are fairly frequent despite claims to the contrary by locals. I felt that most Nicaraguans were friendly, honest and helpful but that small percentage of thieves concentrate themselves at the places one is most likely to find tourists alone and vulnerable, like sweating up a steep volcano trail. I would not characterize Nicaragua as especially dangerous for Latin America yet denying the risks is naive. And although Granada is quaint and much smaller than Managua, it does have its share of risks.
City of Masaya, Nicaragua
Masaya is a good sized town half way between Granada and Managua where I made a day trip. This was my first real trip on buses in Nicaragua which was similar to experiences in many other countries. The buses are colorful, generally old school buses imported from Canada or the USA. They were rather small and not especially comfortable but they are relatively affordable and the main means of transportation for most people. The fronts of the insides of the buses are typically decorated with small trinkets and lots of Christian mottos and icon.
The bus stop in Masaya was alongside a big market and is convenient because all of the intercity buses stop there. I would later experience that in many towns there are multiple stations or places where one needed to find the buses. This often meant a change of locations to carry on to another town. Intercity bus services also tended to start early but finish in the very early evening making it difficult to return.
Nicaragua full of garbage
I took this shot on the road from the bus station to the center of Masaya but it could be almost anywhere in Nicaragua. Despite a beautiful countryside, the national problem of littering is as bad as I've seen anywhere. People just throw garbage everywhere. I think it has greatly increased in recent years since the people have more disposable income that they freely spend on junk food like chips while traveling and then throw the bags out the bus windows.
Piñatas popular
The next interesting scene that presented itself was more likable. There was a plaza in front of a smallish church, where a group of kids were hitting piñatas. I didn't get to ask what the occasion was but they strung up at least 5 or 6 of them one after the other. Ones sees piñatas sold at many shops in Nicaragua and even some shops that seemed to sell them exclusively.
Masaya handicraft market
The main thing of interest in Masaya is the handicraft market housed in the historical market building. The handworkers of Masaya are national renowned for their fine craftsmanship. Typical are mask and wood carving, boxes and baskets, pottery, wall hangings and furniture; the taste of which seems to be fixated on bright colors. Even though I didn't buy anything, it was interesting to look at the variety and I was surprised how low key the sellers were. One could really look without being hassled to buy like in so many other places.
Masaya Central Plaza
Like most everywhere in Nicaragua, the town of Masaya was centered around a cathedral and large plaza. This central park was especially large and had a lively atmosphere. Certainly there were candy and snacks of all sorts for sale on the central plaza as if anyone wondered where all of the garbage comes from.
Street scenes of Masaya
Here are just a couple of street scenes from Masaya. The sign shows that in addition to the still strong Catholic influence on the country – evangelical churches have also made big inroads into the society.
Beach town San Juan del Sur
From Granada I took buses down to San Juan del Sur (one needs to add "del Sur" as S. Juan is a common city name), which is the most touristy beach town on the Nicaraguan Pacific coast. Being a small place, tourism has a large impact on it but it is still not really wild and crazy as one might expect. The mix is backpackers to high class tourists, volunteers having a break and American and European students up from Costa Rica to renew their visas and drink some cheap beers.
The occasional cruise ship anchors off shore and their guests run around town having possibly their only glimpse of Nicaragua. Despite its popularity, I found quite affordable accommodation and food if one stayed away from the guidebook recommended places. My hotel was just half a block from the central park and the only other guests at the time were a couple of Mexicans who sold jewelry on the street.
Restaurants & bars but beaches not so great
Being a beach resort, it is no surprise that there are a dozen or so nice restaurant-bars right on the beach. The competition seems to keep the prices here from getting outrageous and nobody seemed to mind if you nursed a beer for a longtime to enjoy the sunset and early evening.
Unfortunately, the beach is not all that impressive. It is fairly wide and long but the sand just isn't so nice, the surf is a bit rough and other than in the bars, there is no shade. Not many people tended to hang out here during the day, many preferring to go to other nearby beaches to swim or surf. I made a day trip to Madera, the next beach 9 KM to the north. There are no buses but one of the bigger hotels offered trucks with benches in the back for 5 US dollars roundtrip. Despite being hilly, one could theoretically rent a mountain bike to do this trip but the road in that direction was notorious for tourists on foot or bike getting robbed.
Surfing a major attraction
A main attraction on the coast is surfing and there were a number of big surf-shops. What do you do with a damaged surfboard but use it to advertise your hotel. Most of the places appealing to the surf crowd and/or hostels tended to have rooms with lots of beds and a young party scene.
Gringo influence – yoga studios, language schools, fast food
Not that there are no yoga studios elsewhere in Nicaragua but such places were typical in San Juan – and mostly run by foreigners. Language schools elsewhere were mostly for locals trying to learn primarily learn English. In San Juan there focused on teaching Spanish to foreigners. Many eateries showed an American influence.  Seemed a paradox to see gringo-ized burritos in a central American country.
Main street San Juan del Sur, Nicaragua
Here are a couple of photos from the main business street in San Juan and a major side street. Only goes to show that there were still some typical local dwellings and businesses and not just foreigners.
Electricity cable chaos
This photo from San Juan del sur was a typical scene throughout Nicaragua. Electricity was pretty dependable but very expensive. I don't know if people were even tapping into the lines illegally, it just looked chaotic as more and more lines were added.
Ometepe Island
From San Juan del Sur, I had to take a bus and a taxi to get east to catch the ferry to the Island of Ometepe in Lake Nicaragua. Ometepe is basically 2 large volcanoes connected by a narrow isthmus. My ferry arrived in the main port town of Moyogalpa with the backdrop of the Concepcion volcano. From there I got another bus to the city of Altagracia on the other side of Concepcion, which is the cliché of the perfectly domed volcano. Here is a view of it from one of the many banana plantations in the area.
Volcano eruption evacuation signs
Concepcion still erupts from time to time and is often shrouded by clouds that catch at the top rather than steam coming from the crater. The locals seem pretty nonchalant about the danger but one sees signs everywhere about which direction to evacuate in case of an eruption.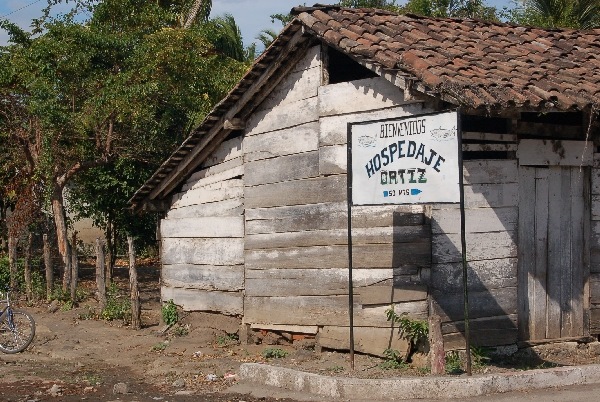 Hospedaje Hermanos Ortiz, Ometepe
The Ortiz pension was one of my favorite accommodations in Nicaragua. Reasonably priced and it had chairs on porches and a covered eating and socializing area in the courtyard. It was a bit hidden back from the street and the sign out front would have you mistakenly think it was run down. Simple meals were available and the owners helpful and they spoke some English.
Religious processions
If one didn't notice from all of the churches and religious symbols in the buses, Nicaraguans are fairly religious. This surprised me since one could expect that the more radical socialistic politics would have suppressed this. Easter was still a month away but there were already processions in the street like the Semana Santa celebrations in southern Spain.
Most of Altagracia seemed to participate in marching to the church in the center of town. There are actually 2 churches, one old and one new, in front of each other and still there was not enough room for all the people. Thus they held the celebration afterwards in the adjacent park where there are old, local stone carvings on permanent display. An altar boy and friend went up in the bell tower to get a birds-eye view. Being a ceremony there were also people selling food and shaved ice. Also in the church courtyard were a number of prehistoric statues. The bottom right photo was not taken at the church but was a kiosk in town that showed the prevalence of religious influence.
FSLN socialist party
The other thing the locals strongly believe in is the FSLN socialist party. There are signs and slogans for them everywhere and every lamp post on the island was painted with the party colors and I had to wonder if they were all really erected by the Sandinistas.
El Ojo de Aqua resort
I rented a mountain bike for a day through my hotel and rode off to a place known as El Ojo de Aqua or The Eye of Water. It is a large Finca with many old mango trees and they have damned the small stream that runs through it to fill a large pool. It is a very nice setting and one can lounge in the shade or swim. Like in the park next to the church in Altagracia, they have a collection of pre-Columbian artifacts and stone statues.
Playa Santa Cruz
From Ojo de Aqua, I went down to the northern side of the isthmus which has a nice long beach and due to ever heavy winds, quite some waves for a lake. In the end, here and some kilometers farther towards the volcano in the distance were the best beaches I found in Nicaragua. I never saw the Nicaraguan Atlantic coast but none of the Pacific coast beaches were impressive. Lots of kids played football and some people rode horses here. The sand was firm enough to bike on and I followed the beach hoping to loop back towards Altagracia. At some point it was no longer possible but there was a wide trail that I assumed would turn into a road. I had to push the bike most of the way and eventually it had a flat tire.
Eventually I got to a passable road where I stopped at a house to ask to use a pump for my tire. My route had angled back and I had to pass the turn off for "Ojo" again. I would have taken my time on the rest of the way back but the tire got pretty low as it was by the time I arrived. The photo shows the beach on the isthmus Playa Santa Cruz with Madera Volcano in the background.
Climbing Concepcion volcano
It is strongly recommended to have a guide to climb Concepcion. I asked around for a couple of days at my hotel and at Ojo de Agua but didn't manage to find any other people interested to share the cost so I went alone. This sign is at the turn off from the main road about 1 KM outside of Altagracia. From here, it is another 3 KM walk along a rocky road to get to the entrance. An old man takes the couple of dollars entrance fee and gives you a walking stick and has you sign in a book that showed a Swiss woman was a head of me but otherwise, nobody had checked in for 6 days.
I started out fairly early but from the start decided not to push myself to necessarily get all the way to the top. It wasn't long before the trail became pretty treacherous as there were spaces between the boulders where one would easily break a leg with the slightest slip and I had worn out running shoes on and not proper trekking boots. The trail was also not exactly clear at some spots and one didn't know if there were risks of taking the wrong way. Actually, one is not likely to lose the way and as far up as I went, there were no sheer cliffs to fall off of but I really took my time and went cautiously. From this trail one had good views across the isthmus to Madera volcano on the other part of the island. There were some interesting cutter ant colonies on the volcano but I would rather have gotten photos of the many beautiful metallic blue butterflies but they were to erratic and quick to get a good photo of.
Lush volcanic vegetation
For a while the trail followed a creek bed that was surrounded by plants but was dry. I think during a rain season it would be extremely slippery if passable at all. I estimate that I made it about 70% of the way up before turning back having decided I would play it safe and make sure I was still fit for the decent. Although I saw virtually no animals or insects on the volcano, there were many butterflies including spectacular blue, shiny ones in the banana groves back near the entrance.
Madera Volcano Waterfalls
A couple of days after my trip to Concepcion, I went to see the waterfalls on the flanks of Madera Volcano. There were just a few buses a day to get to the Finca where one has to pay entrance to access the trail. Unfortunately, I didn't take the early morning bus because I wanted to do emails first and the only good internet shop in Altagracia didn't open until 9 am. There was a bus around 10 but it took nearly 2 hours to get there despite being just 20 KM away. The road is great until one gets to the other side of the isthmus and then it is unpaved and rocky.
I assumed there would be a late afternoon or evening bus back but the driver informed me that they return in a couple of hours and that would be the last bus back. I wasn't about to turn back then and proceeded up towards the falls. I thought I might even be able to go up and back in time for the bus. Despite the heat I was making good time. The distance was supposed to be 3 KM and I was at the 2 KM mark within 30 minutes despite the heat. The road turned to a train and although it did not get rough, it just went on and on. I'm convinced the actual distance was at least 4 KM and I risked not getting back for the night rather than turn around.
The falls were nice but not exactly spectacular and the pool of water where I had hoped to swim was slimy and not more than knee deep. I was wondering if there was even going to be any water going over it as the stream bed farther down was nearly all dry. Some water is diverted into irrigation pipes but it seems that there is just not much run off during the dry season.
Getting back from falls
On my way back I met an American couple who were there in a car and staying in the next village back towards the paved road. I had hoped to catch a ride on a truck or something but as nothing came by before they left, I took them up on their offer.
Stupidly, I left my hat back where I had been waiting. From where they dropped me off it was some kilometers more to the main road where I was sure I would find a taxi if nothing else. I had asked about a taxi at the Finca but they said it would cost 30 dollars to order one. I then got lucky as a taxi with a local going back to Altagracia happened by and took me as well for 5 dollars. There were a couple of villages I could have looked for a cheap room if I had not made it back but my room was already paid for and I was leaving the island very early the next morning.
From Ometepe direction Leon
Rather than having to return to the main port town of Moyogalpa on the other side of the island, there was one early morning bus that connected to another ferry half the distance away. The travel time and cost was about the same as the first ferry but this one was bigger and more comfortable and even had a cafeteria that offered a cheap hot breakfast: rice, beans, eggs and toast. This was great to fuel up as I had a long trip ahead of me. From the ferry, I shared a taxi to get to a bus station where I got a bus to Managua, taxi to another station by the University where there were vans to Leon.
Arriving in Leon via Managua
My trip from Ometepe to Leon was long but went without a problem. It's a pain but one has to change the bus stations in Managua. The taxi drivers waiting at the station were demanding way too much money so I walk a ways out of the station and flagged one down from there. Still paid more than what I was told the price should be but as a gringo with a backpack I didn't want to hang around and hassle about an extra dollar or two. I am not sure why the vans to Leon are recommended over the normal buses. Ours had air conditioning but it was still stickier and more cramped than a bus. In Leon, I had to take another taxi and unfortunately the hotel I had it take me to was booked out and too expensive anyway. A couple of other recommended places had shut down but I find an acceptable place on my own.
Cathedral of Leon
Once again, Leon is centered around a cathedral with a big plaza in front of it. Leon's cathedral however is the most majestic one in the country and one of its most recognized landmarks. Leon and Granada are longtime rivals to being the political and cultural capital of Nicaragua. Granada seems to have attracted a bit more investment and tourism but Leon seemed a bit easier going, possibly due to the many students there. In the battle for best cathedral, Leon wins hands down.
Around Leon Cathedral
The central plaza in front of the cathedral is a place to socialize and attracts its share of vendors selling toys, cotton candy and lottery tickets. Here is also a side street from the cathedral.
Hospital & socialized medicine
Near the main plaza in Leon there was a hospital. The signs touted that it was free – a benefit of socialized medicine. And while such places probably helped deliver basic care to people who would not otherwise be able to afford it, I also heard that the system is not all it claims to be. Seems the standards are not high and to get top care one has to pay out of the pocket. Yet this is probably typical of most poor third world countries rather than a condemnation of social heath care per se.
Market & food stands behind cathedral
Behind the Cathedral were street markets and lots of food stalls and food carts.
Many majestic churches
There are quite a few other good sized churches scattered throughout the city. The houses didn't look much different than in Granada but the churches were definitely more ornate on the outside, so I guess the conservatism of Granada was not just political.
Mud brick architecture in Leon
On my way to the church in the background, I passed multiple buildings made of simple mud bricks. Seemed a paradox for a town with colonial opulence to a degree but its not uncommon in Nicaragua to see simple dwellings still based on such basic construction methods. The question is how such places will hold up in the future as heavier storms are becoming more frequent with climate change. The photo to the right is actually from Esteli rather than Leon. It is a public service campaign against Chagas disease carried by bugs known there as chinches commonly known as kissing bugs. Endemic to most of Latin America, early symptoms are often mild but if left untreated can lead to death. The insects typically life in dwellings made of earth, wood and leaves. Thus concrete dwellings offer them a less than ideal habitat.
Typical houses & horses for transportation
More typical Nicaraguan houses. Not that the country lacks vehicles but some people still use horse power to get around or transport things and not just tourists out for a city tour. Another typical sight was abundant fruit stands.
Basketball popular in Nicaragua
This basketball court is located close to the Leon Central Plaza. Baseball seems to be the most popular sport but basketball is also popular and many skateboarders also used this place weaving in, out and around the basketball players.
Chavez publicly mourned
Commondante Chavez of Venezuela died while I was in Leon. There were rallies and memorials for him by the central plaza and in the street next to the big basketball court. Nicaraguans looked up to him for his support of socialistic causes. And while Nicaraguans are not anti-American, they shared a sense of frustration and distrust of American intentions and support for repressive regimes in Latin America. But I also heard people scoff at some of the televised coverage of Venezuelan mourners crying as if they had just lost a saint. Made one think of the staged protests and rallies in North Korea with people wailing for their beloved leader(s).
Mural with American volunteer
A couple of blocks from the basketball course was a restaurant/cafe with a big mural inside showing heroes of the revolution including the "martyred"  American juggler Ben Linder. Seems he has been elevated to almost a patron saint of the liberal Americans who dared to take risks to show solidarity with the poor of Nicaragua. He volunteered to help with civil engineering projects and entertained kids before being killed by Reagan's contras.
Northeast to Esteli
Esteli is some hours north east of Leon. It is set among small mountains and is pleasantly cooler and greener due to a high elevation. The inevitable Cathedral and central park there are more to the north of the main shopping district. I couldn't judge is the people are actually less friendly than in Leon as rumored but unlike elsewhere I had seen, the banks and some big businesses had a heavy presence of armed guards outside. The town has lots of shops and street vendors but lacks any outstanding architecture.
Esteli wall murals
In Esteli, like in most Nicaraguan cities, there were various wall murals depicting revolution and people opposing dictatorship and oppression.
Esteli juggling group
There are supposed to be some nice trails and parks in the area but no easy transportation to visit them. I failed to find the one recommended travel agency that should organize tours to such places and didn't see many other travelers to potentially organize something independently.
The main reason I actually went to Esteli was to see meet the juggling group started up by Lester, who had spent many years with the School of Comedy and Mime  group in Granada. He and a couple guys from his group had come to Granada to train with me but he thought it would be inspiring for the others who hadn't been able to come. The jugglers get to use a small community center on the outskirts of town for a hour or two most days. They were making due with some pretty damaged equipment but a number of them are advancing rapidly and have potential to be good jugglers.
Circus in Esteli
One evening we went to see the circus camped near the edge of town. We managed to get in for free but it was more towards the end of the show and rather than wait around the second performance, we went to drink some beers. One of the circus performers was said to be a 5 club juggler but we only witnesses a small amount of juggling during a long rolla-bolla routine.
Daytrip north to Ocotal
While in Esteli, I got an email from the editor of Kaskade, a German based juggling magazine. She mentioned that there was a circus school group in the town of Ocotal a couple hours' drive north of Esteli. Unfortunately, despite asking her and searching in the internet, I didn't find a dependable way to contact them on short notice. I thus decided to get an early bus and do a day trip there and see if I could locate them. The bus station was outside of town but still walkable to the center.
The Cathedral and Central Park across from it were quite impressive. Both the cathedral grounds and park had the benefit of intensive botanical interest by the city's former mayor. Like in Esteli, Ocotal has an extensive market and many small businesses and vendors on its main street. One of the more impressive buildings in town was mostly in ruins. Not sure what it had been but obviously a government building of some sort.
Nicaraguan funeral homes
There seemed to be many small funeral homes in Nicaragua. I liked the name of this one in Ocotal, The Doors of Heaven, opened 24 hours, with an idealistic, almost heavenly view of a mountain in the background.
Ocotal circus school project
I did manage to find the circus school project. They had storage and training space in a complex containing a children's library. I spoke with the people there and looked around but was told that the juggling and circus training would take place later in the afternoon.
I returned later, a good 45 minutes before the training should start with the hope of already meeting some of the jugglers since I would not have much time to train after they officially began because I had to get back to catch the last returning bus to Esteli. I showed off many of my tricks and spoke with the young people there but they insisted that the training wouldn't start until later.
To my surprise, hardly any new people showed up. Most of the ones who juggled seemed to either already be there or not coming. Despite an enormous amount of juggling props, not many of them seemed to be interested to do more than simple diabolo tricks. Maybe it was good that things were regulated that the kids didn't just take the juggling props when or where they wanted but I thought they might have taken the opportunity of my visit to start the juggling training earlier.
To Esteli and back to Granada
I got back to Esteli and left early in the morning back to Granada via Managua. I spent a couple of more days in Granada, finally getting to meet the younger kids in the project who were having a break when I was their earlier. I also spent more time walking around the town but still never got to explore more of the areas along the lake or visit tour around the many small nearby islands.
And of course I never got to the Atlantic coast or south-eastern regions, so there are enough places that I could spend another 4 or more weeks just getting an overview. The weather was hot and dry which eliminated the problem of annoying insects but one wonders how much of the country looks after it has had more rain.
Potential for Nicaragua
But for the future I hope good things for Nicaragua. There are already big wind mills going up which capitalize on the fact that many areas are very windy. The sun is beating down and just waiting to be utilized as solar power cells finally become affordable. With more cheap renewable energy, I would expect that more intensive irrigation projects spring up since Nicaragua is blessed with a couple of huge lakes of (relatively) clean, fresh water.
Socialism has so changed Nicaragua that it seems unlikely that people will allow it to once again be exploited by the rich elite. Yet, for the skeptics, one need just go there to see that the people are free. It is not some kind of totalitarian, communist prison like conservatives would have you think. Yes, you can have Pepsi or Coke and nobody minds.
So, those were just a few tales from my many travels over the last thirty and something years. I hope you've enjoyed another side of a traveling clown! If you want, write me an email or better yet, book my show or set a link to this website or just state me as the beneficiary of your will!
To book or see more information about Tom's clown show and entertainment, visit one or both of his clown websites:
Clown Stuttgart www.clowntombolton.com
Clown juggler Stuttgart, Gremany www.clown-event.de