World traveler Clown Tom Bolton
Adventure stories & photos
Southern Vietnam, Mui Ne, Saigon, Phu Quoc
Mui Ne, Vietnam
This is the 3rd and final segment of my trip to Vietnam in 2014. I had heard a lot about Mui Ne; how it had become one of the most popular Vietnamese beach destinations in recent years and the place many of the package tours would accommodate guests to enjoy a great beach. I was disappointed. There is no real center, it is just over priced hotels and shops and resorts strung out along about 15 Km of coast. The beach is not very wide at all and full of garbage and there were only a few places where one could even buy a drink or food.
Not many people were even on the beach as the center of activities was mostly on the road. And not that I choose to stay at hostels if I can avoid them but there didn't even seem to be any as a cheap option. Things were not outrageously expensive, the place was not terrible but it lacked any charm and was just boring. I rented a bike from my hotel, the best one out of a dozen but it was much too small and with only 1 speed was not enough to take some of the longer slopes.
A few KM to the north of where I stayed was a fishing village where I took the next 2 photos. Beyond the fishing village were some large sand dunes I had intended to visit but I gave up before getting to them. I had already ridden about 30 Km to the Cham ruins to the south and back and my knees were hurting from using a crappy bike.
Temple south of Mui Ne
This was a nice temple on the main Mui Ne road to the south that I found on an afternoon bicycle trip. Not sure of its name.
Po Shanu Cham Towers
Farther south of Mui Ne are the 3 Po Shanu Cham Towers on a hill overlooking the city of Phan Thiet a few kilometers farther down the coast. The architecture is similar to the Cham towers in Nha Trang.
Po Shanu priest
Other than these priests or monks or however they are called, I didn't see more than a handful of other visitors at Po Shanu. I would see much more people at the Cham towers in Nha Trang including locals performing rituals in them although these towers were originally Hindu rather than Buddhist.
Po Shanu Communist monument
On the top of the Po Shanu hill are ruins from a fortified estate built by the French, captured and destroyed by the Viet Cong. Just below on the way up from the Cham towers was a monument to the communist revolution. Seemed the Communists preserved religious sites since they are historically important but they always throw in a plaque or monument to the revolution. Seems a bit irreligious but then not nearly as much as the Americans and French who militarized and eventually bombed many such places.
Bus Mui Ne to Saigon
I spent 3 nights in Mui Ne and then got an early bus to Saigon. Although it was not an overnight trip it did take until late afternoon and the bus was one of the typical sleepers. Despite it still being in the Tet holiday time I did manage to find buses to where I wanted to go. They are sometimes more expensive and the scheduling irregular but one can travel then. Upon arrival I got dropped of near the area with most of the cheap backpacker hotels. For later transportation out of town I had to go to this Saigon bus station. But there were various transporation hubs and some long distance buses left from their own company locations.
Saigon (Ho Chi Minh City)
Saigon might not be its official name but seemed more commonly used. It lacks most of the colonial charm of Hanoi. The city's mantra seems to be progress or their version of it. The strategy seems to be to pull down everything in sight and build something bigger. A total disregard for history and architectural integrity seems the new norm. The top right view is by the central Ben Thanh Market, one of the main locations for tourists to find their souvenirs. A huge area in front was dominated by a construction site. Following shots show the traditional one story shops that were supplanted by standard 5 or 6 floor buildings – and behind – the mega buildings replacing them all. Another central thoroughfare showed the influence of American culture on modern life; KFC and American themed musicals.
Bui Vien Street, Ho Chi Minh City
These are shots of Bui Vien Street the center of the travelers' world in Ho Chi Minh City. For about 800 meters, it and its many side streets host over 100 hotels, restaurants, travel agencies and souvenir shops. When I first arrived I went to a place recommended to me but they claimed only to have an expensive room with air conditioning which although warm, wasn't really necessary. For 10 USD they gave me a dorm room but I was the only person in it. I only stayed one night and the next night was getting a bus to connect to the boat for Phu Quoc Island. So most of the time I spent in Saigon was after I returned from Phu Quoc on my way back to Germany.
Saigon – motorbike madness
Like in Hanoi, Saigon is a mad house (if not more so) of motorbikes that gridlocks during the rush hours. Saigon seemed to have much less bicycles than Hanoi but the typical street vendors are still to be found.
Belle Époque architecture
My friend from University Bryan came to meet me and we walked towards the center to see some of the sites. Here was the Continental Hotel. Nearby is the Notre Dame Cathedral, which along with the Opera house and below left the old central post office are all landmarks of Belle Époque architecture.
Central landmark Bitexco Tower
From this park one sees the iconic Bitexco Tower in the center. It is easy to use as a reference point to find one's way and recognizable by its heliport which I have been told is too dangerous to land on because of the ever shifting winds.
Preserved architecture
Not far from Bryan's place was this beautiful mansion that now has a tearoom on the first floor. One can visit most of 2 floors that have been preserved and renovated to their historical glory as the residence of a wealthy Chinese merchant family that owned much of the nearby property. Sadly many such places in Saigon have been torn down to make way for ugly high-rises.
Saigon Fine Arts Museum
Close by was another of their properties now housing the Fine Arts Museum which contained some truly fine exhibitions but like most Vietnamese museums, had to throw in a lot of war artifacts in addition to what one would call art. Shown is also the courtyard of the Art Museum. Obviously there was some outstanding architecture in Saigon but unless it was spectacular enough, or protected by the right patrons, most older buildings have been razed over the last 2 decades and replaced with ugly substitutes but ones with much more floors, which means more rental space and potential profits.
Saigon Zoo, History Museum & Military Museum
There were a cluster of other sites in central Saigon. This is the entrance way to the Saigon Zoo. I did not go into the zoo itself but to the left inside the gates was the History Museum, which had extensive exhibitions including English explanations about Vietnamese history and culture. Directly across from the History Museum was another large temple worth visiting. Back outside the gateway to the zoo and across the street was the Military Museum, not dissimilar to the one in Hanoi. Lots of military hardware but more limiting in scope to my interests as the below mentioned War Remnants Museum.
Reunification Palace
This is the huge Reunification Palace that is one of the most visited tourist attractions but I didn't go in. Maybe I am wrong but the descriptions in the guide books didn't grab me as offering anything I hadn't see elsewhere and the whole look of the place looked kind of creepy with its Soviet style austerity. It was also late in the afternoon and I decided not to spend the time and money.
War Remnants Museum
Instead of the Reunification Palace I spent the rest of my afternoon at the War Remnants Museum. Sure, I had seen lots of military displays but this really focused on the war with France and America including many photos, posters and commentaries from westerners. There was also a lot of information about the political situation and usage and effect of things like agent orange. They took pains to be objective and gave gratitude to the help of conscientious people around the world that helped shift public attitude from paranoia of communism to realization of how immoral the war really was. There were by far more foreign visitors here than at any other site I saw in Vietnam. I had to wonder about the name. Remnants are small pieces of something left behind; like memories which leads one to the word "memorial", which is the word I think they actually intended.
Propaganda posters still in use
Back on the streets of Saigon one still sees posters touting the virtues of the communist party. So this form of persuasion is not just a historical artifact for the museums. That's me with Ho Chi Minh and comrades. But they seem to also use such media for public health information campaigns.
Binh Tay Market in Cholon
My last day in Vietnam was in Saigon and I took a bus to the Binh Tay Market in Cholon, which is known as the Chinese quarter. It was good sized but I didn't find it much different than other covered markets I had seen, nor did I see a noticeable difference in the neighborhood.
Chinese Quarter of Cholon
From the market I headed off to see half dozen temples and on the way passed this small park. In the pool is a dragon; so was this an example of something Chinese? So many Vietnamese symbols including much of the traditional characters were borrowed from the Chinese so I am not sure how to tell the difference. Located in this area was the fabric district; one shop after another of material of every sort.
Cholon Joan of Arc Catholic Church & school
Close by in Cholon, I ran across the Joan of Arc Catholic Church and school. Interesting were the mixing of totally different architectural styles.
Cholon Chinese Temples – Tam Son Hoi Quan Pagoda
The other things of note in Cholon were a number of Chinese Temples. Rather than Buddhist, they are dedicated to Chinese deities. Most have a primary deity – or two but in the end one can find any number of various figures. I've attempted to assign the images to particular temples but I don't have notes to rule out having mixed some of them up. The first of the temples I got to Tam Son Hoi Quan Pagoda was small but well decorated, impressive in its style rather than size. It is primarily dedicated to the seagodess Maza and other deities to fertility and prosperity.
Thien Hau Temple
The Thien Hau Temple is supposed to be the oldest remaining temple in Ho Chi Minh City and it had some unique looking details. The name refers to a Chinese sea goddess Mazu. She should protect fishermen and seafarers. It is a separate belief often associated with Taoism and Buddhism whose followers are mostly from southern China and Taiwan.  This style of inlaid ceramic mosaic was unusual. Otherwise, burning incense and making offerings at the back of the temple was standard fare.
Nghia An Hoi Quan Pagoda, Cholon
Continuing my wanderings through Cholon I visited a couple of other temples in the area that show a progression to bigger, shinier decoration. Nghia An Hoi Quan Pagoda had multiple passage ways often flanked by what I assume are lion figures. It is primarily deidicated to Guan Yu, not only a god of war but also commerce and trade.
Ha Chuong Hoi Quan Pagoda – Cholon, Saigon
This was another temple primarily dedicated to the seagodess Mazu.
Phuoc An Hoi Quan Pagoda- Cholon, Saigon
One more pretty temple. This one is primarily dedicated to general Guan Yu. It includes a lot of intricate tile work and many huge vases with a mosaic inlay.
To Phu Quoc Island by bus & boat
I went down and back to Phu Quoc Island shortly after arriving in Saigon. On short notice, I had to pay more than usual and thus opted to go by bus and ferry and only splurge for a flight for the return leg. Despite hearing that Phu Quoc should be over commercialized, I found it to be the nicest although not cheapest place in Vietnam.
The trip was not easy though as I got picked up by a van, transferred 20 minutes later to a bus depot where we went by a mid-sized bus for 40 minutes to get to our sleeper bus. It drove through the Mekong Delta but it was dark out so I couldn't see the country side. I had eaten a meal with tofu before leaving, even commenting to some other tourists there that I rarely if ever got sick from the food in third world countries. But within a couple of hours I was feeling bad.
Food poisoning set back
The sleeper stopped about 3.30 am and I was told to get out and go to another small van everyone else on the bus continued on. As I got out of the bus, I not only threw up but started to get diarrhea and soiled my pants a bit. About 40 minutes later I was dropped in front of a closed office in the town of Rach Gia. I sat there with my backpack and vomited profusely and felt like just crawling into a ball. Funny thing was that there were already people going out for a walk and blaring music that seemed to be to encourage people getting up and exercising.
Eventually a cafe opened across the street and the woman encouraged me to come and relax with them and I sipped a coke. Eventually the travel agency office opened and they merely verified that I had a ticket and said that I needed to go to the harbor to catch the ferry. Luckily it was just a few hundred meters walk but I continued to vomit my guts out. But better that it came before I went on the ferry than during the 2 hour ride. The ferry was called the Superdong IV, which sounded like the title of a bad porn movie Across from it was this cafe restaurant where I think I managed to sip some tea between runs to the waterfront across the street to puke.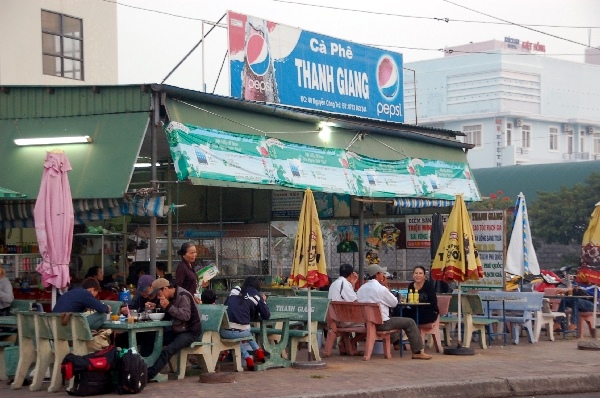 Phu Quoc Island accommodation
Once on the Island, I got a van taxi with a bunch of other tourists but the driver was a bit obsessed about taking people to the place he recommended. To make peace I took a look and saw that one of the places I wanted to check out was very close by. The touted place was not bad but 20 USD for a bungalow.
I went to the next place and was told I could have bungalow that looked as nice for just 15 USD but then suddenly they claimed that it had been promised to someone else. For the same price I get a room up on top of the main house; not nearly as nice but by then I was so out of it that I took it, showered and had a rest. These were the bungalows and my room was at the top of the white building to the left. This was the view going down to the beach from my place.
Phu Quoc beach & restaurants
This was the restaurant from my place and some addional places along the beach. Unlike Mui Ne, the restaurants and bars were mostly right on the beach and there was not much garbage except at the back of a few empty lots. Most of the guests were westerners and a good mixture at that.
Phu Quoc sites of interest
There were some sights around the island but it took a couple of days for my stomach to recover and I just stuck to the beach although I strolled pretty far. At one place there were these concrete dolphins and mermaid statues and nearby a crazy looking place with other statues. Near this amusement park type place was a water-lily filled canal that ran parallel to the beach for a hundred meters or so. Access to the establishments there over a quaint wooden bridge.
Back to Saigon, reflections of Vietnam
My flight back to Saigon was delayed but uneventful. I spent 3 days there before returning home catching up with my old friend from University and looking around the sites shown previously. In all, I was happy with my trip to Vietnam. It was more developed than I expected and the quality of accommodation and food and other services for tourist was quite high. The down side was that the level of English his not high, even at tourist places. The quality of buildings and lack of open poverty was commendable but a lot of charm of old styles of architecture and life in general seem to have been lost in the road to modernization.
My friend commented that few tourists return to Vietnam. It is not that it is difficult or unsafe, on the contrary; but I think most of its sites are over shadowed by other places that are even more spectacular. The temples and ruins are nothing compared to India, the food and beaches not nearly as good as in Thailand etc. But if one lives in the moment and takes it for what it is, then Vietnam was well worth seeing.
If given the opportunity I would see more of the Mekong Delta, go to the tunnels in Cu Chi, visit Con Dao Island and find a way to get more off of the beaten track and see some of the western highlands. There are other countries I've yet to see so I cannot foresee going back to Vietnam right away but maybe in combination with seeing Burma and Cambodia I might get back again.
So, those were just a few tales from my many travels over the last thirty and something years. I hope you've enjoyed another side of a traveling clown! If you want, write me an email or better yet, book my show or set a link to this website or just state me as the beneficiary of your will!
To book or see more information about Tom's clown show and entertainment, visit one or both of his clown websites:
Clown Stuttgart www.clowntombolton.com
Clown juggler Stuttgart, Gremany www.clown-event.de