World traveler Clown Tom Bolton
Adventure stories & photos
Tom's travels to Mexico, Guatemala, Belize & Honduras
Mexico City, Mexico
I started here on a trip down through Belize, Guatemala and Honduras in 1993. I later made further Central American trips to Costa Rica and Nicaragua – covered on their own pages. Mexico City is huge and I had problems with my asthma due to the foul air, which gets trapped in this valley setting. The prices were very high throughout Mexico, this being a couple of years before the peso melted down again.
Unfortunately, my photos album covering my first 2 1/2 weeks in Mexico has gone missing. I found just some of the negatives and printed and re-scanned images of Mexico in 2018. Sadly the colors had deteriorated and the prints are mostly yellow. I managed to filter most of it out but the quality is often bad and there are green and red streaks angling down like sunbeams.
Iconic buildings on the Zocalo
I spent a lot of time hanging out on the Plaza Mayor AKA Plaza de la Constitución  better known as the Zócalo or central plaza just watching people.Seemed like it would be the place to do a show but I had no props myself and don't think I ever saw any performances there other than a mariachi band. This first photo shows one of the more iconic buildings on the main plaza, the Catedral Metropolitana or Metroplitan Cathedral.
Palacio National
Another view of the central plaza in Mexico City showing the Palacio National or National Palace. My paternal grandparents lived in the city for 40 years and occasionally I heard some story of it from my father. It was funny for me to think of this as a place where they had often walked through 50 years before. My grandfather had been an important man here as the head representative of Ingersoll mining equipment and the Imperial Potentate of the Shriners in Mexico.
He had contact to dictators and heads of industry throughout Latin America. The legacy of the privileged few exploiting the resources and poor people in these lands has not improved much and my grandpa was part of the system. He died in 1974, so I never got to have any hard discussions with him about his role in such matters but he was a great inspiration to me to travel the world.
Alameda Central Park, local street performances rather offensive
There was a big park called Alameda Central where there were a lot of street vendors and carts. Here and at a small pedestrian zone in the business district, I did see some clowns, comedians and balloon figure twisters. Unfortunately, most of the performers I saw were pretty bad, relying on aggressive, insulting humor, the clowns: loud, stupid and so gaudy that one could picture them in a Steven King novel. As a foreigner in the audience I was likely to be greeted with comments like "hey gringo, your mother fucks dogs" and the audience would roar with laughter. I experienced this racism later in Ecuador as well. I mostly found people all over Latin America to be friendly and happy to chat with me yet their sense of humor tends to paint foreigners as "ugly Americans" only deserving of scorn, which was often exploited by bad street performers. And this was BEFORE that anti-foreigner prick Trump stole his way into the white house.
Mexican food, food carts & street vendors
Here was a typical food wagon selling not just fried potatoes but fried plantains as well. The photo is actually from the city of Merida but I left it here after realizing this as it is typical of carts in Mexico City. Fresh corn was another popular item sold on the street, which they usually covered with a sort of mayonnaise, which looked disgusting. As a lover of Tex-Mex, I was very disappointed by the food in Mexico. Outside of expensive restaurants, it was mostly bad.
Both tortillas and tortilla chips tended to be greasy, thick and unpleasantly chewy and it was hard to find anything without meat. The fresh lettuce, tomatoes, avocados etc. which I associate with Tex-Mex were sold in the markets but not to be seen on your plate at a restaurant. I can only guess that people like to stick to cooked rather than fresh vegetables due to sanitary considerations. There were also a lot of street vendors doing their best to make a Peso or two.
Mexican Indian ruins – Teotihuacán
These are the ruins of Teotihuacán about 40 kilometers from Mexico City. I managed to see them on a day trip. They include massive the Pyramid of The Sun and the Pyramid of the Moon and between the two is a corridor, made of numerous smaller pyramids, walls and stairs, known as the Avenue of the Dead. One associates Mexico with the Aztec since they are the culture encountered by the Spanish invaders. But this complex, like many others in the area, was built long before the rise of the Aztecs. Built by the Teotihuacán people whose history and fall of empire is still shrouded in uncertainties like are the other great builders in southern Mexico, the Mayan. This was me with my hair at its longest, guess I looked light a real freak!
Yucatan: Cancun, Playa del Carmen & Tulum

My to-be wife, Traudel came to meet me in Mexico for a couple of weeks and found a cheap flight to Cancun. So after just some days in Mexico City I got a bus all of the way to Cancun to meet her. I have to say that the huge hotels and infrastructure was on a much higher level than many places in Florida. I took no photos in Cancun because it was culturally interesting as visiting a strip mall. We had a couple days on the beach in Cancun where there was a photo shoot going on of a couple of bikini-clad beauties. My juggling on the beach caught the photographer's eye and he asked me to be in some of the photos. Later, the models from Mexico and Argentina invited us up to their hotel for drinks. I regret to this day that I didn't convince Traudel to accept the offer.  Free drinks are free drinks!
We actually had a cheap little place in Cancun but heard that the atmosphere and setting was more interesting to the south. We went down to Playa de Carmen for some days where there were nice beaches. It was relaxed but not much to do other than hang out on the beach. We had a really nice room, not too expensive but there was construction going on in the street under our balcony; noisy and dusty. We then went further to Tullum pictured here. The setting was more interesting with Mayan ruins right in the town although they were rather small and less than awesome. But the beach wasn't as nice. Most of the accommodation we found was really down scale but not cheap so we only stayed 2 nights.
Yucatan: Piste', Chichen Itza Mayan Ruins
From Tullum we had to go back through Cancun to get to Piste. This was our base for a couple of days to visit the nearby major Mayan ruins on the Yucatan peninsula shown here: Chichen Itza. This was picturesque as one expected. There are multiple pyramids; the main one called the Temple of Kukulkan AKA El Castillo and the Temple of the Warriors. Nearby is the Great Ball Court. There are also many smaller temples and buildings often with bas-relief carvings including many skulls on the Tzompantli or Skull Platform. Inside at least one of the temples was a museum with lots of artifacts. The descendants of the Mayan still live in these areas but their empire had crumbled a while before the Spanish arrived. There are numerous small Mayan ruins in Mexico, Guatemala and Belize, which have been covered by jungle.
Mérida, Yucatan
After Chichen Itza we were in Merida and the nearby beach town of Progreso on the north coast of Yucatan. The water and beach in Progresso was not so clean so I was not impressed. Mérida itself is a pleasant mid-sized townand the capital of Yucatán State. It seemed prosperous and a view of "real" Mexico in my eyes. Although tourists came here as a base for visiting Progresso and the Mayan site of Uxmal to the south, it had a local feel to it. It was definitely not a metropolis like Mexico City or a Disney Land type attraction like Cancun. I spent a lot of time hanging around the central square, known as the Plaza de la Independencia, the accompaning street market and walking the streets of the center as seen below.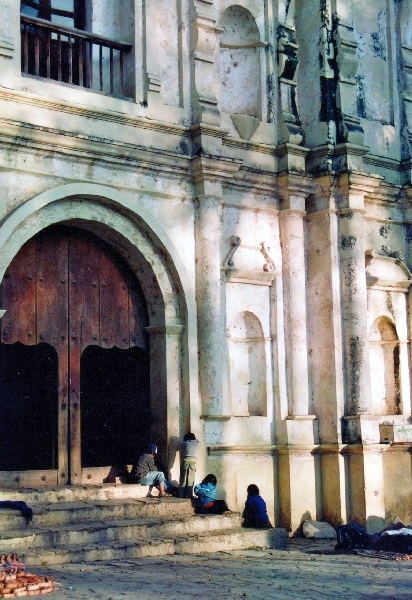 Uxmal Mayan site
We did a day trip to the main attraction by Mérida; the UNESCO World Heritage Site Mayan site of Uxmal. It's around 62 kilometers to the south. It was one of the most important ancient cities in the Yucatan and better preserved than most. Its setting was enchanting as it rises out of the local forest. The main pyramid is popularly referred to as the Pyramid of the Magician. There are ornate friezes that are said to only be matched by the site of Palenque in beauty and elegance.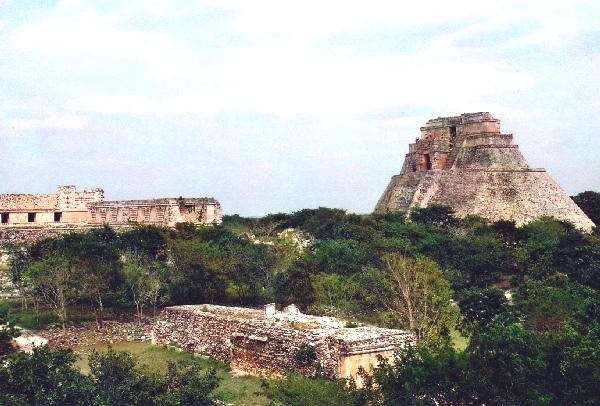 San Christobal de las Casas
Merida was also a hub to catch a bus further west to San Christobal de las Casas in Chiapas, which was a pretty but tourist filled trendy town at over 2000 meters. The images are of the San Francisco church, another church and a few side streets. Also pictured is Traudel relaxing in the courtyard of our hotel. Such an architectural layout is common in Mexico but often lacking at the cheapest hotels. We were on a tight budget and San Cristobal was not exactly cheap but had a high level of quality for the money. I remember going to a nearby village where there was a political demonstration going on. The local Indians there seemed generally pissed off and were quite unfriendly. Yet the town seemed well off with a lot of upscale places catering to tourists.
There was also the Temple of San Juan in nearby Chamula that the tourist guides warns one not to photograph as the locals had killed people for doing so. This was just the spot that Traudel insisted on changing the film in her camera! Supposedly they think one can steal their spirit by photographing them or their holy places. This was one reason I took so few photos in San Cristobal. It was touristic and not a danger like in the surrounding villages but the people didn't really like it. Thus I avoided walking around with a camera in the region. A year later there was a political uprising in Chiapas by the Zapatistas. Seems that the people were sick of the political situation that only seems to represent the rich and powerful. I didn't take it personal but think that any gringo was seen as part of an exploitative system making our visit there uncomfortable at times.
Templo y Ex-Convento de Santo Domingo de Guzmánf San Cristobal de las Casas
One of the most iconic buildings in San Cristobal is Temple and Ex-convent Santo Domingo and its adjacent chapel Templo de la Caridad. It is extremley ornate and there is a large daily crafts and souvenir market along the side. Many of the sellers were Indians.
Palenque Mayan Ruins
Palenque was a city about 4 hours bus ride back east from San Christobal. The city itself was nothing special but it had a nice climate and the surroundings were nice including some more spectacular ruins shown here. The archeological site as has been excavated is not huge but intricate and well preserved amidst a jungle setting. It is suspected that the majority of the buildings have been yet to be uncovered. Thus it might be one of the largest in addition to most significant Mayan sites. I took one photo of a group of workers so obviously the archeological work continues.
Aqua Azul Park & Misol-ha Waterfalls
From Palenque we went on to a nearby National Park known as Aqua Azul where we spent a day just relaxing by the river and waterfalls. We ended up staying at Misol-Ha where there is a smaller river but even prettier, higher falls shown in the photo below left. We ran into a group of the Rainbow family camped out in the jungle. The hippy gathering seemed not too drugged out but not smelling too good either. By the Aqua Azul park were some stands and shops from local Indians selling souvenirs and jewelry. Some of the vendors strolled around where the toruists relaxed to try to sell. Not really a passive strategy but they were not pushy about it either. We then went due east to the coastal city of Chetumal that is right by the border to Belize. I accompanied Traudel up the coast to Playa del Carmen where we spent the night before she caught her flight back to Germany. I went directly back to Chetumal and on to Belize City.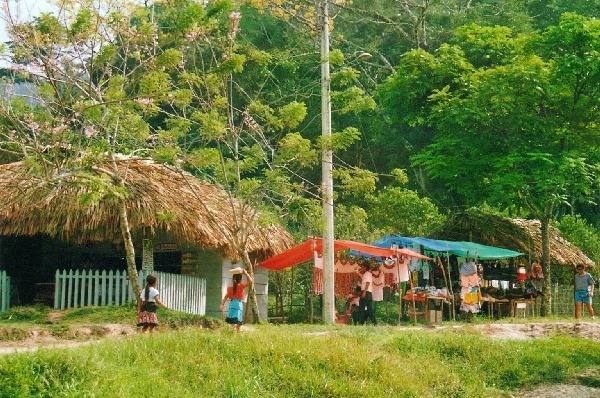 Belize City, Belize
I arrived late in the day in Belize City. I was stressed out from days of traveling getting Traudel back to catch her flight. The city is heavily populated by blacks of mixed heritage, many of which are Garifuna. Their story is that Indians from northern Brazil had gone to the island of St. Vincent in the Caribbean where they later mixed with other Caribbean Indians and formers slaves from Africa and then went to a number of coastal cities in Central America. I am not sure how one could follow this genetic trail other than the linguistic links to northern Brazil.
Not that I have anything against black people but it made me as a lone white guy with a backpack stand out. There seemed to be a lot of shady characters hanging around this very run down looking town. And I looked out of place as I saw no other obvious tourists. There had been a couple of others at the bus station but they immediately disappeared into taxis. The taxis were not cheap and I only had a limited amount of Belize money I had purchased in Playa del Carmen. Anyway, I ended up walking. One guy even followed me to my hotel trying to sell me his services later as a guide. I checked into the first OK place I found, the Bon Adventure, as I thought it too risky to wander around more.
Later I went out and found a Chinese Restaurant and hooked up with two Americans who had just flown from Guatemala City. They had met on the plane and were good company. Was nice to hear tips about Guatemala since I was headed that way. Guy even paid for a beer or two as for me as he seemed to be trying to impress the female American with his generosity. He offered to pay my meal as well but I considered that too much. I assume he was trying pick up her and not me so why bother?
Punta Gorda, Belize
I ended up sleeping well but had decided to catch the 10 am bus on to Punta Gorda in the south of Belize. The main attraction in Belize seemed to be diving from small islands and I don't dive and had heard the prices were not cheap. I was curious to go to Punta Gorda as I had heard it was laid back and a good friend of my brother was involved in a land commune nearby. On the way to the bus station I noticed that a huge number of buildings I had passed the day before seemed to have burned down overnight. The ride took a good 8 hours but I found a really comfortable, friendly hotel that had been recommended to me although it had since changed its name.
Seemed that Patrick, my brother's friend, even stayed at this hotel on occasion. That is if they didn't have him mixed up with someone else. His place was supposed to be near San Pedro Columbia 16 Km to the west. I got a bus there and asked around including at the village information center and eventually the Belize Agricultural Research Center. At least one person claimed to know him but said he wasn't around. I was basically stomping around in a jungle crawling with poisonous snakes and mosquitos so I gave up. Had to walk about 5 miles to a junction to get a bus back to Punta Gorda.
On to Guatemala
I had met a German couple on the bus from Belize City to Punta Gorda. They were chartering a boat down to Livingston, Guatemala the next morning and I went along. This was a coup on my part as there are no roads and the usual transport was a mail boat that just ran 2 times a week and went farther down the coast to Puerto Barrios. Then one had to take a boat back up to Livingston. I think the lack of transportation had to do with border controls, something we bypassed altogether as far as I remember.
Guatemala, Livingston
Guatemala was my favorite Central American country. Inland, especially in the remote highlands it is mostly indigenous people.  On the Gulf coast, like In Belize, it was more of a mix of Spanish decedents and Garifuna. Livingston anyway was a small and slow community; a complete opposite of the hustle and bustle of Belize City. There was also some decent beach where one could relax.
Livingston, Guatemala – Hotel Africa
I checked into the beautiful and quiet Hotel Africa in Livingston. It was a great place and cost less than 5 USD a night. There was another Hotel in town called the Garifuna. It didn't look nearly as well maintained but both reflected the pride of the locals in their mostly African heritage.  Also staying at the Africa was a Canadian woman and her young daughter that we had met in Palenque.
Rio Dulce, Castillo de San Felipe de Lara
One cannot really go by road anywhere. One goes by boat along the coast or inland up the Rio Dulce or Sweet River. After a couple of days in Livingston, Louisa was headed up the river so I decided to go along. It was kind of a tour with the boat operator pointing out places of interest like where there were thermal springs bubbling up in the river. There were lots of birds making for a nice setting. The most interesting place was the Castillo de San Felipe de Lara. This was a French style fortress built by the Spanish to guard against English pirates that used to sail up the river. It eventually was used as a prison before being abandoned and eventually restored as a museum.  Our boat dropped us at the small village of Rio Dulce and we had to take a separate boat to go visit the museum. The Castillo guards the mouth of where the river joins its source the Lago de Izabel or Isabel lake.
Cobán
We left the next morning to Cobán. Unfortunately the connections were poor and we had to change buses a number of time to get there. And Guatemalan buses are mostly Canadian and American school buses that were retired from usage. They are not known for their comfort.  It was at a much higher altitude than from where we started and although the hotel we found was clean. I had problems with the mites triggering my asthma. Cobán has a few hundred thousand inhabitants so there were of courses banks to change money. There are a number of National Parks nearby but we spent the next day walking the trails at the Biotopo Mario Dary Rivera.
Lanquin
From Cobán we headed back northeast to Lanquin. It was a trip of only 60 KM but took 4 hours. One of the main attractions are the Lanquin caves. They were attractive big and surprisingly well lite. We also got to swim in the river by the cave entrance. For such a small community they also had a sizable church pictured here. Or as Louisa's daughter called it, Jesus's castle.
Cahabón Gorge, Semuc Champey
The next day we did a day-trip walking from Lanquin to the Cahabón Gorge pictured here where the river mostly disappears underground at a point called Semuc Champey and comes back out some hundred meters further on. I was thinking I could also help carry the Louisa's daughter if she got tired on the app. 18 kilometer round trip. It was a beautiful day but as we started back, the air got much cooler and the stress of walking and the dust from the road aggravated my asthma. Then I realized I had forgotten my asthma spray. I was really struggling and it started to get dark and we still had some kilometers to go. I was against it but followed this woman as she tried to follow apparent short cuts to the winding road.
The way got steeper and steeper and I thought I would collapse. Suddenly, I felt a burning sensation all over my legs. I switched on my flashlight, which I had left off until then to conserve the batteries. A trail of thousands of red ants was using the same path as us. I freaked out a bit and ran back down the path, stuck to the road and we eventually made it back. The ant bites upset me at the time but the release of adrenaline it caused possibly saved my life. I remember thinking of another American juggler Marcus Markoni who was often working in Europe at that time. Turns out he died right around then in Munich of an asthma attack.
On to Antigua via Guatemala City
I survived my ordeal but was ready to move on. I spent the last night in Languin and got the morning bus westwards to Guatemala City. But there is not so much to see there so I merely changed buses to get to the more popular city of Antigua. Louisa had accompanied me to Antigua but while she was a good traveling partner we were not together in any other sense and she seemed to need her space. But there were lots of tourists here on could socialize with. Many foreigners were there for longer to study Spanish.
Antigua was a feature on the "gringo trail" and many blindly followed their guidebooks like sheep to the touristy hot spots. Yet when I got a bit off the beaten track, I felt the locals hardly ever saw any foreigners at all. I found this in many of my travels. If you have the time, it's often worth it to check out the less visited places since those hot insider tips you read are of course read by thousands of others!
Antigua is a charming city with lots of colonial style buildings. Guatemala City is the capital and center of government but Antigua is the center of culture, history and tourism. It was a more relaxing place as well but to a lesser degree, like Guatemala City, I heard plenty of stories of armed robbers going into restaurants and holding up the clientele. Anyway, here are some images showing the architecture of Antigua.
Highland Indian Population
Many of the residents of Antigua are Indians but many come from outside to sell souvenirs or produce on the markets and streets. Typical were the colorful traditional clothing worn by most of the women and even some of the men. The feeling in the street was like a rural village, only that it was extensive. Here are some pictures of street scenes. I am not positive which are all from Antigua itself or some of the surrounding villages that I also visited.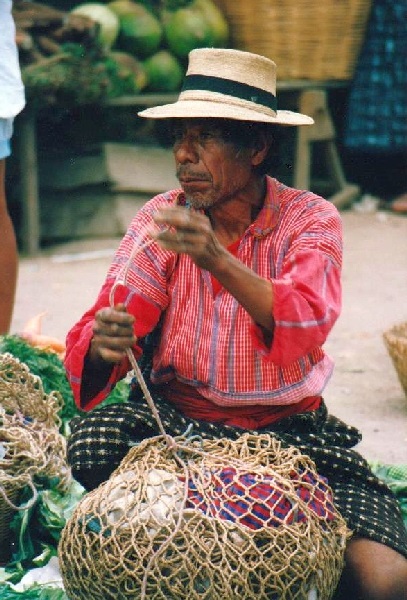 Lago de Atitlán
From Antigua I got a bus to the village of Panajachel on the northeastern edge of Lago de Atitlán. I spent the night and got a ferry ride across the lake to San Pedro de Laguna on the southwestern side. San Pedro was a nice setting on the lake that some people claim is the most beautiful in the world. I found the place quaint but not overwhelming. I remember someone pointing out from the ferry a house that he claimed belonged to a German street musician who I later met in Europe. He was actually from the Stuttgart area which was already my home base. Especially around the Lake Atitlán region both the men and women often wore traditional clothing.
San Pedro activities
I spent a couple of days in San Pedro.  Lots of good but affordable restaurants catering to gringos. I spent some time at the local beach including practicing my juggling before sunset. One day I want on a horse tour of the area. One thing pointed out was that there was a lot of coffee grown in the region. I'm not sure if it was the time of the year but I found the surrounding hills rather dry and brown.  There was also a popular hike up a volcano but I passed on it as my asthma was acting up and I was having irritation wearing my soft contact lenses.
Chichicastenango, Iglesia de Santó Tomas
I did a day trip from San Pedro to Chichicastenango often refered to as Chichi, a village northeast of the lake. It was market day and supposed to be for souvenirs. I don't think I bought them there but I eventually bought a vest and jacket made from the local colorful fabrics. I loved those cloths even if I didn't wear them often but they eventually fell prey to moths. Mostly I wandered around Chichicastenango observing the locals. I also took a lot of photos. A good backdrop was the central church Iglesia de Santó Tomas that had high rough stone steps.
Santa Cruz de Quiche
From San Pedro I went back to Panejachal and then north to Santa Cruz de Quiche where I spent a couple of days. I didn't take photos as the people seemed very shy. I did do a couple of shows near a church for them anyway.  I managed to wash my cloths by hand which was the first time in weeks. There were very few gringos around and tellingly the market sold local products and no souvenirs. This was finally my goal of getting off the beaten track.
I did meet an American journalist from Massachusetts at my hotel.  She had spent most of the last 2 years in Honduras and was in Guatemala to report on refugees and clandestine cemeteries of Indians murdered by the army. Interestingly, she also knew a number of street performers I knew.I did a trek from Quiche to a place called Acul where there is a farm and dairy. Got to see how they made cheese, something not common in the local diet. Back in Quiche things were so cheap that it was hard to break a big bill.
Nebaj, Guatemala
Nebaj was an even more remote village in the highland north from Quiche. It is all Indians and aggressive looking soldiers marching around carrying automatic weapons. This was one of the areas notorious for conflicts between these groups. The people seemed cowered and shy of the occasional gringo who made it there. Yet I was told they felt safer to have us as potential witnesses to government violence. I did manage to take some photos on the market place but one notices that nearly everyone seems to be aware of where the camera is and look the other way.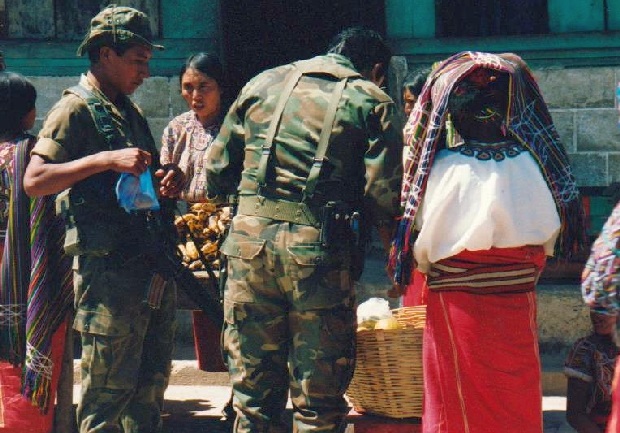 Show in front of Nebaj church
I took an often used strategy to make shows for the people so they would know that I tried to share something with them rather than just being another tourist with a camera. I went onto a plaza in front of a church and juggled. Slowly the people gathered and then someone went into the bell tower and rang the bells bringing many of the people around to see what was going on. This is one of the more noteworthy reactions to my performing. It was a nice moment especially for people in a virtual war zone. I had both the Indians and soldiers watching and smiling at my antics.
Waterfalls & cave near Nebaj
For my own entertainment I went with a German guy who was staying at my simple hotel to some nearby waterfalls. There was also a cave accessible by climbing barefoot up one of the falls. Looked like it might have gone back in a ways but I didn't have a flashlight and thought better of stepping in lots of bat shit. German guy was good company though as he had had some experience playing music in the streets of Germany and Spain.
TV and video machine as cinema
There was no cinema in town but people set up benches in the living room of one house and people paid to come in and see videos. This was something special in those days at least in a remote place like Nebaj. Most videos shown seemed to be cheap Kungfu films but I actually watched a while from the doorway as they showed Romero. This was a film about an Archbishop Oscar Romero who had been assassinated in El Salvador. The situation had a fairly parallel story of government oppression of the indigenous population. A couple of armed soldiers also looked in but I don't know if they caught the significance of the film or they might have shut it down for being too controversial.
Vegetarian eating options in Nebaj
Nebaj was so non-commercial at the time that there was no real restaurant for us non-meat eating tourists. There was an old woman who cooked veggie food though. She had lined the walls of her kitchen/dining room with large plastic garbage bags and this was referred to the as the bin liner place in the guide books. But while the friendly woman spoke positively about being vegetarian, I found some small amounts of meat in my veggies. The concept of no-meat seemed flexible in such places as to mean; well, not a big hunk of meat anyway. I meet a couple of Swiss guys there who I was to run into again on my trip.
Leaving Guatemala
When I left Nebaj I was intending to leave Guatemala. I had considered heading to El Salvador but heard the visa cost 20 USD and often took up to a week to get it from neighboring countries. My intention was to have some more beach time before ending my trip. I decided to back east head to Honduras.  But first I had to get out of this remote mountainous village. This turned out to be an adventure.
The bus came to a halt in the middle of the night some 10 kilometers along the steep dirt road. A flatbed truck carry a bulldozer had tipped over – blocking the road. I got out of the bus as the driver tried to drive around, risking a plunge off the side of the mountain. In Guatemala, like I would later see in the Andes, were plenty of mountain roadside places where one saw a bunch of crosses marking where a vehicle full of people had pitched into an abyss.
Since vehicles were blocked in both directions, all of the passengers from our bus transferred to a huge dump truck, which had to return down to the town in the valley where we were headed. It was cold and we constantly slammed down onto the hard truck bed. I wrapped my upper body and head in my sarong, not just for warmth but to keep away some of the clouds of dirt, which triggered an asthma attack. I think the locals were afraid they would arrive with one dead gringo in their midst. Somehow we arrived in the early morning. I stumbled out feeling like I had been trampled by a stampede of elephants and brushed off so much dust that it reminded me of something out of a cartoon. I made a connection to Guatemala City where I got another bus to Chiquimula. I spent the night there before I could get the connecting bus to Copán crossing into Honduras.
Firefight in Nebaj
I was pretty worn down from my traveling at this point and had to wonder if I  shouldn't have just returned to Nebaj until the road was cleared rather than travel in that truck. But some days later I ran into the Swiss guys I had met in Nabaj. They had gone to eat at the bin liner place on the evening I left. While there a firefight started as some locals tried to ambush a patrol of soldiers. The tourists were under the table as rounds from automatic rifles flew in the street outside. So maybe my misadventure was a strike of luck in the end.
Easter celebrations Semana Santa in Guatemala
I have to jump ahead here and include the following pictures. After going on to Honduras I had to return to Mexico City for my flight back to Europe. I stopped in Guatemala City on my way back north. It was the beginning of Easter celebrations and there were processions and parades in the streets. It reminded me of being in Seville, Spain years before. Similarly the people dressed in robes meant to mimic what was worn in the time of Jesus. Religious icons were paraded through the streets and it was very festive with music and souvenirs being sold.
Copán, Honduras – Mayan ruins
I was met with some skepticism at the Honduran border. I managed to charm the officials though with some juggling tricks. Found a good hotel in Copán that said I could wait to pay as it is Sunday and I would have to wait until Monday to change money at the bank. Seems to be a number of Americans around that look to be military as someone mentioned there is a US base in the region. There seemed to be some festivities going on. Wouldn't be a problem except that one local guy was pounding on my door and tried to force his way in. He and his friends were drunk. He was tipsy and I was tempted to hit him but then who knows if his companions were armed or not.
One of the major attractions is the Mayan ruins near Copán. From my diary I read that the ruins were some of the most elaborate ones I had seen on my trip but also that they were crumbling. I only seem to have one photo form there and no idea if I lost some pictures or had possibly run out of film at the time.
Copán, Santa Rosa, San Pedro Sula
Went from Copán to Santa Rosa de Copán a ways to the east. It is an attractive mountainous area although not as high as some of the places I had been in Guatemala. I'm not really sure why I stopped there except it was a bit larger place with plenty of hotels and restaurants. I met an American guy at my hotel who was a CIA agent if I have ever met one. Brash, super clean cut and talked endlessly about the evils of socialism and how American efforts are misunderstood and unappreciated. Found a good Chinese restaurant though and had a nice meal. Surprised that although we were not near the coast, a lot of places offered fresh (or so they said) seafood.
After a day I caught a bus to the big city of San Pedro Sula where I spent the night. Not much of interest in San Pedro. Seemed to be a lot of soldiers marching around. No insurgency going on as far as I know but I was told there is a lot of criminality and many people carry concealed guns. This image seems representative; rather than Indians like I had mostly seen in Guatemala, the locals here were Latino and had a kind of cowboy swagger to them. I found another good restaurant, not opting for the Pizza Hut which seemed fairly popular. The next day I got a bus to Progresso and from there to Tela. We passed through some areas that were endless banana plantations. Even saw some train cars with Chiquita Banana signs on them that were loaded directly from the fields.
Tela, Honduras
Tela was about 10 blocks by 4 blocks and seemed quiet but seedy. Unfortunately, most of the decent hotels were full and I had to settle for a real dive right by the train station. The beach was also unimpressive. Looked like people were setting up decorations for the Easter holiday celebrations. I spent a couple of days hanging out, walking along the beach, juggling and doing yoga. But I got restless. Somehow there was not much social life in the evening and I once watched a film or two on a TV in a store window along with some local kids.
La Ceiba, Bay Islands
My time was getting short before I would have to get back to Guatemala City where my flight back to Europe was leaving from. Despite this I pushed on and went further east to the city of La Ceiba. I spent the night and then managed to get a flight to Roatán one of the Bay Islands about 65 KM from the coast. I had to get taxis to the airport and then to the west end of the island upon arrival. And yet the whole trip was somewhere around 20 UDS!  I had a good hotel for about 5 USD and the beach was beautiful.
West End, Roatán Island
This could have been the paradise I had been hoping for except for one problem; sand flies. They are as small as gnats and completely clever. They seem to always sneak up from behind and one usually only spots them out of the corner of one's eye – if at all. One didn't notice the bite but would later be covered with red splotches that itched like crazy. The mosquitos wee aggressive as well but nothing compared to the flies. I had repellent that helped but not much. It was very hot and sweating seemed to wear off the repellent effect. I once took a shower coming from the beach and was immediately attacked by swarms of insects.
The most interesting connection I made was a couple from Marseille who purchased things in Kashmir, India for resale in French markets. Also a Dutch woman who had been living in Barcelona for some years and working the last 4 years as a guide in Costa Rica. Less interesting was some rich Mexican playboy type who showed up on his big fancy sailboat. He was hitting on all of the girls, inviting them out to his boat. And yes, the approached succeeded pretty well. Being rich isn't everything but sometimes it doesn't hurt.
Coxen Hole, Roatán Island
I spent my last 2 days on Roatán Island at the capital called Roxen Hole. Was not far but was a change of pace and made it easier to book a flight back to San Pedro Sula and to get to the airport. Again; paid less than 20 USD for the flight. Was a shame they didn't have similar flights all of the way to Guatemala City or else I would have saved myself a long bus journey at the end. Unfortunately they only had domestic flights. There we a lot of traveler types around so I would have liked to stay longer – if not for the insects. By the time I left they were driving me mad. I managed to get most of the way towards Guatemala City after arriving in San Pedro. No hassles at the border this time. I don't even remember the exact route but I ended up going to Antigua rather than Guatemala City in the end. Was a similar distance to airport and seemed less hassle. Next day I flew back to Germany.
So, those were just a few tales from my many travels over the last thirty and something years. I hope you've enjoyed another side of a traveling clown! If you want, write me an email or better yet, book my show or set a link to this website or just state me as the beneficiary of your will!
To book or see more information about Tom's clown show and entertainment, visit one or both of his clown websites:
Clown Stuttgart www.clowntombolton.com
Clown juggler Stuttgart, Gremany www.clown-event.de