World traveler Clown Tom Bolton
Adventure stories & photos
Tom's travels in Tanzania, Zanzibar
Arrival in Dar el Salaam, capital of Tanzania
I went to Tanzania for a month with my wife starting the 4th of Feb. 2009. We arrived in the main town of Dar el Salaam. Presentation of Dar and the Island of Zanzibar is on this page while the continuation to Moshi, Kilimanjaro and Lushoto areas is on the page Tanzania-2. At the airport we had to wait quite a while to get a visa before passing customs which for Americans was now 100 US dollars. Unfortunately, our luggage had not made the connection in Nairobi but we waited about 6 hours at the airport. This paid off as our bags did arrive on the next possible flight. It's always better safe than sorry to see that one gets their luggage. I've always taken relying on promises of delivery as an invitation to disaster.
We soon found out that the taxi fare to the center of town had doubled in the last year. Fuel prices had doubled but then retreated to where they had been but transportation costs all over the country basically doubled and stayed there. That Tanzania was not going to be a super cheap third world country was thus apparent from the start. But we lucked out and found an Israeli guy to share a taxi with. He had been born in Tanzania but not been back since leaving as a child. He was now on a short business and going to an expensive place. I guess we charmed him because he ended up paying nearly the whole fare.
That Tanzania could be chaotic was also clear as seen by these photos going into one of the bus stations just after a downpour. We rarely saw rain on our trip but when it did it really came down.
On to Zanzibar Island
We stayed our first night at the YWCA (which also accepted men) which was rather run down but not too expensive. We wandered around a bit and although it is not as dangerous as many third world capitals, one needs to be cautious and I didn't carry my camera around. We did spend some more time in Dar before we left, seeing a couple of markets and the national museum but mostly it was just a transit point rather than a place of interest.
The next morning after delaying the decision until the last minute, we decided to get the ferry over to the island of Zanzibar. We opted for the cheap cargo ferry which officially costs 15 US dollars for foreigners but we battled at the last minute to get it for 20 dollars each. It became a surprise when one didn't have to pay more, often much more, for things as a foreigner. It was a bit confusing getting on board and we were the only westerners but the trip was ok. Not so nice was that it was already getting dark as we arrived which is a bit intimidating with all of the touts trying to grab you.
Stonetown, Zanzibar
We were also told we had to pass customs although Zanzibar belongs to Tanzania. We skipped it until the next day. Seems they like to control things and preserve their special status as a not quite a separate country, calling themselves "The Revolutionary Republic of Zanzibar". Luckily we didn't have to pay anything and they never took or controlled the departure forms they gave us when we did leave. These images are of the ferry we took, which was being loaded with cargo the next day. All ferries arrive in the main town of Zanzibar, the old part of which is referred to as Stone Town.
Stonetown architecture
Here are some images of the old Stonetown Fort, one of the local landmarks, built by the Arabs to defend against the Portuguese. Next to the fort are the beautiful Forodhani gardens which were unfortunately closed for reconstruction while we were there.The viewpoint is from another landmark called "the house of wonders", a palace built by a sultan which now holds the Zanzibar Museum of History and Culture. One had to pass multiple doorways to even get in. The most dominant artifact inside is a large boat. As a center of trade throughout the region, boats were the principle mode of transportation. Yet the main attraction of the building were the fabulous views.
Below right, was a nearby former palace that also has a museum inside but we never went inside.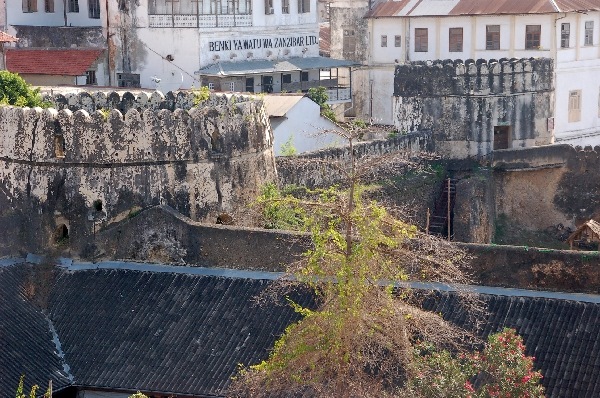 Palace Musuem
Next to the "House of Wonders" was another Sultan's palace that has been made into a museum. It is even larger and I cannot remember why we never visited it. I can only speculate that it was closed for some reason but it was another prime example of majestic architecture.
Many old buildings being restored
Stone Town is the old quarter of Zanzibar town characterized by narrow winding streets. Many of its beautiful old buildings have seen better days but luckily people have become aware of their value and have started restoration projects to save them being replaced by modern structures. Most big projects are funded and done in cooperation with foreign organizations and governments.
Characteristic massive wood doors
Typical in Zanzibar are the massive old carved wood doors. Many of them have large metal spikes, a strategy said to have been brought from India and meant to defend against elephants from pushing down the doors. These particular doors are views from a cultural center that unfortunatley didn't allow pictures inside. The very elaborate door below is the visitors center at the fort – probably the coolest door in town. I couldn't decide between the 2 images so I'm including them both
Balconies offer discrete views
I often associated such architecture as seen in this photo as being typically Arab yet the guide books and museums claim that such intricate archways and façades are an Indian influence. The girl was shy to have her picture taken and disappeared as soon as she noticed my camera.
Yet on the street people were overly friendly, constantly greeting one with "jambo" and "habari" (how are you?). To ignore someone even if you didn't have time or were sure that they only wanted to sell you something was not an option. This was considered an insult, so one constantly had to claim that one didn't have time or else give a long explanation WHY you didn't want to buy something or hire someone as a guide. Yet, given a logical explanation, most people accepted it rather than just mindlessly further insisting – like I experienced in Indonesia for example.
To the question, "how are you" the only acceptable answer is "azuri" (fine) even if you looked like you had just crawled out of a train wreck. Often I answered questions with questions of my own to avoid giving out information, like a kind of verbal judo using their own rules of conversation against them.
Sidestreet maze, traditional building materials
Stonetown is a maze of small backstreets. Even though many of the houses were not in great shape, they had a lot of character to them. And the traditional building material is stone that is layers of coral sediments that insulates against the heat better than modern concrete. Many buildings had these great balconies but they didn't seems to be used. I guess family life was to be kept behind closed doors.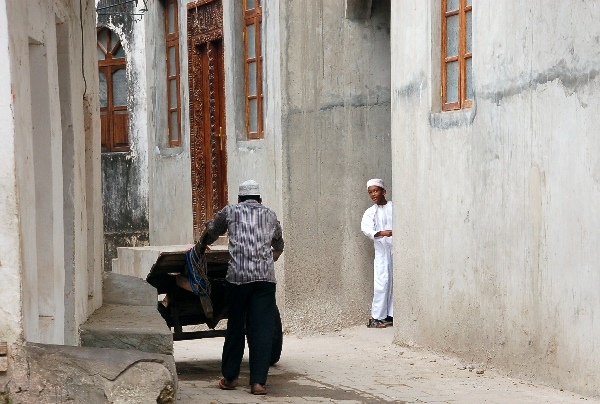 Modern section of Zanzibar city not so appealing
Crossing from Stone Town into the newer section of Zanzibar Town was immediately apparent. These were some of the better of many similar apartments there. These at least had some trees to add color but otherwise were lifeless concrete boxes which probably looked run down by the time they were build and age will add nothing to its charm or lack thereof. We were actually surprised that nobody was squatting in the concrete pipes but maybe they were not there for long.
End the day at Stone Town beach
Some of the better cafes to relax and watch the people go by and the sunset were also located at Stone Town Beach. It was not overly expensive to have a drink.there although we usually saved by taking our dinner elsewhere
Football & swimming at Stone Town Beach
Late in the afternoon, boys meet on the main beach of Stone Town to play football (soccer) and swim. A few girls also swam which was often done fully clothed anyway. Most tourist like us didn't bother to swim there since there are much nicer areas on Zanzibar to go to relax at the beach. Also, large ships and ferries probably didn't help the water quality although it and the sand looked relatively clean.
Busara Music Festival in Stone Town
We got to attend part of the Sauti za Busara music festival held for 4 days in the old fort in Stone Town and an additional day on the north side of the island. Musicians from all over Africa and some from Europe and America participate each evening in one of the islands biggest events. Amazingly, both tourists and locals got in free if inside before 6 p.m. Only problem with the festival is that all of the affordable good hotels are fully booked well in advance. We had to stay a few nights at the Riverman which is mentioned in the German guide books but it is over-priced, run down and the owner cuts corners to save money at every opportunity. Otherwise we can recommend the clean Flamingo hotel. Rooms were on the small size but the rooftop terrace for breakfast was great and the workers were trustworthy and helpful.
One of the most interesting performers was a Zanzibar woman Bi Kidudi who smokes and drinks and still performs although she is over 100 years old. She is now a national icon and they showed a long video about her life. Her behavior was considered an affront to Muslim sensitivities but she is so small and old that everyone seems charmed by her. Guess when you get that old you can say and do what you want. The festival was actually at the end of our stay in Zanzibar. The search for accommodation complicated things but added quite a flair to the town for our last days there. I think the stone benches and souvenir shops are always present in the fort courtyard but they seemed to have added more food service in addition to the permanent cafes.
Church in Zanzibar Town
There are at least 2 large churches from colonial times in Stone Town. Next to the Anglican Church is an area where a slave market once existed. Usually one has to pay to go by the church but we went on Sunday and refused to pay to go into the church to attend the service. There had been an English service earlier but we found the Swahili version more interesting.
We spoke to the pastor afterwards. He said that the communities live basically in peace but the Government gives preference to the Muslims in Zanzibar and for example had appropriated church land. And like in most Muslim lands, they were happy when someone became Muslim but to convert from Muslim to another religion was big trouble. The person who converted and his family were at great risk. Despite this, we felt personally safer in Zanzibar even at night on the street than in other parts of Tanzania. There seemed to be a sense of national pride that Tanzanians are not thieves and an especially strong social pressure in Zanzibar that such behavior is religiously unacceptable.
Islam in Zanzibar
Zanzibar is over 95% Muslim. Not only the woman and girls are covered but the men and boys also often wear traditional Muslim dress at least when going to the mosque or madrasah (Muslim school). We were once invited into a madrasah and sat there for around 30 minutes and saw how the boys and girls learned the Koran by singing it in verse. Afterwards we saw that this madrasah was financed by the Saudis which are known for their fundamentalism the teacher went out of his way to show friendship. I took a picture of another madrasah that offered English instruction. This seemed a paradox since Islam is so concerned with the original text of the Koran that its believers should learn in Arabic. Three were many mosques in Zanzibar, some very large but this small one had the most character.
Muslim clothing
The scene in this series of photos was both typical of Stone Town with many girls and boys wearing their "Muslim" outfits. Yet it was almost unique that I had a good angle to photograph the people as they passed by an area with a walled in garden without them really noticing me. I got a dozen or so great shots and couldn't narrow my choice down further.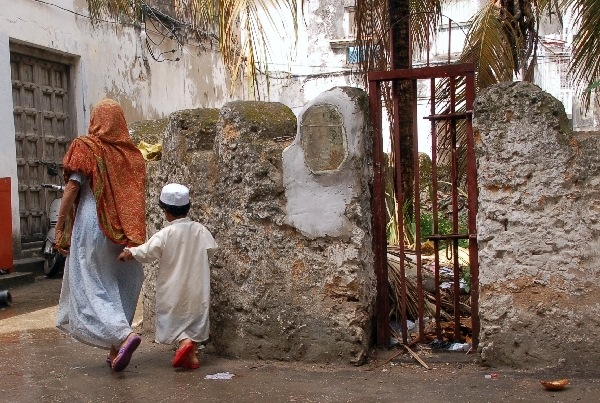 Muslim conference
Here was a Muslim event in Zanzibar where there were many women. Although they covered their hair, not only were their faces free but they wore bright colors rather than black or dark robes like devote Muslims in many countries. It was not a religious ceremony but seemed to be a meeting of sorts. By the flags they were flying it appeared that it involved people from various Muslim countries. I wondered what they discussed as the conflicts between Muslim countries and sects seem to have only increased over the years. So much for the concept of religious brotherhood and solidarity.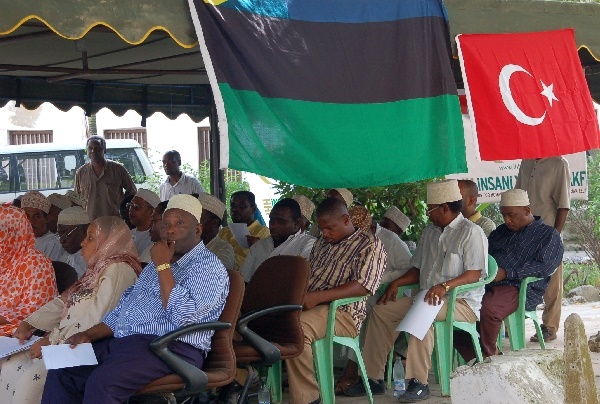 Zanzibar a mixture of many cultures
One could see that many of the Zanzibarians are of mixed blood; Africans mingled with Arabs, Indians and Europeans. The local culture is also a mixture of these traditions but with the religion and the fact that 25 % of Swahili words come from Arabic, the Arabs obviously were the most important foreign influence. Swahili is the predominant language in Tanzania and much of Eastern Africa although it is the second language for many groups on the mainland.
It is claimed that slavery always existed in some form in Africa but it was the Arab traders that made it into a commercial business. Not to excuse the evil done by slavery in America but it was not like whites were running through the jungles of Africa capturing black slaves. Blacks did this to each other and sold the slaves to the Arabs. Whites later bought from the established slave markets. I read almost exclusively about white guilt concerning the slave trade yet it was primarily facilitated by blacks and Arabs. And it was the influence of white Christians under the colonial powers that finally stopped the trade.
How does Islam condone slavery?
This raises a question I have never heard discussed, "how could a supposedly peaceful religion like Islam condone slavery?" Can being fixated on a religious text blind one to humanity? As was pointed out to me by a Muslim from Zanzibar, the whites brought Christianity here but when they built a church somewhere they also built a school and a hospital. Overzealous Christians annoy me but this attitude of helping people rather than just preaching to them has my full respect.
Zanzibar Town's main outdoor market
The main market street of Stone Town marked the border to the newer part of Zanzibar town and was the main place for food, clothes and catching transportation. Interestingly enough, the majority of the Zanzibar market vendors were men while in other parts of Tanzania they were women. Along this street were shops that basically spilled out into the street in front with their merchandise. hhter vendors had push carts for their ware. Like most shopping areas, it gave a good over-view of people and culture.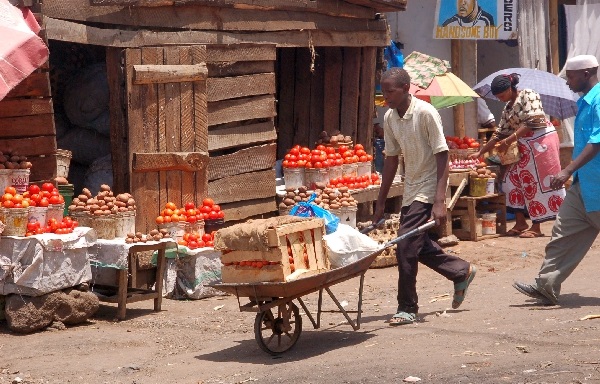 Main transportation on Zanzibar is by dalla-dalla
By the market was the Zanzibar city bus depot – although there was no station per se.  The main form of public transport, these vans or trucks with benches inside were known as dalla-dallas. Typically one had 30 or 40 people crammed into the space for a dozen or so.
Trip to Jozani Chwaka Bay National Park
Another place we visited on Zanzibar east from Stone Town was the Jozani Chwaka Bay National Park aka Jozani Forest, which was about a 45 minute ride in a dalla-dalla. Most tourists visit this place in connection with a tour to see spice plantations but we did it independently. It's the last remaining large forest on the island and is known for its population of monkeys although most of the monkeys the guide showed us were in the trees across from the entrance to the park itself. There wre a few tucans but otherwise no interesting wildlife.
The entrance fee was about 10 dollars each and the guide slowly walked us along a circular path surrounded by big old trees yet we probably didn't cover more than 600 meters and it was finished in 30 minutes. The expert commentary went along the lines of "here is the forest, it's full of trees and plants where the animals live – under the sky which is sometimes blue and you can see the sun during the day". Sounded like it came out of an encyclopedia for 3 graders. We walked back alone into the forest under the observation of the guide, so we got a bit more time yet only someone who had never seen a tropical forest would be satisfied with how limited this experience was.
Kendwa Beach and Nungwi
After Stone Town we went to the north side of the Island to Kendwa. There are a dozen or so bungalow operations there. We stayed at the smallest place on the beach, Les Toits du Palme, which had a few ratty old thatched roofed basic bungalows (locally called bandas) without electricity or any security but for just a bit more ($ 30 US/night) we got the nice place shown in the photo. We could sit on our porch and look right down on the beach, surrounded by a terraced garden. With it's fine white sand and gentle water which was swimmable except at the lowest of tides, this was a fantastic beach, the ideal of a dream beach on Africa's Swahili coast. Next to the bungalow picture is an image of the beach restaurant that belonged to our place. We sometimes ate elsewhere for variety but it was a great place to hang out.
Maasai on Zanzibar
One often saw Maasai men strolling along the beach in Kendwa. Although they stick to their traditional dress, they have gone big time into selling souvenirs to tourists. And once they over flooded their local market for such things, they had the great idea to come to Zanzibar. A few local sellers mentioned that they found it rather strange that these cow herders from the north of Tanzania come to an island to sell.
There were long strings of simple huts on the beach where the Maasai sold their wares and lived in the back. One of them gave in that it was lonely to be away from home and that with so many sellers for the number of tourists, they barely got by rather than got rich as they had hoped. We bought some nice jewelry but I was horrified at their piles of paintings. They all had the same poorly done simple motif and were rumored to come from Kenya.
Kendwa Beach fishermen at work
Not surprisingly, there were many fishermen along that part of the Zanzibar coast. The bigger local wooden sailing ships known as dhows were built and repaired a couple of kilometers away in the village of Nungwi. Canoes were pushed along by a pole as well with a paddle. Common scenes were seeing fishermen going out with their boats, repearing nets or cleaning fish right on the beach.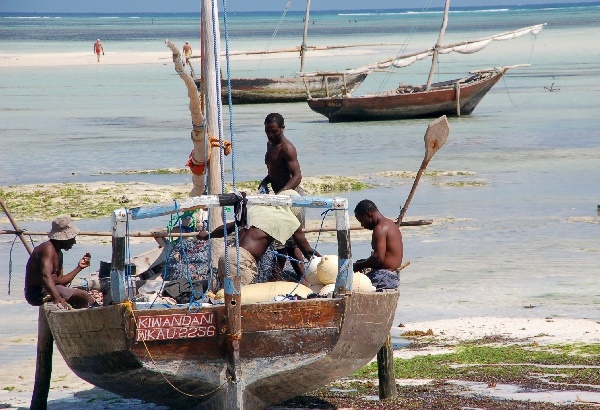 Kendwa Beach waters optimal for swimming
We had dry weather but there were often clouds which in combination with the corals reefs, often created a sea mosaic of changing shades of green and blues. Surprisingly the waters very clean and gentle and ideally warm for swimming in Kendwa.
Boats for transportation & sight-seeing
Of course boats at Kendwa and in Zanzibar were not just used for fishing. Many seemed to be used for transporting goods of all kinds. Another obvious use was for sight-seeing tours. Such boats were often fancy wooden dhows but I saw at least one incident where modern rubber rafts with motors were unloaded into the water. I am guessing that these were used for diving excursions.
Kendwa Resort
On the northern end of Kendwa Beach towards Nungwi was an especially large Italian owned resort. They had a bridge out to a clusters of shops built above the water. It is said that all of the profits from such operations end up in the pockets of foreigners but at least they seemed to employ a lot of people to do their construction work.
Collecting sea grass
Multiple groups of women and girls went out on the reefs at extreme low tide to collected sea grass which is used in the cosmetic industry. This is probably a welcome addition to make money from the sea as fish stocks in Zanzibar like everywhere are on the decline.
Dhows repaired at Nungwi
The Dhows, the local style of wood boat, in these photos were basically there for repair by the village of Nungwi. There was at least a dozen being worked on as it is a commercial specialty of the village. I was only there one afternoon as it is only reachable along the beach at low tide. Shown is a group of tourists passing the cliffs that seperate the beaches of Kendwa and Nungwi. Otherwise, it is known for its nightlife amongst the tourists although the locals there are very conservative. Aside from the tourist resorts, I hardly saw any other commerce in this large village other than a few small shops. In building the dhows, the cracks between the wooded planks are sealed by jamming in cotton like plant fiber which is soaked in oil. Not high tech but it is a time tested method to keep the water out
Queen Jahazi wrecked ship
One ship that wasn't getting repaired was the Queen Jahazi that was wrecked on Kendwa Beach. It looked like an example of a well-made wood dhow with a fancy carved details interior. Much of the boat seemed in pretty good shape so I don't know how long it might have been there. But it also got half flooded at high tide so it was probably deteriorating quickly.
Colorful local attire at Kendwa Beach
As one sees, the local dress was very colorful rather than austere. I relaxed in the restaurant by our bungalows and would take photos of the people walking down the beach. Women were often transporting things in buckets on their head. At least some of them had fish that they would sell directly to tourists who could then request their favorite Kendwa Beach restaurant to cook it for them.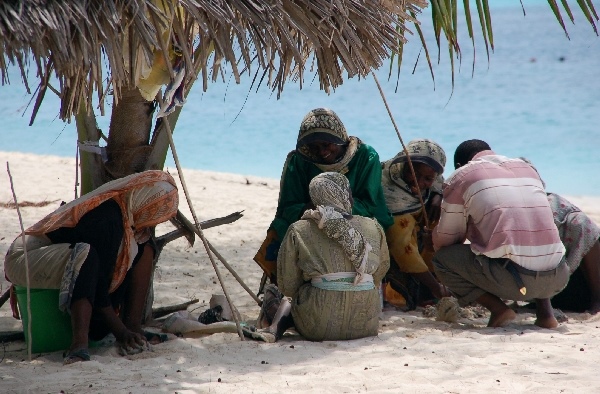 Tourists on Zanzibar beaches
Here are some images of tourists interacting with locals at the beach. I think the foreigners often found the locals to be interesting. The locals found the tourists to be strange. I didn't see any open conflicts but I think there was definitely a clash of cultures. The locals liked making money off of tourism but didn't really approve of people lounging around all day half-naked. The gulf between being relatively rich and privileged to be able to go on vacation – and being a poor local was immense. The people of Kendwa at least made money off of tourism. But the tourists would wander up the beach to Nungwi where there was neither accommodation nor restaurants for tourists. They put up a sign showing the expectations of dress for anyone who dared to wander off the beach and into the Muslim populated village.
Children on Kendwa & Nungwi Beaches
During the day one saw few children on the beach. During the week one would see groups of them in their uniforms going to or coming from school. Either after school or on the weekends the kids would be playing with each other, digging in the sand or possibly doing chores. What they were not doing often, as one would expect, is swimming or playing football. Possible the local interpretation of Islam frowned upon such activities.
Zanzibar direction Moshi & Kilimanjaro
We took the fast ferry back to the mainland via Dar el Salaam. The continuation of this trip is presented on the page Tanzania-2.
So, those were just a few tales from my many travels over the last thirty and something years. I hope you've enjoyed another side of a traveling clown! If you want, write me an email or better yet, book my show or set a link to this website or just state me as the beneficiary of your will!
To book or see more information about Tom's clown show and entertainment, visit one or both of his clown websites:
Clown Stuttgart www.clowntombolton.com
Clown juggler Stuttgart, Gremany www.clown-event.de