World traveler Clown Tom Bolton
Adventure stories & photos
Tom's travels to Germany, Europe
Kiel & northern Germany
As of May 2013, this page was separated from the one for Northern and Middle Europe. Like Europe in general but Germany in particular, I have traveled it extensively but don't have many photos because I was often working and not just on vacation. On my way to Scandinavia from southern Germany, I used to always stop in Kiel in the north of Germany. The city doesn't look like much having been razed during WWII but I always met a lot of really cool people there and the "Kieler Woche" festival in the harbor area was great, back before they gave all the playable areas to more bratwurst stands. The ferry with the Becks logo docked across from this pitch use to send their waiters down to serve us free drinks and ice cream, which made us feel like kings. Those were the good old days!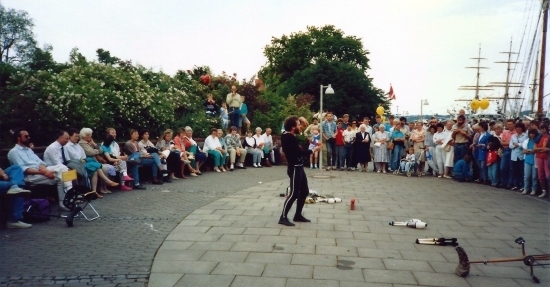 Festival in harbor
Most of the festival is in the harbor area, which is at least a kilometer long in addition to the city center. The wooden boat regatta that is presented in a number of northern European cities each summer was just one of many events incorporated into this mega sized festival. What I failed to appreciate for quite some years was how nice many of the small beach towns in northern Germany were. The north Atlantic tends to be very windy but the Baltic Sea less so and it has extensive beaches, many of which were hardly in the eastern section used until after the wall came down.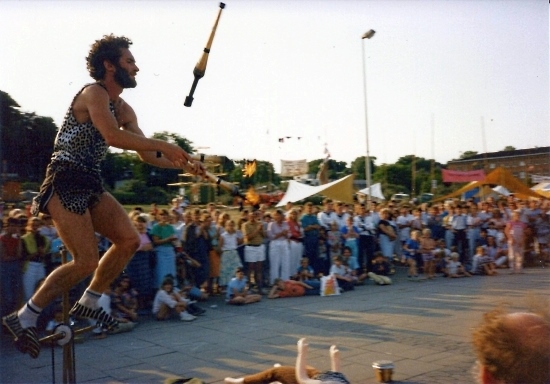 Tarzan show
Here I was doing my Tarzan show in 1986. I had done comedy-juggling shows for years but my voice was always weak and then suddenly I developed asthma. Since I could no longer reliably speak, I had to develop a silent show. My first attempt was the Tarzan show which only lasted one season. I figured I could still yell and beat my chest and juggling with some wooden looking clubs would fit the character. I planned to have a sound system playing jungle sounds and drumming in the background but I never managed to find the right sounds.
My big gimmick was to use a blow-up love-doll for Jane who to get a dance from I had to impress with great feats of juggling. I thought the idea was good at the time but it never developed very far. To draw a crowd, all I had to do was to slowly blow up Jane and people would stop to see what the hell I was going to do with the doll. People stopped but the atmosphere was never right. Half of the people would be annoyed that I used such a prop at all although it was totally clothed and I never did anything sexual with it. The other half was annoyed because they felt mislead exactly BECAUSE I never did anything sexual. By the next year I had developed a silent clown character, which I have stuck with ever since.
Traveling in van or motorhome
A year or so after I arrived in Europe in 1983 I bought a VW van. 18 months later after it broke down, I got a Mercedes van which I had for 5 years. Then in 1990 I bought this late model motor home which I kept until mid-2008. I was on the road throughout Europe making shows and my vehicle was my castle, providing transportation, shelter and a place to cook and eat.
With fuel prices what they are and the difficulties in parking, I decided my current needs don't warrant having such a vehicle anymore but I have many memories having gone throughout Europe for over 17 years in this. The picture is just before I sold it for very little money since it didn't pass the new fine-particle emission laws in Germany, so it wouldn't be allowed in the cities anymore and the taxes skyrocket on it but for me it was a real "magic bus" while I had it.
Typically, I would load my motorhome up with food after the Kieler Woche to last me the next 6 weeks or so while traveling in Scandinavia as the prices were so much higher there. At the end of summer, I would head south again, generally to southern Germany where the autumn weather tended to be much better. I later had an Opel Combo, which is almost like a mini-van but as of 2017 I decided to go green as possible and do without a personal vehicle. Now it's public transportation or a car share if needed.
Southern Germany
Stuttgart
Here I am doing shows in Stuttgart on the Schloßplatz about 2001. I first tried Stuttgart in 1984 and it became a regular place for me to perform at the start and end of each season. In 2000 I bought an apartment and settled down here. Although it got heavily bombed in WWII it still has quite some beautiful old places left or rebuilt.
The local population is known for being tight with their money but it is also one of the most economically well off areas of Germany. Like a friend once commented to me, "when I saw the big Mercedes sign rotating on top of the train station, I knew there was money here". Stuttgart is neither as cosmopolitan as Berlin, Munich or Hamburg. But not as hectic either yet still has a multitude of culture, art and sports. Eventually one has to live somewhere besides in a motor home.
Stuttgart Schlossplatz
The southern side of the Schlossplatz has been my home pitch for years. In the mid 1980's they built a tunnel underneath to redirect the traffic that used to pass through. Then they built a series of stairs up to an elevated plaza which was like a theater. There was a restaurant/ice cream place that overlooked the pitch.
Partially because I established the space below as the place to do big shows in Stuttgart, the stairs became a loved place for people to hang out. Eventually they tore the stairs away to make room for a new museum.  But due to the popularity of the place, they built a smaller set of stairs alongside of the museum. Unfortunately, the stairs are set too far back to use as seating for a show but still makes a nice backdrop.
The Schlossplatz still has the advantage of being a huge space and nobody lives close enough to complain about the noise. On the other hand, there are often events taking place on the weekends in the warmer months, which are the only time I tend to work there. There can also be competition with musicians or break dancers who want the space so I am happy to have paying gigs so that I don't need to bother with street shows but it is still part of my marketing to keep a high profile in Stuttgart.
Königstrasse, Schlossplatz events
The main walking street Königstrasse or King's Street runs almost a kilometer through the center and there are other pedestrian zones and plazas but the Schloßplatz is really the center of it all. The Schloßplatz and the pedestrian streets running to and including the Marktplatz or Market Plaza are the setting for one of Germany's biggest Christmas markets.
Christmas Market
The Christmas market or Weihnachtsmarkt runs about 3 weeks and is proceeded some weeks by a temporary ice-skating rink and a number of wooden stands selling bratwurst and Glühwien – a warm spiced wine that is traditional like hot apple cider in the States.
Lots of traditional handicrafts like ornaments and toys made of wood or leather, candles, etc. are sold here as well as the big heart shaped cookies to be worn around the neck. Known under various names like Lebkuchen or Magenbrot, they are flavored with honey cinnamon and nuts and typically have sentimental prose like "Ich liebe dich" – (I love you) written on them. They also set up a model train city that includes a train big enough for the kids to ride on, with steam coming out of the engine.
Carnival in Stuttgart
Carnival or Fasching is the next big festival after Christmas and is celebrated with a big parade through the center. There are many styles of costumes from shiny modern to middle-age looking one. There is no tradition of marching bands at sporting events like in the USA but some of these groups take it very serious, meeting often although they might only perform at a handful of events during the carnival season.
Most of the traditional costumes depict old hags and grotesque guys often carrying brooms and they might throw candy or confetti but also carry off the occasional teenage girl. Most of the costumes look pretty warm, which fits to the German weather in late winter, in contrast to the sexy girls clad in bikinis that one sees in Brazil. Halloween was not even celebrated in Germany until the new millennium but has slowly made inroads into the society. The traditional occasion to get dressed up is still carnival. There are often events for kids but the carnival parades are mostly adults.
Demonstrations, democracy at work
In addition to celebrations, Stuttgart has been home to many demonstrations in the past years. Here was a huge demonstration against nuclear energy shortly after the catastrophe in Fukoshima. The phasing out of atomic energy had been settled years ago but then the conservatives under Angela Merkel simply gave into the lobbyists and backtracked on the laws. The public outcry after Fukoshima forced her hand to repeal her deal. This demonstration  was not just in the center of Stuttgart but was part of a human chain all the way to one of Germany's oldest, most dangerous nuclear plants less than 40 Km north of Stuttgart.
The most controversial thing in Stuttgart is the "Stuttgart 21" project to replace the present main train station with an underground one. Debated for years, the political and financial power-brokers are ramming through this disastrous project despite untold levels of fraud and corruption. The Deutsche Bahn has spent millions on propaganda and even the more liberal politicians in the area seem to have their finger in the pie or have buckled under the pressure. The populous has on the other hand; keep up a series of weekly protests and occasional big demonstrations since years.
Political & police oppression remain
A shocking aspect of this controversy is that the police have been used to brutally suppress the civil disobedience opposed to the destruction of the city. A virtual witch hunt has ensued by the prosecutors and courts to criminalize all opposition. On one occasion, water cannons, tear gas and Billy-clubs were used against non-violent children and seniors just for being in the way resulting in hundreds of injuries including the permanent blinding of 2 adults.
Train project a scandal of corruption
Although it has been proven that the planned station has much less capacity than the present one, the proponents keep up wild claims how it will be the best and greatest project of all time. Undisputed is that it will be the most expensive of all time in Germany. One of the early steps to try to make the decision irreversible was to occupy a large section of the Schlossgarten (castle gardens) and cut down hundreds of trees, many of them 200 – 300 years old.
That the needed permission was lacking was simply ignored as was the arbitration decision that was supposed to settle the conflict. The project leaders were obliged to replant the trees elsewhere but only moved a few small ones. Of course the larger ones would have been expensive if not impossible to transplant, which was one of the points of the project opponents. The promise to move them was a farce like most of the project to date.
An environmental catastrophe
An endangered beetle that only lives in old trees was known to be living here but the DB went around the European law protecting them.  They paid off someone to claim that there were no beetles in the trees they wanted to cut. This proved to be false. And what sense does it make to say an animal is in this particular spot at the moment, so it won't impact them to destroy their only surrounding living space.
Even in time of war, the residents of Stuttgart had protected the trees from getting cut down for firewood. To add insult to injury, the DB propaganda machine has used exactly the most obnoxious drawbacks to the project to turn around and sell it. They destroy the nature and sell it as a "green ecological" project. The present station has ground level entrances and is convenient for handicaps even without power working. The propose station is a nightmare of safety violations with no escape in case of fire yet is always touted as barrier free.
The present station in Stuttgart is not really pretty but then the DB has deliberately let it run down for the last 20 years
so they can claim they need a new station. But it is a historically "protected" monument of architectural importance. Yet in addition to destroying a large section of the Schlossgarten, they tore down 2/3 of the station backed by the force of 6000 aggressive riot police. I could go on and on about the incredible fraud and arrogance involved with this project but this isn't the place for it.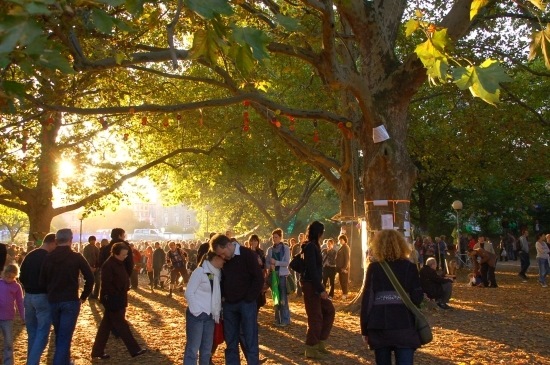 Beautiful Schlossgarten trees
This is a photo from a happier time after a demonstration calling for the saving of the Schlossgarten. It was really the jewel of Stuttgart's parks with a long history of royal patronage being sacrificed so that developers can build shopping centers and expensive unneeded office buildings where the tracks are located.
Culture in the Schlossgarten
The Schlossgarten is more than just a place to relax. There are events held here like the annual LAB Festival that every few years brings back Stuttgart's favorite clown.
Soccer World Cup
During the Soccer World Cup in 2010 which was held in Germany, there were large screens for public viewing set up in the Schlossgarten. These photos were made during and after Germany's quarterfinal annihilation of Argentina. The weather was hot and hundreds of people partied in the fountains while tens of thousands danced in the street.
Only in the last decade have the Germans dared to start waving flags and displaying their national colors while rooting for their national teams. In light of the wars, it was considered in bad taste but that feeling has worn off. Unfortunately, some right-wing extremists are always going to exaggerate such situations to flout their ideology. Fortunately, Germany has become more integrated over the years and it is common in the big cities at least, to see people of obvious different cultural backgrounds speaking fluent German and being an integrated part of society especially in the performing arts.
Hamburger Fish Market
This is a photo of another foreign artist, my good friend Hugo from Argentina. His German is even much worse than mine but he is a pantomime so it doesn't matter. Here he is mimicking people on the Hamburger Fish Market, held in late summer on the Schillerplatz close to the Schlossplatz. They mostly offer northern German fish and seafood specialties and the fried fish stand in the background was the same I often saw at the Kieler Woche Festival during my earlier stays in the north. The fish is deep fried on the upper level and is slid down a shoot to the seller on the lower level with a ring of a bell and a cry of "Backfisch". Alternatively, the Stuttgarter Weinfest (Stuttgart wine festival) is presented each summer in Hamburg as an exchange of culture – in other words, any excuse for a party.
The Mercedes Museum
Stuttgart's claim to world-wide fame is its vehicle production being the home base for both Porsche and Mercedes. For many years, Porsche had a museum displaying some of its cars. Then the huge Mercedes-Benz Museum opened with not only Mercedes but examples of many vehicles and technological products from the area. Much of the motor technology that came to power not just cars but boats and planes as well were developed around Stuttgart. For anyone interested in machine technology, this might be the best museum in the world.
Cars, buses, trucks… there is so much to see that one can hardly do it in one day. With the admission fee, one gets a set of headphones that provide a description of each display in either English or German. Not to be totally outdone, Porsche responded by building a bigger better museum as well. In the outskirts of Stuttgart, the building itself is an icon of sleek design.
Taekwondo schools & tournaments
I started training taekwondo some years before moving to Stuttgart. Once there, I realized that there were a number of schools and clubs in the area. Not only have a handful of grandmasters settled in the region but one of the highest ranking ones and longtime vice president of the World Taekwondo Federation, Soo-Nam Park is within 5 minutes' walk of my apartment. He is very involved with organizing and testing out new rules etc. and I felt his school was not the ideal one for me so I trained elsewhere. But he runs two large tournaments that are held in Sindelfingen, 20 Km south of Stuttgart. After 12 years and earning my black belt, I dropped out of the scene.
Stuttgart Wagenhallen – container city
There is a special place in Stuttgart a bit south of the main train station to promote culture and the arts. It was originally a large hall for repairing train cars (wagons). Since a few decades it has been home to many artists studios. In 2020 a years' long project to refurbish it was completed. It has been subdivided inside offering separate rooms of various sizes. Painters, sculptors but also performing artists like jugglers and puppet players are now using it as training and practice space. During the Covid-pandemic, I joined with a group of fellow jugglers to establish a training space here.
Next to the various Wagenhallen buildings is a container village; improvised buildings, many built out of transportation containers used on ships – or even old train or circus wagons. The container city retains more of the free-spirited anarchy mood that the Wagenhallen is known for but  will supposedly be cleared out in the coming years. 
Karlshöhe Stuttgart-West
One of my favorite places in Stuttgart-West where I live is a park on a hill called Karlshöhe. It starts a high ridge covered with forest that runs south out of the city. There are many winding paths through the steep Karlshöhe with playgrounds, shelters and a majestic fountain that no longer works with a figure of the Greek god Athena. At the top is a beer-garden, cafe called Tchechen with panoramic views of Stuttgart-South. It is especially a nice place to sit and have a drink towards sunset.
Stuttgart lakes
There is a river that runs through Stuttgart called the Neckar. It is important for boat traffic but neither scenic nor clean enough to swim in so not used to relax at. On the northern outskirts of town is a lake called Max-Eyth-See. The water is murky and while maybe not polluted, too full of algae and muck to swim in. Despite this it is a popular place on weekends for people to have picnics and grill out, especially for foreigners. The setting is nice as there is a slope on one side covered with vineyards. There are a number of places to eat especially a self-service place with a lot of outdoor seating. There are some paddle boats to rent and even a few nice privately owned sail boats, which I find surprising because the lake is so small that with a good wind one could sail across it in under 2 minutes.
Bärensee Stuttgart
A bit southwest of Stuttgart is another lake called Bärensee. Unlike Max Eyth See, it is surrounded by woods and is an area for hiking rather than picnicking or laying out in the sun. It is reserved for nature with no swimming or boats of any kind allowed. There is a small castle like building with a restaurant where Germans like to have their traditional coffee and cake on a Sunday stroll in the outdoors. There is a small animal reserve nearby with deer and wild pigs but despite its name, there are no bears around. This is no surprise since they were all hunted to extinction in Germany over 180 years ago. There is talk of re-introducing bears to some other parts of Germany where they have successfully done so with wolves over the last decade or so. But the last time a bear showed up in Germany, in 2006 after having wandered over the Alps from Italy, he got promptly shot. The people enticed by conservative media panicked that he must be out of control to dare to show up in Germany.
Stuttgart Seilbahn cable-car
Stuttgart has an extensive public transportation system. A special feature of it is a few remaining historical cable cars that take people up some of the slopes. And they are exactly in areas where one otherwise has to take a much longer way around since the modern routes don't handle the steep inclines. And one can ride the cable cars with a normal ticket rather than needing to pay extra.
Heidelberg
I first went through Heidelberg in 1985 with my French girlfriend. It's one of those quaint old University towns that American tourists seem to go crazy over. It was nice but I didn't find the audiences so great and heard that the police often made stress for performers and I never liked having to look over my shoulder. Thus, I rarely bother to go out of my way to visit Heidelberg unless I find myself in the area. Here I am sitting by the fountain in the center of the Marktplatz.
We walked around the extensive castle grounds but did not pay to go inside. I remember being a bit disappointed that much of the structures were ruins although I was more let down at other sites in Europe when I saw restoration jobs that failed to capture the original look and feel. Sometimes it is better to do nothing than to slap some ugly, modern addition on to a middle-aged structure.
Tübingen, University town near Stuttgart
This is Tübingen, a beautiful University town 40 kilometers south of Stuttgart. While I often worked in Stuttgart on weekends, I used to hang out much more in Tübingen back in my early years in Europe. I also happened to have a couple of relationships with students and met my eventual wife there.
Tübingen has the reputation of being a hotbed of liberalism like Berkley. I personally found many of the left-wingers here to be rather naive and unrealistic. They were often full of strong opinions about places they had never been to or things they had never experienced. Despite this,  I shared many of their good intentions to be socially active. Still, it was a comfortable place to be and I always had some friends living there.
Like many old towns, Tübingen is over looked by a castle. One can walk around and through the courtyard but much of the interior space is used as offices.
Central Tübingen; Marktplatz & Rathouse
The cultural if not physical center of Tübingen is the Marketplatz, with the Rathaus or city hall in the background. This used to be my main place to perform in Tübingen. I would wait until the last possibility before it would get too dark and often did huge shows for the young people who would congregate there. This only worked on very warm evenings during the week. On weekends I had the possibility to do many more shows in Stuttgart. Being mostly students, they didn't give a lot but most people would give at least something.
I have rarely performed in Tübingen since the late 90's as I moved to Heidenheim, 2 hours drive away and eventually to Stuttgart. A large beer garden also opened up alongside of the Neckar river which seemed to pull away a lot of the better crowd that formerly frequented the Marketplatz in the evenings.
Holzmarkt & Stiftskirche
The other main plaza in the city center is the Holzmarkt or wood market with the Stiftskirche church to the right. The stairs by the church are a nice place to sit and watch people go by but there has never been the right atmosphere to do shows here. There is just one small cafe off to the side unlike the 3 or 4 big ones on the Market Place.
Most of the old town has impressive historical houses; typically adorned with flower pots on the window sills in summer. The last photo in this series is not actually in Tübingen city but a few kilometers away is Bebenhausen with its historical monastery.
Ludwigsburg
About 40 Km north of Stuttgart is the city of Ludwigsburg. Despite the occasional old building, the city is not particularly impressive with the exception of the residential palace which is one of the largest examples of Baroque architecture in Europe and the biggest royal complex in Germany. In addition to Baroque, there are many architectural elements of Rococo, Neoclassical and Empire styles. There is not just one castle but a complex of 18 buildings built around 2 large courtyards. It also has extensive gardens which alone are a trip for some people. One can take tours that show parts of a couple of the buildings but to see the whole complex, if it were open to the public would take a good day.
Other cities near Stuttgart
Besigheim
There are many small to medium sized towns in Germany that managed to escape major damage during the wars. These are 2 pictures of Besigheim about 40 Km north of Stuttgart with its typical old "Fachwerk" houses.
Bietigheim-Bissingen
Another very nice town close to Besigheim is Bietigheim-Bissingen which has been the backdrop to some very good shows over the years. I established a friendly relationship to the head of the city Culture Office there and they hired me fairly regularly, especially for the annual XXL Festival as seen on this photo.
Sigmaringen Caste
About 100 KM south of Stuttgart, at the lower edge of the Schwabian Alps, is a small city called Sigmaringen. The iconic feature is the castle which belongs to the Hohenzollern family one of the most important royal families in the region. Although most of the castle was built during later phases of construction and renovation; the original building dates back almost a thousand years. I've been there a couple of times but never had the opportunity to visit the castle museum. Most of the castle is still a family residence. There is another museum in town with all kinds of historical things from the middle ages.
Burg Hohenzollern
Approximately 65 Km south of Stuttgart is one of Germany's finest castles known as Burg (castle) Hohenzollern. It belongs to the same royal family as the Sigmaringen Castle approximately 50 Km further south. While some of the family still lives here, much of the castle is open to tours. It is impressive in style, size and its setting on top of a high hill overlooking a country-side of rolling hills. It is characterized by multiple rings of defense. Many tourists seem to think it is even more idyllic than the more famous Castle Neuschwanstein in Bavaria.
Unfortunately, although I have visited Hohenzollern a number of times I don't have but a few photos. Pictured is outside the main entrance and a couple views towards the courtyard. Pictures are allowed outside and in the courtyards but not in much of the main interior. To visit from Stuttgart there are train connections to the nearby village of Bisingen. In the warm months there is a special shuttle bus up to and back down to the castle. Otherwise, it cost around 25 Euros each way for a taxi. Making all of the right connections means just a few morning opportunities leaving one enough time to properly see it. Trains from Stuttgart go through Tübingen which is a good combination to see on the way back.
Würzburg, Bavaria – Residenz
Würzburg is a pretty University town on the Main river about 150 KM northeast of Stuttgart. With a population of around 130,000 and a large historical center dating back over 1300 years, it is a laid back and interesting city. The city was heavily bombed in WW II but better restored afterwards than many German cities. One of its main attractions in the UNESCO site known as the Residenz or residence, an extensive baroque palace and accompanying gardens where the local royalty once lived. The building is now a musuem and art gallary. I've visted the Residenz on a guided tour but had no camera with me. All of the following photos from Würzburg were taken in early November 2018 while attending the Würzburg Juggling Convention although it was at least my 4th or 5th visit.
Würzburg Cathedral
Some hundreds of meters from the Residenz is the large Würzburg Cathedral known as St. Kilian Dom. It was built starting in 1040 A.D. as the third Catholic cathedral on the spot as the earlier ones built 787 and 855 were mostly destroyed by fire. The main basilica entrance is flanked by twin towers and is in baroque style while the later added side wing known as the Schönborn chapel is late gothic.
Old Main Bridge Würzburg
The Main River (pronounced "mine") flows through Würzburg. There remains an old bridge on a spot where previous badges had stood going back until at least the 11th century. They were destroyed by flooding over the centuries and its present stone foundation was erected 1476 to 1488. Between the stone pillars the archways were originally wood but overlaid with stone as well in 1512 until 1703. Into the 18th century the bridge was occupied with a strong military presence for defense. In the late 1720's and early 1730s the iconic religious statutes were added, similar in style to the famous Karl's Bridge in Prague. Both tourists and locals like to hang out on the bridge or stroll along the adjacent river walkways.
Marienberg Fortress Würzburg
There is a long ridge above the Main River in Würzburg known as Marienberg or the Frauen Berg. At an elevation  of around 100 meters is the Marienberg Fortress with a good view over the historical center. On an adjacent hill is the Marienkapelle or Marien Chapel. As an ideal defensible location, this location had some sort of settlement going back into antiquity. The oldest remaining part of the often expanded structure goes back to 704 A. D. From 1253 until 1719 the Marienberg was occupied by the count-bishop of Würzburg although also occupied by the Swedes 1631 – 1648 during the 30 year war. In the 18 hundreds the Prussian army took the Marienberg and turned it over to the Bavarian monarchy. There is a museum in the fortress which can be visited. Unfortunately, the only picture I got of chapel that belongs to the fortress located on the next hill is almost unrecognizable as I was shooting into the sun.
Würzburg city center, Rathaus & St. Johannes Church
Another beautiful building near the river in central Würzburg is the white Rathaus or city hall building. Pictured is a vertical close up and a view from a distance along one of the streets reserved for pedestrians, trams, taxis and bikes. The photo lower right is just one of the other large churches in the historical center; this one the St. Johannes Church in the Haug neighborhood near the main train station.
Karlsruhe, juggling convention
About 60 Km west of Stuttgart is the sizable city of Karlsruhe. It has some big open spaces but I never card much for the street scene there but occasionally went through as I had many gigs at the nearby quaint town of Ettlingen. The first photo is of Martin, a juggler from the Hamburg area that I first meet around 1985 who was down to attend the big European Juggling Convention held in Karlsruhe in 2008. The parade through the center of the city ended at the Schlossplatz where thousands of residents were pretty blown away by the antics of crazy jugglers.
Not so well received by the police was the idea to pass clubs from on top of one of the castle fountains. Would have been quite the mishap to accidentally damage a historical structure. Karlsruhe hosted the EJC, a big juggling convention, a couple of times to great success as they had plenty of room for training indoors and space for tents for shows and camping outside. With upwards of 6000 visitors, the setting was almost overwhelming but fun.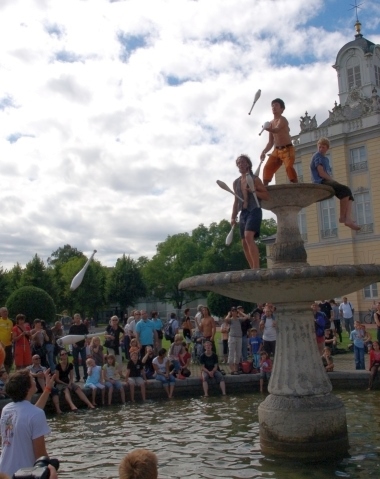 Munich, Bavaria
Munich is the third largest city in Germany after Berlin and Hamburg and the capital of the southeastern region of Bavaria. I've spent a lot of time there over the years, mostly in years past when I was working the streets. I've had a some stress with the local conservative Bavarian mentality but it is also very cosmopolitan and a lot to see. I have photos of me juggling in the pedestrian streets in the center but never really took tourist photos of the sites. The photos I am including below were from the European Juggling Convention held in Munich in 2011. It was held at the Olympic Park site which includes various halls and sports facilities which were set up for the Olympics in 1972. The official attendance for the EJC was 7200 making it until now the largest ever gathering of jugglers world-wide.
Although the convention attracted a good number of top juggler there were a number of complaints. It seems the police were often around to make sure everyone was following all of the rules, which turned some people off. The other problem was that the park is so big. We used not just various buildings but there were tents set up and many things happening outdoors. I had a bicycle with me but it was still a long ways between different activities spread out over the site.
Freiburg, southwestern Badenwürttemberg
Freiburg is known as one of the most alternative cities in Germany. Pretty much in the southwestern corner of the country it is a University town surrounded by some of the Black Forest's nicest scenery. Despite the mountains, it has the warmest climate in the country. Back in my street performing days used to occasionally go there to play on the Augustiner Platz which was one of the best pitches ever. I always had huge responsive audiences and did good hats despite the high ratio of students. The problem was that there was always a large contingency of punks that also hung out there yelling around, begging, throwing bottles and pissing in public. The city decided the solution would be to disallow street performing after 6 pm which was before people even showed up. The theory was that with no shows there would be little reason for people to hang around on this plaza. The result was that there was no longer a really good place for performers and the punks, who weren't there for the shows anyway remained.
The other reason to go to Freiburg is the Kulturbörse, the largest performing arts showcase in Germany. I twice had a stand there but didn't find it cost effective without having a performance on one of the stages. But the stages, which are ideal for comedians and magicians, are not really the best place to present a show relying on and audience participation or improvisation. The spontaneous reaction to things like someone going through my show with a baby carriage or dog, or eating an ice cream cone are often the highlight of my performance and just don't happen on a stage in a hall. But the event is also a place to see shows, meet new people and run into performer colleagues and friends. I never really bothered to take any photos in Freiburg until Jan 2019 when I went back to the Kulturebörse for my first visit in a good 5 or 6 years absence. I didn't take any photos at the event but did manage a couple of shots of the old city center including a couple of towers, Schwabentor and Martinstor, that would have ringed the early city fortifications.
Münster, Archbishop's house, Rathaus
One of the icons of Freiburg is the Münster, a cathedral that also has a monastery integrated. There is a large plaza surrounding the cathedral where there are street vendors and occasional outdoor markets. One of the most noticeable buildings on this plaza is the red Kaufhaus an old shop that formerly housed important governmental offices. Nearby are many historical buildings including the Rathaus or city hall.
Weingarten, Southern Germany
South of Stuttgart at the Swiss and Austrian borders is the Bodensee, Germany's largest lake. It is a very pleasant place to swim, sail or bike ride. There are some very pretty towns along Bodensee but I never bothered to take photos despite spending a lot of time over the years performing and relaxing. There is also a historical pretty town about 18 KM north of Bodensee called Ravensburg. A suburb of Ravensburgs is called Weingarten and I performed there in 2019 and took these pictures. The community is highlighted around a cathedral and monastery on a hill.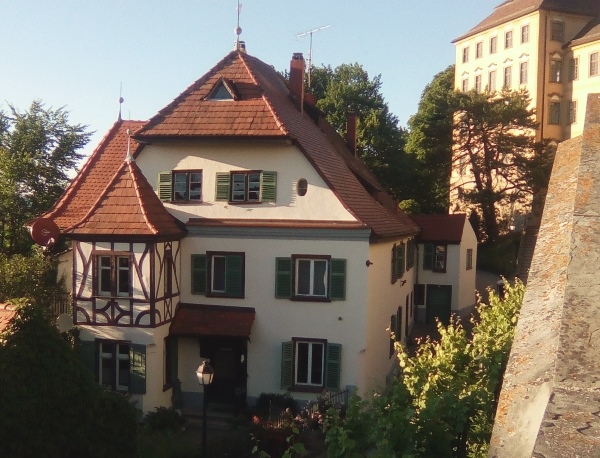 So, those were just a few tales from my many travels over the last thirty and something years. I hope you've enjoyed another side of a traveling clown! If you want, write me an email or better yet, book my show or set a link to this website or just state me as the beneficiary of your will!
To book or see more information about Tom's clown show and entertainment, visit one or both of his clown websites:
Clown Stuttgart www.clowntombolton.com
Clown juggler Stuttgart, Gremany www.clown-event.de