World traveler Clown Tom Bolton
Adventure stories & photos
Tom's travels to Argentina, South America
Buenos Aires, capital of Argentina
I flew to Argentina in Jan. 1995. Upon arrival in Buenos Aires, I was met by Marcelo Katz a well-known local actor who was one of the co-founders of a circus school called "La Arena" pictured below. I made contact to him through the friends I had made the year before in Lima, Peru at the circus school there. Marcelo warmly welcomed me and my future wife who came for part of this trip. Marcello had an Aunt who had recently passed away and let us use her now vacant apartment. This was great since the prices in Argentina at the time were outrageous and the Peso was still pegged 1:1 with the US dollar.
Multiple circus schools in Buenos Aires
I found out that there were many good performers in Buenos Aires and at least one another circus school. Traditional circus people ran Criolla and when I showed up and showed off some juggling techniques the trainer hadn't seen, he acted strangely. He called me "amigo" but obviously felt threatened and said the things I did were very new although most of it had been around for at least 15 years in the States. He went on to say how the "tempo" style of juggling as fast as possible is superior and expounded on the history of Argentinean circus tradition. Unlike at La Arena, they didn't seem very open to new ideas or techniques.
Buenos Aires, Argentina jugglers
I later met a couple of jugglers who performed under the name "Malabaristas del Apacolypso". Here I visited their place that had juggling equipment everywhere and tall unicycles, which they set out during their shows as an attraction but they hadn't yet learned to ride them well enough to perform with them. Sorry to say, I don't remember the name of their friend who is on this picture. He was coincidently the boyfriend of the artist I had met in Peru who introduced me to the circus school in Lima. The juggling scene was very small in those days. I was invited to a birthday party and was told that probably 90% of the jugglers in Argentina who could juggle with clubs were in that one room. Since then, juggling has exploded in popularity in much of Latin America.
Central Buenos Aires
Here are some images including the pedestrian streets in central Buenos Aires. It is very much like a European city but unfortunately the people seem to let it go to their head. Somehow they were proud of their country but not that it was in South America. I once asked for avocados in a supermarket and they said in an insulted tone of voice that such things are for "Indios", not for them. And my Spanish was often "corrected" by them to mimic the Buenos Aires dialect where "yo voy a la playa" becomes "zjo voyzsh a lah playzha". This attitude is resented by many other South American who consider the Portenos as they are known, as the "ugly Americans" of the southern hemisphere.
Street performing in Argentina
The economic crisis that hit a few years later might have humbled them a little though. Even when I was there it was tough for the local performers. They made most of their money during the "Temporada" which is their summer vacation time Jan.-Feb. Most of the performers would leave Buenos Aires, where Recoleta Park is their main performing space, for coastal vacation towns, which I visited, like Pinamar, San Bernardo, Santa Therasita and Villa Gesell. They tended to stake out a pitch and would fight off any other performers who would dare to try their chosen town. I regret that I didn't take photos in these palces but I didn't want to drag my camera to the beach during the day where it could get full of sand or stolen. And when performing, I had enough other things to carry and worry about.
I traveled through and just tried some small solo shown not having props or costumes for a proper show which was especially tough since many local groups did 2 hour long mega-shows with many performers. Nearly all the performers were friendly with me once they realized I was not staying around long. Most were also curious to hear about the European street scene. Unfortunately, most of the performers seemed to regard their colleagues as threatening competitors to be avoided. The highlight of my European performances, on the other hand, have always been getting together with other performers at big festivals. It's like a big Gypsy family in a way but this feeling of comradeship was missing in Argentina.
Madres de Plaza de Mayo
This was a demonstration on the Plaza de Mayo in front of the Presidential palace in Buenos Aires. During the repression by the military regime 1976 – 1983, many of the mothers of the "disappeared" came here to protest. Known as the Mothers of the Plaza de Mayo, some were still coming and protesting that the government account for the missing people, which were usually murdered for possible left-wing leanings. A good friend of mine grew up in Buenos Aires in that time and mentioned that just having long hair and looking a bit alternative could lead to arrest and eventual death.
La Boca, Buenos Aires
These are photos from the neighborhood know as la Boca. The houses are made of wood and covered with corrugated sheet metal recycled from wrecked ships, not fancy but often painted in bright colors. Italian immigrants built this area; despite some gentrification it is still a real working-class place. It was becoming a real tourist attraction to visit la Boca then so some upscale hip places had also sprung up. Interesting was the self-built motor home known locally as a casa rolante or rolling home. Such vehicles were very expensive despite being old and usually self made. There also seemed to be a nostalgia for big old American cars. Not quite cult like in Cuba but some seemed to have been on the road for decades.
Western Argentina, Mendoza
From the capital we went west to Mendoza. The road and bus were good but this was a almost 1100 kilometer trip. From there we did a day trip to "Puente Del Inca" or bridge of the Inca, named for a natural bridge next to some hot mineral springs. The Indians prized the antibiotic effects of the high sulfur contented water. The leader of the Incas was said to suffer from a festering war wound and had a spa built here to recuperate and bath in the healing waters.
Aconcagua Provincial Park
From Puente Del Inca we walked a couple of hours to Aconcagua Provincial Park, which contains some of the highest peaks in the Andes. That peak in the background is Aconcagua, the highest mountain outside of the Himalaya. We met a number of climbers returning from trying to scale the peak. Not all were successful due to high winds and temperatures of 40 below zero. There are lots of possibilities for great treks and now days, mountain bike tours in the area but scaling such peaks is a major expedition for world class climbers.There must be fees for climbing the peaks but the park was otherwise so isolated, big and open that I don't know if they could even control it much. We didn't see any office, entrance fees or anything. Looked like a good deal unless you got lost and expected some help.
San Juan, Difunte Correa shrine
From Mendoza we went 170 KM north to San Juan and on to the Difunte Correa shrine. The legend is that a woman tried to cross the desert to reach her sick husband. She died but her baby survived and was found some days later nursing from her dead breast. Anyway, the "miracle" has led to people building shrines here with all kinds of crazy object including a miniature circus set, wedding photos, license plates, keys, business cards etc. Grounds for a cult following obviously are nothing new!
"Valle de la Luna" Argentina
North from San Juan we arrived in San Agustin, which was a starting point for a day trip to "Valle de la Luna" or Moon Valley. There was no transportation or tours available that we found. Luckily we ran into 2 other tourists who had arranged a car and driver to take them through the park and we had to throw in 100 dollars to split the cost with them. We drove one or two hundred miles throughout the area which is obviously not just one valley. It actually encompasses 2 separate parks; the Ischigualasto Provincial Park in San Juan Province and Talampaya National Park in the Province of La Rioja.. Much of the geographic formations reminded me of Arizona and New Mexico in the USA. One sees the red cliffs in the distance of the next photo that are seen better in the following photos.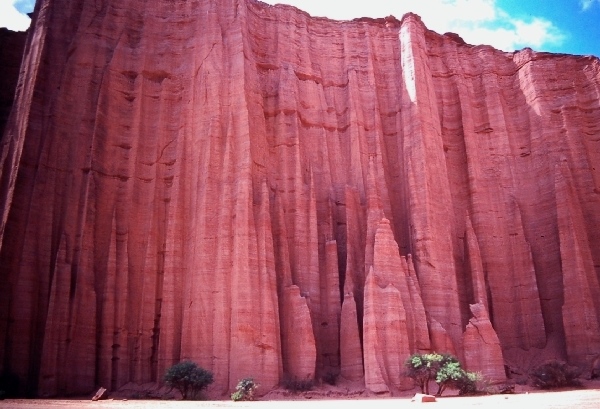 Indian hieroglyphics, Valle de la Luna
If you take a close look at the left part of the lower cliff, in the center of this photo below, you will notice the Indian hieroglyphics scratched into the black stone. I heavily filter these pictures to improve the contrast otherwise the figures are difficult to make out. There was also a spot with indentations the indigenous people had ground into the rock. I don't remember what they should have been for. Such spots were pointed out to us by the taxi driver, which made the trip worth the extra money one might have saved with one's own vehicle. A bus tour would be a good idea but I'm not sure if so many people visit there to make it profitable. We only saw a few other tourists but that might be due to the lack of cheap organized tours. Most all of the tourists we saw in the areas were foreigners. The locals seemed to prefer going to the beach towns rather than visiting their own cultural sites.
Lago de San Agustin de Valle Fertil
Although it was very dry in Valle de la Luna, the village of San Agustin to the south was fairly green. The literal name of the area was "the fertile valley". We took a day to relax and walked by the nearby river. There is a lake there, formed by a man-made dam, surrounded by a lot of large cactuses. One had to be careful though as he grass was full of ticks as well.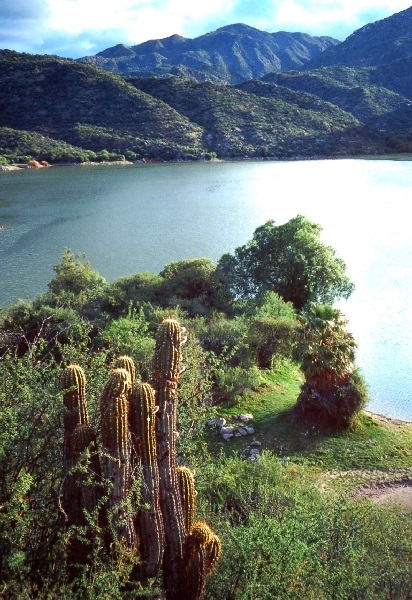 So, those were just a few tales from my many travels over the last thirty and something years. I hope you've enjoyed another side of a traveling clown! If you want, write me an email or better yet, book my show or set a link to this website or just state me as the beneficiary of your will!
To book or see more information about Tom's clown show and entertainment, visit one or both of his clown websites:
Clown Stuttgart www.clowntombolton.com
Clown juggler Stuttgart, Gremany www.clown-event.de