World traveler Clown Tom Bolton
Adventure stories & photos
Tom's adventures in northern India 2
Varanasi and the Ganges River
This is the continuation of my first travel to India in 1990. I had booked a night train from Agra but one of the train cars wasn't available and all of the passengers with reservations for the missing car crowded into ours. It was a long overnight ride and I had a sleeper but ended up with 3 or 4 people sitting on my space and witnessed a number of fights break out. Normally the Indian conductors strictly enforce the rules but they didn't feel they could eject people with valid tickets even though they were not supposed to be in that carriage.
So I arrived in Varanasi in the northern state of Uttar Pradesh, in less than great a condition. Unlike many Indian cities, which seemed to have changed their name since I visited, Varanasi was, and is, also known as Banares and to add to any confusion, the core of the old city as Kashi. It is not only one of the holiest cities for Hindus but a spiritual center for many beliefs according to a Catholic priest I met there. Just arriving at a train or bus station and one already would notice the groups of Sadhus on their pilgrimages. Quite a few of the local holy men had a ceremonial cow. Unlike anywhere else I experienced, the cows running around Varanasi seemed almost arrogant and were very aggressive.
Varanasi parade
One of the early things I saw was a parade through the street. There were vehicles with people dressed up and it seemed to be something religious rather than another wedding or funeral. At first glance there seems to be some sadhus sitting on a float. But they are actually young boys wearing fake beards to look like adults. One of the more interesting floats had life-sized wooden horses "pulling a cart and driver". So a parade float made to look – like a parade float.
Banks of the Ganges River
Many Hindus come to bath on the banks of the Ganges, which should wash away their bad karma. People not only bath here but also brush their teeth and drink the water. Nearby, corpses are cremated; the ashes and any unburned leftovers are dumped into the water, as is raw sewage.
Ganges boat tours
One can take rowboat tours in Varanasi to get another perspective of the ceremonies. One shouldn't get too close to a funeral pyre with a camera out of respect and I was told that the police would likely try to extort 300 rupees out of any tourist they saw photographing a cremation. Best is to have a good telephoto lens and take such a boat ride.
One sees stacks of wood and corpses lined up for cremation on the banks or "ghats" of the Ganges. It used to be that a wife would be expected to jump onto the funeral pyre of her husband. Those days are gone but still many women die from horrible burning "accidents" in the kitchen from husbands not satisfied with the marriage dowries paid. It's hard to imagine how Indian women will ever reach real equality when Hinduism treats women as being inherently lesser than men.
Cremations by the ghats
I spent a lot of time just watching the cremations and spoke to one guy whose father in law was being burned. He said a cremation needs to be done within 24 hours of death and that few women come to such ceremonies because they cry too much. I saw many variables of how much wood or how elaborate the ceremony was used in the process, which seemed to depend on how much one paid.
Wood would be stacked, the body in a shroud would be dunked in the holy Ganges, put on the pyre and more wood would be stacked on top. For some, there were many witnesses who stayed the whole time and a holy man would occasionally sprinkle more water or say some prayers. For others, the fire was set and the people all disappeared except for a worker or two to attend the flames. Eventually a limb or two would generally tend to stick out, which would be folded back into the fire.
Corpse transport without hearse
Here's a corpse being transported to Ganges for cremation on the roof of a 3-wheel motorcycle taxi, which I imagine was one of the more budget options. There is also a large gas crematorium by the Ghats which I was told would burn a body for just 50 rupees compared to 1000 rupees for a proper wood fired traditional ceremony.
Corpses thrown into Ganges
Yeah, a corpse being eaten by dogs – and a vulture waits its turn after being chased off. The bodies of babies and Sadhus are often dumped straight into the Ganges. Supposedly they are pure enough that they don't need the spiritual purification of cremation but obviously it's the cheapest way of body disposal when nobody is willing to pay for it. It was a gruesome sight but I felt I had to see it with my own eyes although I am rather relieved not to have seen any babies floating around. And the dogs were not passive as I more than once saw them being chased from the pyres where they would try to snatch body parts right out of the fire.
Women laborers
I took this picture close to where I spotted the corpse in the water. These women didn't seem to be crying too much, they were too busy working like pack animals. But hey, life goes on.
Sadhus hanging out by the Ganges
Sadhus – who are supposed to be holy men – on the banks of the Ganges. The idea is that one gives up all earthly possessions to concentrate on a search for spirituality. Some start as young men, others may start at an older age after having been successful in business and having already fulfilled their obligation to raise their children. It's a hard life but then I saw some who were rather aggressive and it seemed maybe a way to legitimize begging and smoking dope all day.
Yet the Sadhus had to do their own laundry, which couldn't be too much work when you don't own more than a second set of clothing.
Sadhus' robes & decoration
The Sadhus' robes were mostly orange to red and this guy's yellow hues almost stood out like a fashion statement. Red or white markings are also often painted on the face and body. Yet some extreme adherents are said to cover their bodies in ash and go naked.
Sadhus burning ring of fire
Sadhus also do religious ceremonies to give blessings or good luck. Then they get donations.  Here one is burning a ring of cow dung. I guess elements of fire, the holy water of the Ganges and anything connected with a holy cow pretty much covers most of the clichés of Hindu ritual.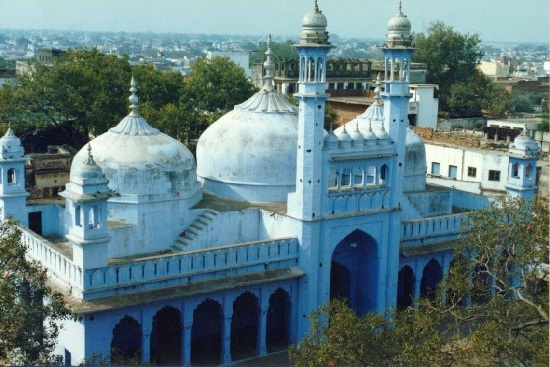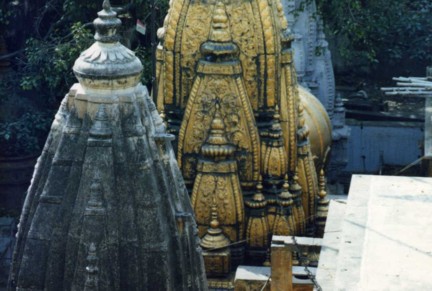 Daytrip to Ramnagar Fort
I did a day trip to the Ramnagar Fort about 14 kilometers from Varanasi. It is the ancestral home of the Maharaja of Banares, contains a temple or two and an extensive museum. The museum was worthwhile although with a lot of armaments, vintage cars and an elaborate clock that also told the date and the phases of the moon. It was noon when I arrived at the museum and I had to wait a couple of hours for it to re-open.
Daytrip to Sarnath
I did a day trip from Varanasi to Sarnath where the Buddha is said to have done his first preaching. The site was nothing spectacular, the main attraction being a Bo tree, which is said to have been sprouted from a seed from the tree, under which the Buddha found enlightenment.
Lunar eclipse
I took these photos on my last day in Varanasi, which was very unusual. There was to be an eclipse of the moon at midnight, which was seen as a very ominous sign and hundreds of thousands of people came to camp out on the banks of the Ganges. During the eclipse they would all rushed into the river believing the holy Ganges water would give them protection. I scoffed at this superstitious belief and thought it safer to stay away from the risk of being stampeded at the water. I had spent most of the day trying to send off a bunch of stone carvings I had bought as gifts. I had to have a box made and it had to sew in cloth and all seams covered with sealing wax and when I finally got to the post office they said it was too late. I pleaded and then slipped them some Baksheesh, which did the trick.
Later that night, I not only broke the frames of my glasses but also suffered from bad nasal congestion. When I tried to blow my nose, some slime went into my inner ear. I had extreme pain for a week and lost my hearing for the next month. Coincidence or what? Maybe I would have gone to the river if this hadn't happened but I also heard lots of blood curdling screaming during the night so maybe it was a blessing in disguise.
Lucknow
I had wanted to go on to Jaipur but could only reserve a ticket as far as Lucknow. My train was at some ungodly hour of the morning and I was crazy with pain by the time I arrived. I jumped into the first rickshaw and had him take me to a couple of hotels recommended in my guidebook but they were all full. In desperation, I told the driver to take me to the next cheap place, which was such a dump that it was laughable except I was in too much pain to even think straight.
I went to bed early and managed to visit the Bada Imambara mosque, seen here, in the morning but was still in such pain that I went back to the hotel and then went to a clinic. It only cost a rupee but there was no reception or signs in anything but Hindi and I had to wait for hours not knowing if I was even in the right line. Got the sage advice that "one should not blow their nose – very risky" They gave me a painkiller, an antihistamine for the congestion and antibiotics in case of infection.
All the medication was taken from huge jars and wrapped up in a piece of paper without any instructions. I got advice at a pharmacy about the dosages but have to think of other people who go so far as to see a doctor and get medication but without knowing how it should be used. I didn't want to end up at some swanky private place that would blow my whole budget but would have been happy to have spent say 10 dollars to get a better level of care. Found an optician that fixed my glasses for 10 rupees so I guess I shouldn't complain.
Rajasthan
Jaipur
I had a night train from Lucknow headed west from the region of Uttar Pradesh to Rajasthan. I booked an upper berth but the train was a local that stopped every place possible. I resigned myself to spending most of the following day in the train but then I missed getting out in Jaipur. 90 minutes later, I had to get out in a small town and backtrack arriving at 8 p.m. instead of the planned 3 p.m. The popular backpacker place there had no single rooms and I ended up in a dorm where someone stole the book about oriental carpet weaving that I was reading off of my bed while I was checking in. Only thing stolen in India and it was a tourist that did it.
Wedding processions
Here there was a wedding ceremony parading through the street. Big traditional weddings in India are probably the most extravagant private parties held anywhere in the world. And from my experience, they are nowhere fancier than in Rajasthan. Once I saw 2 such groups arrive at an intersection at the same time and it was mayhem as they marched through the other, neither one wanting to concede the right of way.
Jaipur architecture
In Jaipur the architecture is distinguished by the use of dark red sandstone. The long distance through the desert separating the cities in Rajasthan gave rise to a unique style of architecture in each town. And as there was an important flow of commerce between Asia and Europe along this "spice trail".  Despite the harshness of the environment these cities were very well off which is reflected in their wonderful buildings. This picture is from the Hawa Mahal or "Palace of the Winds" which was very intricate but similar in style to most of the buildings in the old town as seen by the next photo.
My second full day in Jaipur was mostly spent at the museum where I observed that most Indians seemed to rush through with hardly a glance at the exhibitions. But then, what was on display: a room of poorly done Moghul miniature paintings, a room full of rocks – mostly from Austria, a few stuffed crocodiles and some mummies, a small replica of a train engine, a large but sad looking stuffed fish with the explanation "fish" below it.
A room with armaments had some picturesque weapons but also some dime store plastic models of tanks. Pretty typical Indian museum in that despite some valuable objects, the majority looked like they had been picked up at a garage sale and randomly thrown in. From Jaipur I got a bus to Ajmer, passing numerous wrecked and over turned vehicles. In Ajmer I had to go to the train station to get a bus connection on to Pushkar.
Pushkar
Pushkar is a small quiet town in the desert but there are some small mountains around and a lake, which makes it green. The overall architectural style was the same as I would soon see in Udaipur. The "tourist bungalows" where I stayed was actually an old palace. Despite the laid back atmosphere, there were signs everywhere stating that holding hands or kissing in public was forbidden. One shouldn't get within 30 meters of the "holy" lake with shoes on.
Once a guy ran up to me shouting but backed off when he realized that I was barefoot which should have been readily evident by my pale white feet. One was not allowed to take photos at the Ghats and not only alcohol but also meat was strictly forbidden in the whole town! What was allowed were souvenir shops, which were abundant if you were looking for jewelry or hippyish clothing.
There was a bit of a sand storm my second day in Pushkar. It got cloudy and cold and the electricity went out for the whole day and there was no running water at the hotel, so I just hung out and relaxed. Next day I went to take bus back to Ajmer in the early evening but it never arrived. Someone said there would be a bus at another station and me and 10 other tourists fell for this. When it didn't arrive, we all hired a van to drive us and we had to wait there till midnight to catch the train on to Udaipur. Was not a lot of fun but better than the Air India flight which had just crashed somewhere that day with the loss of all on board, as reported in the Indian newspapers.
Udaipur
The train ride to Udaipur went without problems and I found a small but adequate hotel room, which interestingly had a mosquito net. Although the region is basically a desert, the city is full of lakes with a number of major palaces including one that covers an entire island in one of the lakes. Overnight there were lots of political banners strung up for upcoming elections and the newspapers were full of killings in Punjab and Kashmir, which had become almost daily events. Some years later a Sikh guy I met in South America would tell me that the Punjab had been pacified. I asked how it was done since the carnage had been so horrendous there. He said, "simple – troops were brought in that openly killed 2 of the enemy every time of their own were killed".
Udaipur palace
Udaipur is over looked by the massive Udaipur palace. One can take an extensive tour in this palace's museum, which takes a couple of hours yet this only includes a small section of the complex. One such courtyard as shown here surprised me by having a large full sized tree yet it wasn't even on the ground floor. The interior decor was heavy on the bling but there were also many nice paintings showing historical battles.
Udaipur Island palace
I don't remember if tours were available of the island palace, which is a luxury hotel now, but I did go to the restaurant there for dinner with a couple of other tourists. One got a buffet for 180 rupees which was the cost of my room for at least 5 days and the food was not better than average but the setting and decor was definitely majestic.
Udaipur random scenes
These were just shots round the town. Don't know if they were part of a palace or temple as most of the old town had a similar architecture.
I saw a few French girls in Udaipur that were with Indians boys who happened to speak French as well. Saw a number of places where things were written in French, something I saw nowhere else so I wonder if there is some special cultural link between Udaipur and France. I also noticed that every request was responded to with "one?" I asked for a meal, "one?" Then I rented a bike and the guy asked "one?" and I slowly looked around to make it clear that I was alone and responded, "yes, just one, although I usually ride two bikes at a time!" Don't think he got the joke.
As my ear pain was milder but still present and I still couldn't hear out of the affected ear, I went to a private clinic. Doctor prescribed more antibiotics, antihistamine and said to try to pinch the nose and blow slightly like when in an airplane but he couldn't guess when or definitely if my hearing would return. When it finally did – after a month – I was thankful but realized all the more how extremely noisy Indian cities are.
Jodhpur
I caught a night train to Jodhpur arriving about 5 a.m. Took a rickshaw to hotel recommended by Lonely Planet but was not impressed and wondered if it was really the right place. Seemed to be a set strategy that when a hotel got a good recommendation that lots of dives would suddenly rename themselves the same or a very similar name to try to trick people into staying there. It didn't help that the map I had of Jodhpur didn't seem to match up with anything.
Had spent a lot of money lately on doctors and palace restaurants and such, so I had to change money. I wanted to go on to Jaisalmer in a couple of days and supposedly there was no place to change money there. Was worried if the banks would be opened after someone told me the schools were closed for the celebration of the snake god. Occurred to me that with its multitudes of gods, that if each one was celebrated – things would never be open. In the end I was too late anyway but was told the "next day between 10 and 12" even though it was a Saturday.
Jodhpur Palace
The top of Jodhpur is dominated by (surprise) a fort/palace. Here's views from the fort over the old part of Jodhpur as well as from below.
Jodhpur city guides
This was the entrance to a museum or palace I don't remember exactly. What I do remember are the 2 boys who insisted that they should be my guide to the old city. Such touts where not so annoying as in other countries but in principle I avoid them unless necessary. In most places it is like a creative way to beg. Most often they don't speak much English or actually know much of interest about a place. Where they can be useful is to find things that are hard to find since in many countries maps are rather poor and streets often have no names. I did have an interesting conversation with these kids however. Their English was good and I think I made them laugh so it was OK between us. In mid 2018 I got a email from India claiming to be from one of these boys. He wrote that they were not touts at all – they just liked practicing their English. I have to give them the benefit of the doubt – but say that I had many such experiences and the people nearly always turned out to want money one way or another. Even some adults who said one should not encourage kids who do such things – also assuming they try it for money.
Brahman blue houses,  green door & shutters
Most of the houses are painted a distinct blue and the doors and window shutters green indicating that they belong to Brahman, which is the priest class of Hindus. Although I usually avoided touts and guides, I let 2 boys show me the short cuts through the winding streets from the town to and from the fort. They spoke good English and didn't try to get me into a carpet shop or anything so I gave them a good tip. For me, the quaint uniqueness of the Brahmans' houses was more appealing than one more fort/palace.
Flash flood
Here I was in the city when a sudden downpour of rain came for about 30 minutes. Quickly it was a virtual flash flood with nearly a meter of water rushing down the street and people scrambling to find shelter. 30 minutes after it ended, the water had receded enough that people shown here could return to their daily routines. And yes, some buildings in Jodhpur are yellow or other colors as not everyone is a Brahman.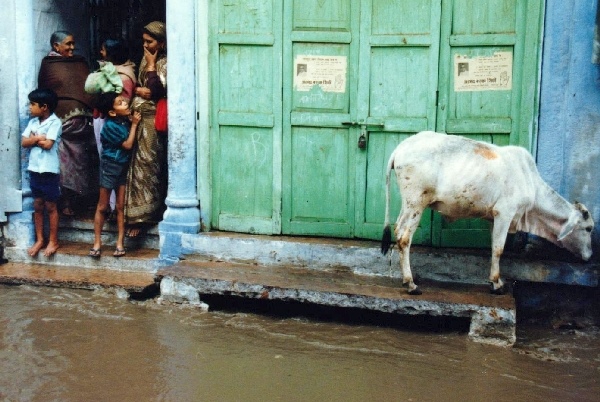 I went to another rather fancy restaurant in Jodhpur, which had excellent food. But I noticed that the silverware and tablecloths were filthy. Then a local guy sat across from me very poorly dressed. I was used to people eating with their hands but he made such disgusting sounds and when finished not only washed his hands over his plate but gargled and spit the water on his plate as well.
Jaisalmer, Rajasthan
I took a night train to Jaisalmer, which is the most incredible town. It's beautiful, elaborate architectural style makes one thing of fables like 1001 nights. There were a lot of touts at the station trying to hard sell their hotels. When I got to a hotel, they also tried to pressure me into booking a desert camel tour before they would show me a room. When I said I would have to think about it, the room price suddenly went from 20 to 40 rupees.
I stayed one night and when I got more pressure and overcharged for the breakfast, I went and found a much better place for cheaper. The old town has the most intricate architecture I saw in India and is built around the palace/fort on the hill, which costed 5 rupees to visit. There were a couple of great temples especially the Jain temple, which was free but would have costed 20 rupees to take pictures in but I was too cheap to bother.
Rajasthan tapestries
These tapestries were displayed out back of the fort. Fancy antique clothing usually used for weddings in Rajasthan are cut up and the pieces sown onto another layer of material to make these beautiful creations. I bought 2 very small ones for myself and at the end of my trip a large one as a special present.
Back of Jaisalmer Fort
This house was at the very backside of the fort. Made a crazy contrast to the palace and elaborate houses in most of the old city. I took some photos of the people living by here and had them write me their supposed address. Unlike many people, I keep my promise to send them photos but they came back as undeliverable after some months.
Thar Desert camel tour
From my hotel in Jaisalmer I booked a tour in the Thar Desert. The first day we drove in a jeep to some small villages and through some sand dunes. The next day continued on by camel. Rather than a real saddle on my camel, a folded blanket was roped on for padding. We rode about 3 hours, stopped for lunch and then another 3 hours. By the end of this, my rear was so sore that I was counting the seconds until it would be over. This tour was cheaper than the standard 3-day camel ride ones, which I seriously don't think I could have managed.
This was 1990 and India and Pakistan were seriously threatening to have another war. A number of times fighter jets went screaming across the desert at low levels making us wonder if the expected conflict had started. The headline on the front of the major Indian news magazine at the time was "war". I think domestic political problems in both countries preoccupied the politicians and in effect thankfully sidelined them from another conflict. At least back then they didn't have nuclear weapons pointed at each other.
Thar Desert oasis
We stopped for a break at a small oasis where there was a well. A number of shepherds with their goats and sheep showed up, as did this camel pulled cart. A family herding sheep also showed up at a hand-pump well to draw water.
Desert "hotel"
Our camel drivers stopped here for tea. The sign says it is a hotel but that often means they sell some drinks and maybe something to eat. You sure wouldn't find a bed to sleep in but I guess some locals on the way through might give something to sleep on the floor. I would be so afraid of bedbugs and worse that I was glad I didn't even have to enter the place. The inhabitants ran out to us though, pleading that we buy biscuits and soft drinks from them.
One time we stopped to take a leak in the bushes and suddenly a couple of locals popped out of the shrubs wanting to chat and most likely sell something. That really typifies India, never any personal space so that even in the middle of the desert you can't take a leak without being disturbed.
Dismal living conditions
But as it is said, no matter how bad things look, they could always be worse. Not sure if this was a home or just a shelter occasionally used by shepherds and camel drivers. We slept our one night out in a small snack bar in a village, which was absolute basic, but a palace compared to this place. There was even a man with his son who came to make music and beg for donations and I played along and juggled while they played. When we got back to Jaisalmer, there were also some musicians playing at the restaurants but the tourists tended to ignore them. I didn't want to be confronted with beggars all of the time but as a performer myself I had to feel sympathy for them.
Temple in desert
We visited this oasis, which must have been an important place at some point in time, but it seemed to be uninhabited although there were some great shady trees and fields of ripe wheat.
Bus in desert village
Here a bus was leaving a small village we passed by. From the looks of it, the occasion was the big excitement of the day but maybe such a bus might only show up once a week or so.
Osian
I returned from the desert tour to Jaisalmer and stayed another 2 days before taking a train back to Jodhpur intending to go on to Bikaner. The results of elections were coming in and it seemed that the radical Hindu Janta party had won a lot of regions. Seemed that democracy was improving in that the Congress party was no longer a shoe in but the danger of increasing religious tensions in the region was all too highlighted by the war jets flying over the city.
Colorful inhabitants' clothing
There were victory parades of shouting people and lots of police in the street and I had some fear things might get out of hand and block my way back to the hotel to get my things to go to the station. It turned out that I would have a whole day in Jodhpur before I could get a train to Bikaner so I made a day trip by bus to the town of Osian where I took the following pictures. Seemed to me that the drier and more desolate the landscape, the more colorful the peoples' clothing was. Was a big temple in Osian which rather than swastikas, had many symbols like the Jewish Star of David.
Men in streets of Orian
This photo of men talking on the street of Orian is one of my favorites, which I used for the poster to a big exhibition I did some years ago. I think the advertisement on the wall is for laundry detergent.
A schoolteacher in Orian saw me and invited me into his classroom. He could hardly speak a word of English but the kids and I ended up using the blackboard to draw pictures. I returned back to Jodhpur and relaxed at hotel where I had stayed before the desert tour and was happy to find a towel, which I had left behind. Got the night train to Bikaner, which was full of confusion as the conductor kept switching people around. I ended up with an upper bunk, which is the most protective and in this case padded unlike the 2 lower bunks, which were a hard slat of wood.
Bikaner, Deshnoke Rat Temple
I got a room in Bikaner and went to the Maharaja's fort/palace, which was now basically a museum. Luckily it was opened since museums were closed then on Fridays in Rajasthan but forts were opened. It had the first elevator in Rajasthan – imported from England. Were some good paintings by a German artist and photos of performers dancing on swords and laying on nail beds. Were rifles with 3 meter long barrels and a machine gun that the Maharaja had gotten from Germans during W.W I to fight the British with. One of his descendants was an Anglophile however and there were photos and souvenirs of his tennis and polo playing years in England
The main attraction was however a temple 33 kilometers away in Deshnoke devoted to Karni Mata – a reincarnation of the Hindu goddess Durga. It's believed that rats are holy since they are the reincarnation of Karni Mata's followers. So this place was amazingly built and maintained for thousands of rats! Tunnels were made so they could scamper about wherever they wanted. There was even chicken wire over the roof to keep any birds from stealing from the abundant piles of grain and pans of milk.
Rats treated better than beggars
I saw wealthy people there pass crippled beggars, without so much as a glance, on their way to feed good food and sweets to the rats. Any human's level of reincarnation should still be above any animals in my understanding of Hinduism but India's a land of paradoxes! But India was also one of the only countries where people didn't question my vegetarianism. I'm no strict vegan but to all the people who claim it "isn't possible", I say, go to India where at least half a billion people can tell you otherwise! Like most Hindu temples, one had to remove their shoes and any leather objects before entering here. Having rats scampering over my bare feet and squealing as they fought was a bit unnerving. Once I rested my arm on a banister to take a photo and immediately there were a couple of rats running towards it.
Corbett National Park attempted visit
From Bikaner I got a night train to Delhi. Had to search the length of the train to find the right coach but was able to trade my lower berth for an upper one. It was very dusty and the tracks were horrible and the suspension so bad that the cars would bounce up and down with a slam. Arriving in Delhi I walked to the main bus station to find a bus to Ramnagar, which lies in the Nainital district of Uttarakhand and not to be confused with the Ramnagar that I had visited near Varanasi.
This trip was difficult because I kept getting sent from one platform to the next and half of the seats in the station were covered with an inch of bird shit. The bus ride was grueling but beautiful. The landscape went from being absolutely flat to the first green foothills of the Himalaya. Also read a book by Timothy Leary on the trip. I agreed with many of his skepticisms of religious and political leaders and that one needs to think for themselves. Then he concluded that population control and ecology weren't really important since we were headed to populating the universe anyway. Guess he hadn't seen the condition of a third world city with 15 million residents that day like I had.
Once I got to Ramnagar I almost freaked out. Seems that there is only one bus a day to go to the Corbett Park but one first has to go to the nearby park office to (hopefully) get a permit. But everything should be closed the next day because it was a Sunday and when it opened Monday it would be too late to get the bus. The tourist bungalows looked okay despite a lot of mosquitoes but then one had to order dinner in the afternoon and it wasn't served until late evening.
Accommodation fiasco
The dorm was nearly empty but suddenly a bunch of Indians stormed in. They were noisy and nosy and one kept farting the whole time. I tried to switch to a single room but in the meantime someone else had taken the last one. A Finnish guy coming from the park told me he hadn't seen anything bigger than a deer although it was touted not only that tigers were still present but also as if other animals there were seen as merely tiger food. The park was named after an English Colonel who had written books about his adventures hunting "man-eating" tigers and leopards in the area.
The Indians got so deliberately annoying that I seriously thought of catching a night bus back to Delhi but it would be another grueling ride arriving at 4 a.m. I ignored it all the best I could and everyone went to bed surprisingly early. But they all snored, the loudest one in the bed next to me facing my direction the whole night. Was like having a herd of elephants in the room. They also got up very early and made as much noise as possible. Then the management said the only way to get around in the park would be to hire a taxi for about 400 rupees.
Back to Delhi
At this point I gave up and went to take bus back to Delhi. Had already missed two earlier ones and now had to wait a couple of hours. Hung out in a restaurant but then the bus started to leave 10 minutes early although it was only half full and I had to run to catch it. Despite all the aggravation, I enjoyed the scenery on the way back to Delhi. Saw that locals lived in simple huts, which were square rather than round as in Rajasthan and the walls and roof seemed to be grass – not a construction that would keep a hungry tiger at bay.
Back in Delhi I had 2 days to look for some gifts and hang out before ending my Indian adventure and getting my flight on to the Philippines.
So, those were just a few tales from my many travels over the last thirty and something years. I hope you've enjoyed another side of a traveling clown! If you want, write me an email or better yet, book my show or set a link to this website or just state me as the beneficiary of your will!
To book or see more information about Tom's clown show and entertainment, visit one or both of his clown websites:
Clown Stuttgart www.clowntombolton.com
Clown juggler Stuttgart, Gremany www.clown-event.de