World traveler Clown Tom Bolton
Adventure stories & photos
Tom's adventure travels to London, England
City of London, capital of the bloody British empire
I had been to London twice previously but the first time just for a few days in the mid-1980's to meet up with a Brazilian friend who was finishing a medical program. After my friend left, I stayed on a couple of days living in a occupied house. I don't even remember which sites I might have seen other than Covent Garden since that was the famous place for street performers and having eaten in China town in Soho. A few years later I spent a night with my French girlfriend on a stopover on our way to Thailand. I don't have any photos of either trip. In March 2019 my oldest sister and her husband were there for a week as he attended a medical conference. I booked a quick trip, 4 days 3 nights staying at a cheap Airbnb apartment in the Abbey Estates off of Abbey Road. My accommodation was Spartan but totally adequate and not far from the Kilburn High Road overground station. The area seemed well integrated but not run down. Lots of shopping possibilities in Kilburn Street but not sure what else one can say about Abbey Road area, a place famous for 4 musicians being photographed going over a cross-walk.
My flight was into Gatwick Airport which is well connected by trains to London. I bought the convenient visitor's Oyster card that is useable for London public transportation. One just touches it to open the gates and the right amount gets taken off when you leave. The system is well designed but a bit intimidating upon arrival due to its huge scope. There are underground or tube stops, overground lines with less frequent stops making them faster for long distances but only running every 30 minutes, much less frequent than the tube. Then there are various trains like the Express train to Victoria Station which I gave a pass. The normal train is nearly as fast and only has an additional 2 stops but cost half the price. I never took any buses which can get one closer to a specific destination but take more time to cover long distances.
It was nearly midnight by the time I got to my accommodation but I got up early and went to a supermarket to get breakfast supplies for the following days. It was late morning by the time I met up with my sister who was staying near the British Museum in Central London. She had studied for a year in London and been back multiple times but came along with me to see some of the iconic sites all the same. We took the tube to the Westminster station and started by Westminster Bridge where one has good views of the London Eye Ferris wheel. Originally built to celebrate the millennium it is said to be the most visited paid tourist attraction in London. We planned to go one evening but my sister didn't feel well and we skipped it. The view are said to be great but for 27 pounds for a 30 minute ride it was not cheap. And as I was there for so short a stay I stuck to walking around outside rather than going into paying sites or museums although some of them are free.
Parliment
The parliment building is huge and ornate. As one continues around to the main entrances on the opposite from the river one also saw  people protesting various subjects but mainly about Brexit. Considering the situation I was surprised there weren't many more. Seems the Brits certainly don't get so fired up like the French.
Westminster Abbey
Across from the parliment is the backside of Westminster Abbey. Most of the anti-Brexit protesters were on this side of the street. We passed the side entrance and went around to the main entrance of the Abbey but didn't go inside.
Big Ben, the parliment buildings
Heading west from the Thames at Westminster bridge one sees the corner of the parliment and the famous Big Ben clock. The clock tower was obsured by a scafolding. Should be an anology about the time runing out for government as the deadline for Brexit is in a few weeks without any agreements.
Sanctuary Attorney General's office, Supreme Court, Methodist Central Hall
Diangnal across from Westminster Abbey is a building housing the Attorney Generals office and some lawyer's offices. Unfortunately, I don't know much about the building or its original purpose.  Across the street are 2 more impressive buildings the Methodist Westminster Central Hall and the Supreme Court building
Foreign Commonwealth Office, 10 Downing Street, Calvary Museum
Continuing up the main drag of White Hall Street are many government buildings and monuments. Along the way I took the photo of the classic red telephone booth. There are still a number of them in central London but I can imagine that young people who have grown up with cell phones see them as historical trappings like a statue or war monument. Pictured is the Foreign Commonwealth Office and the security gate to Downing Street where the Prime Minister lives. Whenever I've seen 10 Downing Street in the media it looks like a security risk since the front of the building has no gate or a wall. Instead the whole section of the street is blocked off and heavily controlled. Then came the Household Calvary Museum with horse mounted gurds in front and a nice courtyard behind. The last photo in this series is not at the museum but a bit up White Hall Street near teh War Office where there is a equestrian statue in the street median. The plaque said something about the supreme commander of the British forces without mentioning the name. My sister thought it might be Wellington but Google shows it as Prince George, Duke of Cambridge.
Trafalgar Square, National Gallery
White Hall ends at a multiple street intersection called Trafalgar Square. To the left is the Admiralty Arch. Straight ahead is a large monument called Nelsons Column. The column itself was not as interesting as the large black lion at its base. On the square itself the National Gallery is up a flight of stairs. There were a number of street musicians and a guy in a big panda costume begging for money. I would eventually see quite a number of street musicians around town but not any big shows like jugglers like on sees at Covent Garden.
Charing Cross Station, Covent Garden Market
Angling off from Trafalgar Square we passed Charing Cross Station, a major transit point. After stopping for tea we arrived at Covent Garden Market. One side outside is the designated place for doing big circle shows. There were a couple of performers on the pitch but we just saw the end of one show that didn't seem to really work and the next guy up hesitating to start. We weather had turned a bit gray and it seemed that most of the audience was comprised of a couple of school groups. These are usually a bad sign as they can leave in mass during a show and usually give little to no money in the end. Inside there are different shops, eateries and stands for vendors. The open space on the backside of the market is as large as the side with the main pitch but there were no performers there and it's not allowed as far as I know but I didn't get to speak to any of the performers to find out the current rules.
Piccadilly Circus
From Covent Garden we took the tube a couple of stops to Piccadilly Circus. There is a monument there where one can observe more musicians and people walking by. This is the area for big name theaters, cinemas and exhibitions. There was also a lot of interesting architecture; narrow buildings of different styles that reminded me of Holland.
China Town & Leicester Square
We then headed to Leicester Square while skirting China Town. I would go through China Town more extensively the next evening as my bother-in-law and I looked for steamed bao buns for my sister who wasn't feeling well and stayed in the hotel. What we found out was that the buns and dim sum, which some of the places specialized in, are only available at lunch time. We tried a Mexican place. Food wasn't bad but not really authentic. Not sure how one can sell an enchilada without a corn tortilla in it. Leicester Square had more theaters, discount theater cinema shops and many cinemas. Was pretty lite up as it was getting dark out. It started to sprinkle and we took the tube back to the hotel and went to a nearby Thai place. Again, it was recommended and not bad but not really exciting. Not knowing if they have Thai cooks I asked for medium spicy but it was too mild.  
Tower of London, Tower Bridge
My second full day in London I went off on my own to see the Tower of London complex and adjacent Tower Bridge. Coming out of the tube one sees the impressive Trinity House building and some sections of the original London city wall. But the main thing is the sprawling Tower of London set on the banks of the Thames. There is a modern building that contains the ticket counters. But I had decided to just do a walk around from the outside. There is also a museum in the Tower Bridge that I skipped. Both places are certainly worth seeing but I left them for when I have more time. Views from the bridge include not just London Tower but the contrasting modern architecture of the nearby financial district and the Shard on the other side of the Thames. One of the last photos in this series shows barriers on the sidewalk next to London Tower near the bridge. Since a terrorist attack, such barriers were set up by many of the main London tourist attractions to keep vehices from driving down the sidewalk.
Central London, The Monument
From London Tower I zig-zagged through central London passing some interesting places like the Anglican Church known as All Hallows by the Tower. Eventually I came to a place called The Monument. It was impressive as one would expect for it to be called THE monument in a city full of monument. Then again, it is located in a part of town referred to as THE City.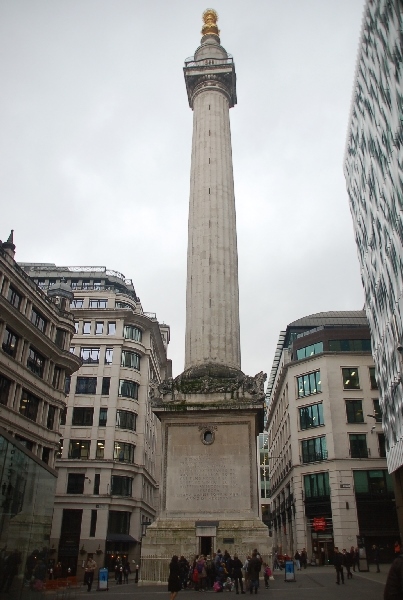 London Bridge
From the Monument it was a straight shot back down to the Thames to see London Bridge. Despite the name it is not really impressive itself but has good views back towards the Tower Bridge. Took a shot by the brige of an ATM spouting free cash. I assume it means no commision but so much for truthful advertising.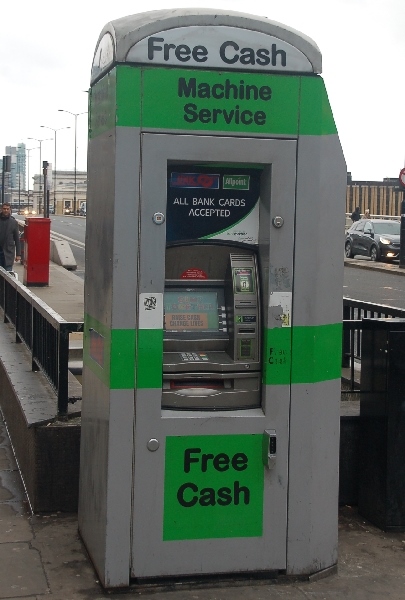 St. Paul's Cathedral
The next iconic site was St. Paul's Cathedral. It was large but somehow looked a bit on the shabby side. I would have taken a look inside but it was ash-Wednesday and they had signs saying only people coming for religious services and no tourists should come in. And they also had a security detail that searched peoples bags and used a hand-held metal detector. It had started to rain but I was not in the mood to deal with such scrutiny at the moment.
Fearless girl statue, homeless street person
Next to St. Paul's was a square with the fearless girl statue that I found inspiring. It was just before International Woman's Day and the thought of girls standing up in light of the failure of the Catholic Church to protect kids seemed relevant right next to an icon of the Church. Yet I know the church has made many efforts to help the homeless and impoverished. One saw such people on the streets of London and on the next corner from St. Paul's I took this photo of a street person so bundled up that one could not even see if it was actually a human or possibly a dummy. Not shown but there was a group of young people doing a photo shooting right next to this street person? Not sure if they simply ignored the situation or if they were using them for a backdrop of some kind. The photo of the tents was taken the day before near Charing Cross Station but fits here to the subject of homelessness. I never got hassled but there were street people spread out through central London.
Grayfriers church, St. Sepulchre, St. Andrews Holborn, Hoborn Viaduct  & Prudential Assurances
From St. Paul's I continued in a westernly direction taking photos of notable architecture including the Greyfreiers Church ruins, St.Sepulchre, St. Andrew Holborn, the buildlings and bridge at Holborn Viaduct and the massive red Prudential Assurnaces building.
Buckingham Palace
On my last day in London, my sister again accompanied me on a trip to Buckingham Palace. Weather was good and there were hordes of tourists in front competing to get the best shots of the Queen's residence, especially from the large monument in front. On the way from the tube stop I saw just one souvenir shop and was surprised not to see more. We were there for the changing of the royal guards but unfortunately didn't get their picture until they were off in a corner with not such an attractive background. A regiment of cavalry also marched through to add a bit of pomp to the scene.
St James Park, Hyde Park Corner
Across from the palace is the well-manicured St James Park. Impressive trees and lots of flowers in bloom made it a nice place to stroll. Across the Park are some more important government buildings like Lancaster House and Clarence House. The St James Palace is hidden away behind these buildings and the road back to it under tight security. Continuing through the park one comes to Hyde Park corner. This area is known for its many monuments including the Wellington Archway and Royal Artillery Monument. Just before arriving at the corner one goes through slabs of stone known as the Commonwealth Memorial Gates. The names of the various countries belonging to the Commonwealth are listed and seemed a sharp contrast to the recent xenophobic elements in Britain.
Victoria Station
Rather than go into Hyde Park I turned south following the backside of Buckingham Palace toward Victoria Station. There should be some gardens inside the grounds but the high walls black any view. Many of the buildings along the way were large and ornate but some were run down. Seemed rather shabby for what one would consider a rather exclusive neighborhood. There was a small park Grosvendor Gardens with an equestrian statue of Ferdinand Foch who I'd never heard of and behind is Victoria Station the main rail hub for London. I later googled Foch and was surprised to see that he was actually a Frenchman who lead the allied forces in the First World War. Anyway, I got a train from here to Gatwick Airport with a couple of hours to spare. Probably should have taken the time to explore the station but my mind was on getting my flight home.
London pubs
Jumping out of sequence I am posting here some photos I took of various pubs around London.  I never actually want into any of them but thought they looked interesting. I guess they are still an institution for some to get feed although in recent times so many eateries have sprung up. I prefer ethnic food but could have imagined trying some fish and chips as a one off. I also have to admit I like my German beers and don't really like Guinness; something that probably sounds like fighting words in an English pub.
Gatwick Airport
I arrived at Gatwick and was pretty certain I would have to top off my oyster card to get out of the rail station. But the only machine I saw on the inside of the turnstiles was opened for repairs. The guy working on the machine let me through and said I can top off later. Nice gesture since I wasn't going to be using the card anymore. I hung out waiting for the gate to be announced, something EasyJet likes to leave to the last minute. Had to go through a gauntlet of the most luxury good shops I've ever seen. There was a seafood bar near where I sat where one could drink Champaign with their caviar, lobster or smoked salmon. Nice snack for 175 pounds! There were a number of currency exchange stands not doing much business. They touted no commission for deals over 300 pounds. Below this it was 8 to 10% but the shocker was eh huge spread between the buy and sell rates. Want to lose around 50% of your money then please take advantage of one of these places. The might have high overhead but seems there are no rules about usury.
I had checked in online like EasyJet demands but didn't get the boarding pass in an email as expected. The people at the reception of my sister's hotel helped me out and printed out a boarding pass straight from the website. Unfortunately, the printer was leaving some vertical lines of missed print and the scanners couldn't read the barcode. So I ended up having to go back down to the service desk to get a new boarding card. Thankfully they didn't try to charge me. With all of the high price stuff on offer everywhere, I had the feeling someone would come up and demand a hefty fee for just breathing the air.
So, those were just a few tales from my many travels over the last thirty and something years. I hope you've enjoyed another side of a traveling clown! If you want, write me an email or better yet, book my show or set a link to this website or just state me as the beneficiary of your will!
To book or see more information about Tom's clown show and entertainment, visit one or both of his clown websites:
Clown Stuttgart www.clowntombolton.com
Clown juggler Stuttgart, Gremany www.clown-event.de